Help your students make the call to stay drug-free with a Red Ribbon Week goal-setting worksheet.
Looking for a Red Ribbon Week Idea? We Can Help!
Let your students know that prevention is the best medicine this October as you celebrate Red Ribbon week at school. Celebrate the power of choice by helping your students develop a plan for avoiding drugs and alcohol and empower them to stay drug-free
Red Ribbon Week Activities to Enlighten and Engage
Celebrate Red Ribbon Week with this Red Ribbon Week activity template!  Teach Starter has designed an exciting template that guides students to make a personal commitment to staying drug-free, using their smartphones as inspiration! This educational activity is suitable for grades 2-6 and can be completed on a single sheet of paper.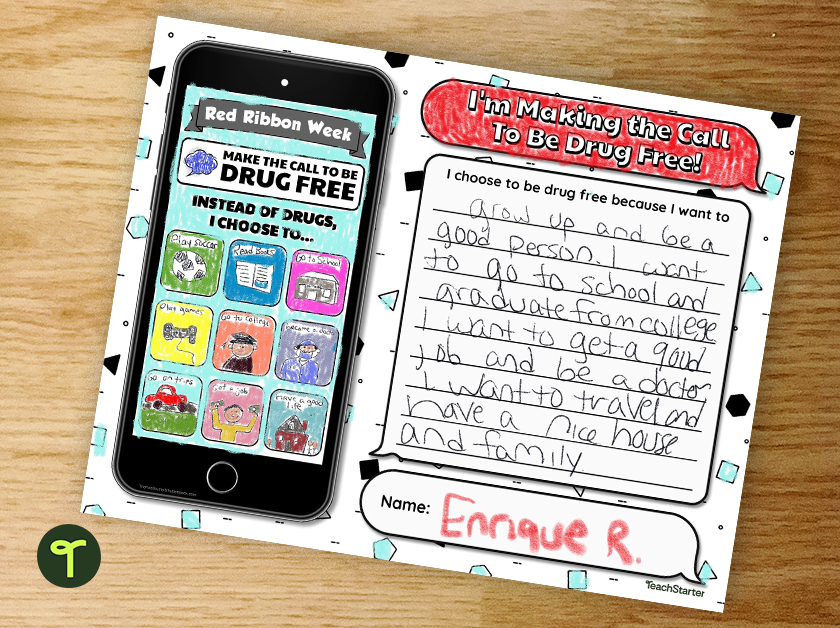 With this resource, Students will write a paragraph about their reasons for staying drug-free and draw in apps (activities) they can participate in to stay away from drugs. Combine your students creations and display their goals and promises as an amazing Red Ribbon Week Door decoration or bulletin board!
Easily Prepare This Resource for Your Students
Use the dropdown icon on the Download button to choose between the PDF or editable Google Slides version of this resource. For extra fun, consider printing this template on colorful paper to make it stand out!
---
Don't stop there! We've got more activities and resources to help you teach drug awareness and prevention!
[resource:4840501]   [resource:4841676]   [resource:4841659]