Display and teach the types of landforms on Earth with a set of fifteen Natural Landforms posters.
Types of Landforms for Kids – Classroom Poster Set
Explore the Earth's natural landforms with this superb set of fifteen classroom display posters. 
Perfect for learning about geographic land features, each poster is loaded with information including descriptions of the major landforms and illustrations of  each unique landform.
Great for geography studies, these kid-friendly landform resources are a magnificent way to help kids learn about our planet. 
Landforms included in the set are:
Easily printed and displayed, these posters will make an amazing addition to your classroom. They are available in both color and blackline versions.
How to Make the Most of Your Landforms for Kids Posters
Print the posters on letter-sized paper and display them as a bulletin board or wall decoration.

Print the poster on letter-size paper, slip it into a clear sleeve, and use it in your guided groups as a reminder.

Print the poster on letter-size paper, slide it into a clear sleeve, and hang it on a ring as a reference tool for a learning center. 
We've also come up with bonus ways to turn posters into interactive tools that really make your lessons stick! 
📝 Create a fill-in-the-blank worksheet by removing selections of text.  
📂 Place copies in students' homework folders for reference. 
💻 Provide posters as digital resources for virtual students. 
🧠 Test students' memories by showing them the poster, then hiding it and having them tell you what they remember.
Before You Download
This resource prints as a PDF. Please use the dropdown menu to choose between the full-color or black and white version.
Fill your classroom with more posters and interactive displays!
---
Spend more time lesson-doing and less time lesson-planning when you grab these activities and teaching resources too!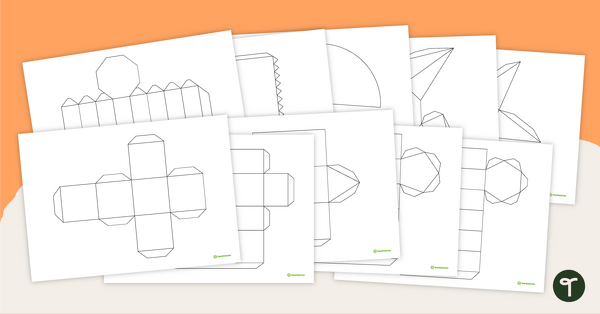 teaching resource
Create a variety of 3D shapes with this comprehensive set of net templates.
teaching resource
A poster showing the different types of geographic features of Earth.
teaching resource
A comprehension worksheet paired with an informational text about earthquakes.