Practice recognizing and using nouns by sorting 24 picture cards into categories.
Reinforce your Parts of Speech lessons with our nouns sorting activity! 
This resource can be used as a reading center activity, with your guided reading group, or as a whole class activity (see below) to practice recognizing and using nouns. 
To play, students will sort the picture cards by the type of noun: 
Person

Place

Thing

Animal
More Noun Sorting Activities + Scaffolding and Extension Tips
This resource can be used for individualized practice, especially if you've got fast finishers! You can also use this game to create full-class learning opportunities like scoot activities, lesson reviews, comprehension assessments, and more. 
Extend this game to challenge students who already understand the concept by putting the picture cards in alphabetical order.
Invite students to use a visual reminder of the types of nouns, such as a poster or anchor chart.
Memory Match
Bonus points for this version of the game as it helps students with their memorization skills! As a game for 2 players, students will shuffle the picture cards and lay them all face down. Each player takes their turn flipping 2 cards at a time until either finds 2 words that are people, places, things, or animals and sets the pair aside to keep score. 
Knock Off
Have your students stand up and make a line across the room. Project a picture card on the screen and use our Random Name Picker widget to draw a student's name to answer. If the student correctly identifies the noun as a person, place, thing, or animal, they tap the person on their left or right to send them back to their seat. If the student answers the card incorrectly, they must sit out. Play continues until only 1 student is standing.
Choral Response
Show a card to the students and have them tell you whether it's a person, place, thing, or animal using choral response.
Easily Prepare This Resource for Your Students
Print on cardstock for added durability and longevity. Place all pieces in a folder or large envelope for easy access. 
Before You Download
Use the drop-down icon on the Download button to choose between the PDF or Google Slides version of this resource. An answer key is also included with this download.
---
This resource was created by Lindsey Phillips, a teacher in Michigan and a Teach Starter Collaborator. 
Don't stop here! We've got plenty more noun discovery resources to keep your students learning and playing: 
teaching resource
A worksheet to practice identifying singular and plural nouns.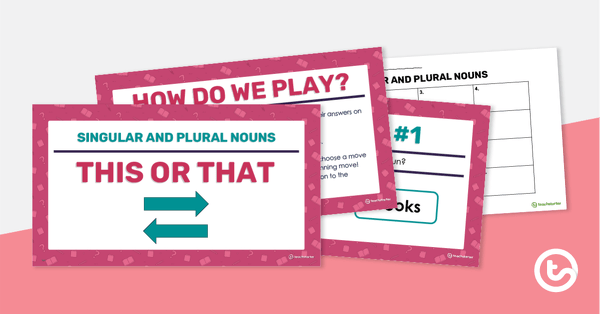 teaching resource
An active PowerPoint game to practice working with singular and plural nouns.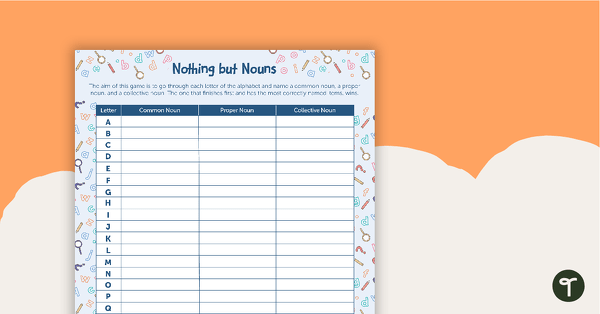 teaching resource
A game to practice working with common, proper, and collective nouns.