Identify prepositional phrases and use them within sentences with this set of 20 task cards.
Drop That Prepositional Phrase Worksheet! Try Task Cards Instead!
Are you teaching your students prepositions but can't find the right resource to help them? Are they struggling to identify a prepositional phrase and use it in their writing? Use these Prepositional Phrase Task Cards as a center activity, for skill reinforcement, or as practice for upcoming assessments.
Your students will read each task card, and complete one of two practice tasks. They will either identify a prepositional phrase in a sentence, or write a sentence using a prepositional phrase. They will record the answer on the Prepositional Phrase Recording Sheet. There are 20 Prepositional Phrase Task Cards. The answer key is included. 
Through this parts of speech activity, students will demonstrate they can identify and use prepositional phrases within a sentence. 
An answer key is included with your download so that students can self-check their work. 
Scaffolding & Extension Tips 
Challenge students who already understand the concept to write a list of sentences with prepositional phrases and swap with a partner to identify them in each other's work. 
Support students who need help understanding the concepts by having them focus only on identifying the preposition. 
More Prepositional Phrase Activities with our Task Cards
Use this resource as independent practice for fast finishers, and full-class learning opportunities like scoot activities, lesson reviews, comprehension assessments, and more.
🛴 Scoot Activity
Place the task cards around the room in numerical order and give each student a recording sheet. Pair them up and give each group a number to start. Provide an appropriate amount of time to read the card and determine the prepositional phrase. Then say, "SCOOT" to alert the pairs to rotate to the next card. Continue in this manner until everyone has made it through all of the cards. 
Explore our best writing center activities here!
Easily Prepare This Resource for Your Students
Print on cardstock for added durability and longevity. Place all pieces in a folder or large envelope for easy access. 
Keep the task cards out of pockets or under desks: cut out the cards and punch a hole in the corner of each to place them on a binder ring. 
To turn this teaching resource into a sustainable activity, print a few recording sheets on cardstock and slip them into dry-erase sleeves. Students can record their answers with a dry-erase marker, then erase and reuse. 
Before You Download
Use the dropdown icon on the Download button to choose between the PDF or Google Slides version of this resource. A recording sheet and answer key are also included with this download.
---
This resource was created by Kelli, a teacher in Texas and Teach Starter Collaborator. 
Got preposition lesson planning around the corner? We've got plenty of activities to keep your students in the know!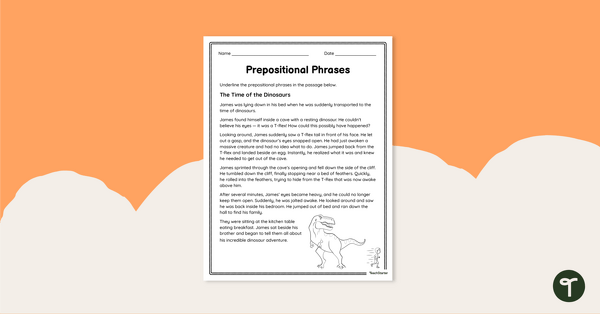 teaching resource
A worksheet to practice identifying prepositional phrases.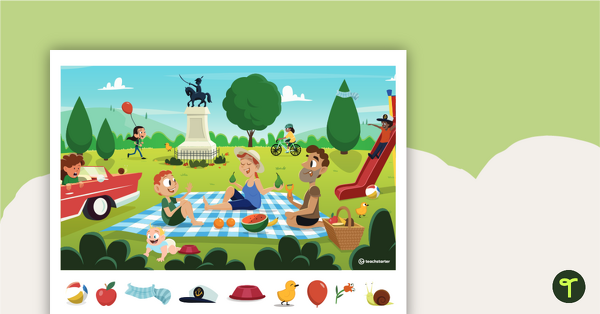 teaching resource
A fun, search and find activity with a family outing scene.
teaching resource
Practice prepositions with our 2-page worksheet that prompts students to identify and use prepositions in sentences.