Use this set of differentiated worksheets to practice positional words (prepositions).
🦖Perk up Your Lessons with Our Directional Words Dinosaur
Where is that cute little dinosaur?!
Challenge your kindergarteners to figure out whether their new friend is going over, inside, around, between, and more! 
With these worksheets, students will observe and describe the location of one object in relation to another.   Students will read or listen to a sentence and choose the correct location word or picture for each. 
An answer key is included with your download to make grading fast and easy!  
Scaffolding & Extension Tips 
In addition to independent student work time, use this worksheet as an activity for:
This set of worksheets includes three different levels.
Level 1

Student answer choices are pictures only.

Level 2

Student answer choices are pictures and words.

Level 3

Student answer choices are words only.
Easily Download & Print
Use the Download button for a PDF version of this resource. 
Because this resource includes an answer sheet, we recommend you print one copy of the entire file. Then, make photocopies of the blank worksheet for students to complete. 
Don't forget to download this activity's accompanying velcro book and interactive activity!
Prepare This Resource with Sustainability in Mind!
No matter how you decide to use this teaching resource, there are many ways to incorporate efficient practices that save time, resources, and the planet!
♻️ Print Double-Sided
To save paper, we suggest printing this 2-page worksheet double-sided. 
♻️ Reuse It!
Turn this teaching resource into a sustainable activity by printing on card stock and slipping it into a dry-erase sleeve. Students can record their answers with a whiteboard marker, then erase and reuse them. 
Get more worksheets to have handy!
---
Don't stop there! We've got more activities to shorten your lesson planning time: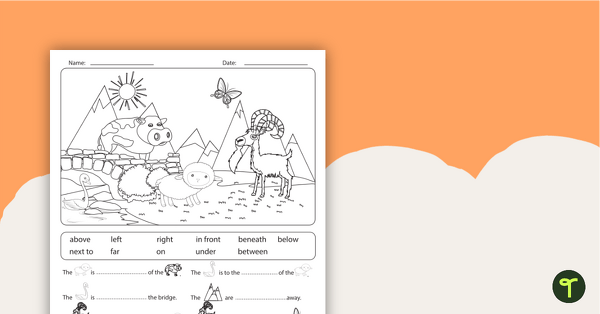 teaching resource
Three worksheets using positioning vocabulary.
teaching resource
Practice recognizing and using prepositions with this set of 20 bingo game boards and preposition cards.
teaching resource
Practice recognizing and using prepositions with this set of 28 picture-word preposition dominoes.