Effective classroom storage ideas don't have to break your bank account. Whilst there are some super cute classroom specific storage items out there – they can come at an exy price. There are a few simple, cheap and clever things that you could implement in your classroom today all while reaping the benefits of a more organised classroom.
We've done a bit of research and found some super clever ideas on Instagram by some very clever and super organised teachers.
---
Totally AMAZING Classroom Storage Ideas
(1) Googly Eyes Need a Home
There's no doubt about it, googly eyes and paddle pop sticks need a place in the classroom. Re-using or re-purposing plastic tubs is a great solution to organising all those bits and bobs that you seem to accumulate as a teacher. Clear containers make it easier to see exactly what is inside. Plus, the labels add an extra element of #organisedteachergoals.
Thanks to @the_good_in_teaching for this fantastic idea.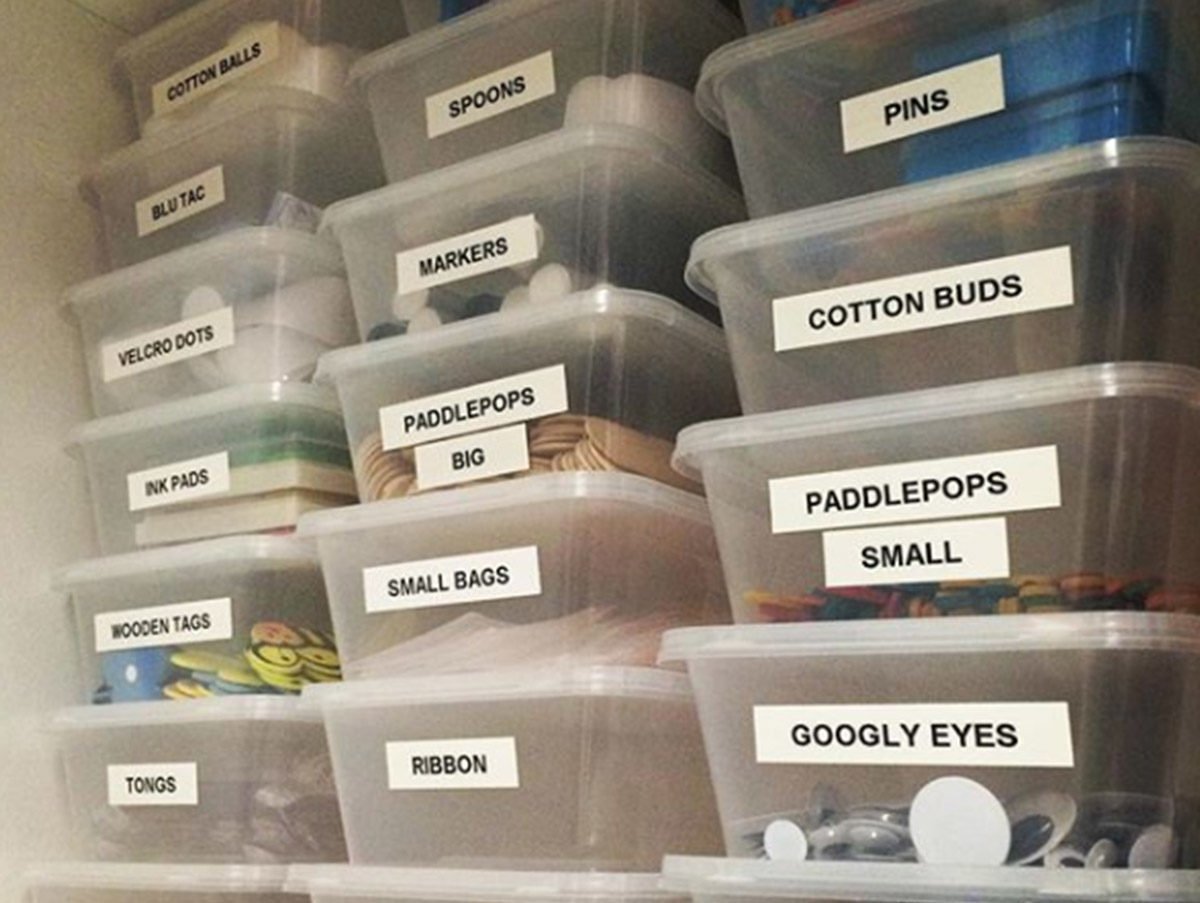 ---
(2) Headphone Hub
No more tangled headphones in a box with this super awesome idea! You could use pockets or even some hooks to hang the headphones on. By creating a place that the headphones are always stored, students will begin to get into the habit of putting the headphones away! Win-win!
Thanks to @mskeeganandco for this fantastic idea and photo!
---
(3) Classroom Games Storage Solution – BINGO!
One of our very clever Instagram teachers @misscampbell_tas shared this a while back and we just can't help but absolutely love it! She used colourful folders to store all of her Teach Starter BINGO cards and made them easily accessible by storing them in this dishwashing rack.
Now that's genius!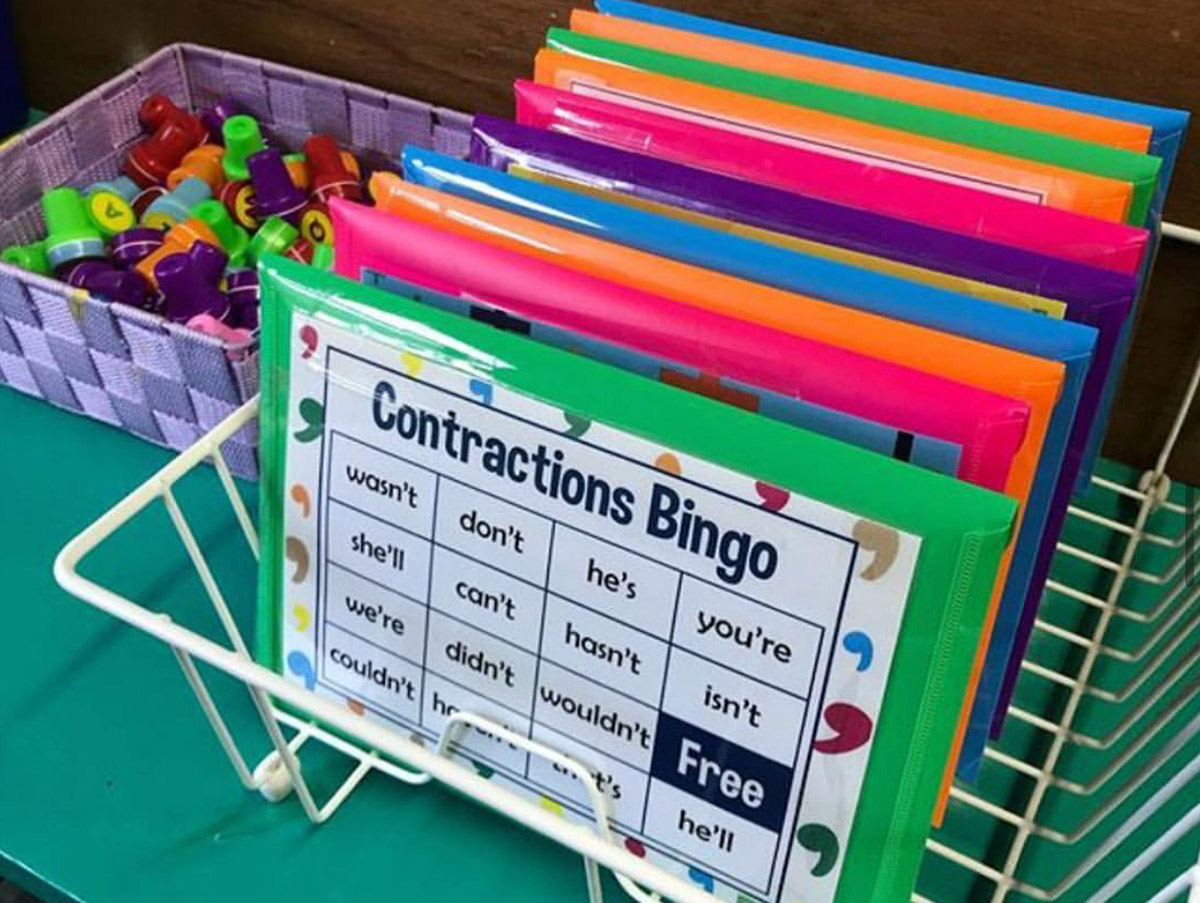 ---
(4) Flexible Seating Storage
Flexible seating in the classroom can sometimes require some rearranging and specific storage solutions. These rocker chairs have been doing the rounds lately but they can be a little awkward to stack.
By using some bag hooks, the students can be responsible for putting the chairs back after using them! Thanks to Mrs. F from @perfectlypolkadot for this clever idea.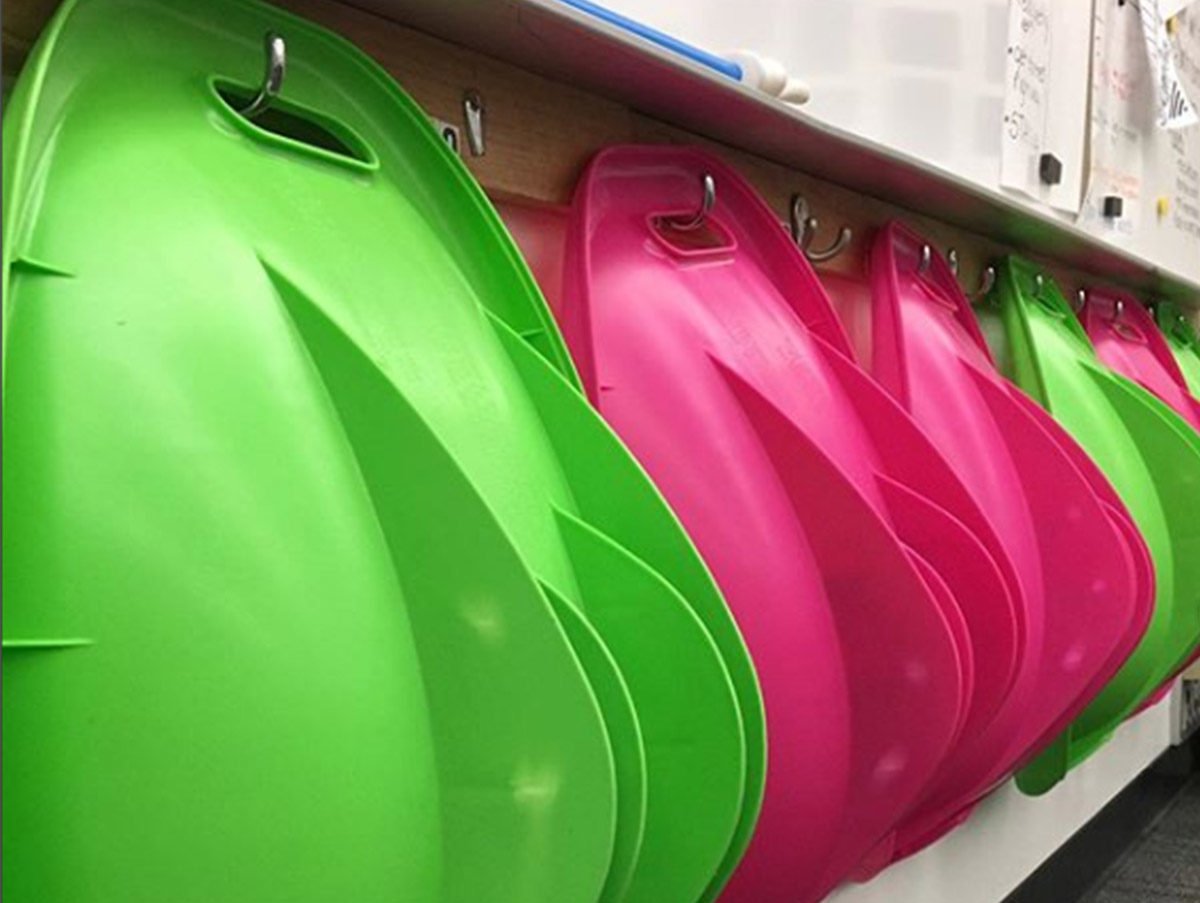 ---
(5) Technology Storage Solutions
This is an oldie but a goodie. You can easily purchase a dish drying rack for a similar result. @theclassroomflow was lucky enough for her husband to make one of these for her so she could store more of her laptops on each shelf.
If you're storing iPads though, the IKEA wooden dish drying rack would work a treat!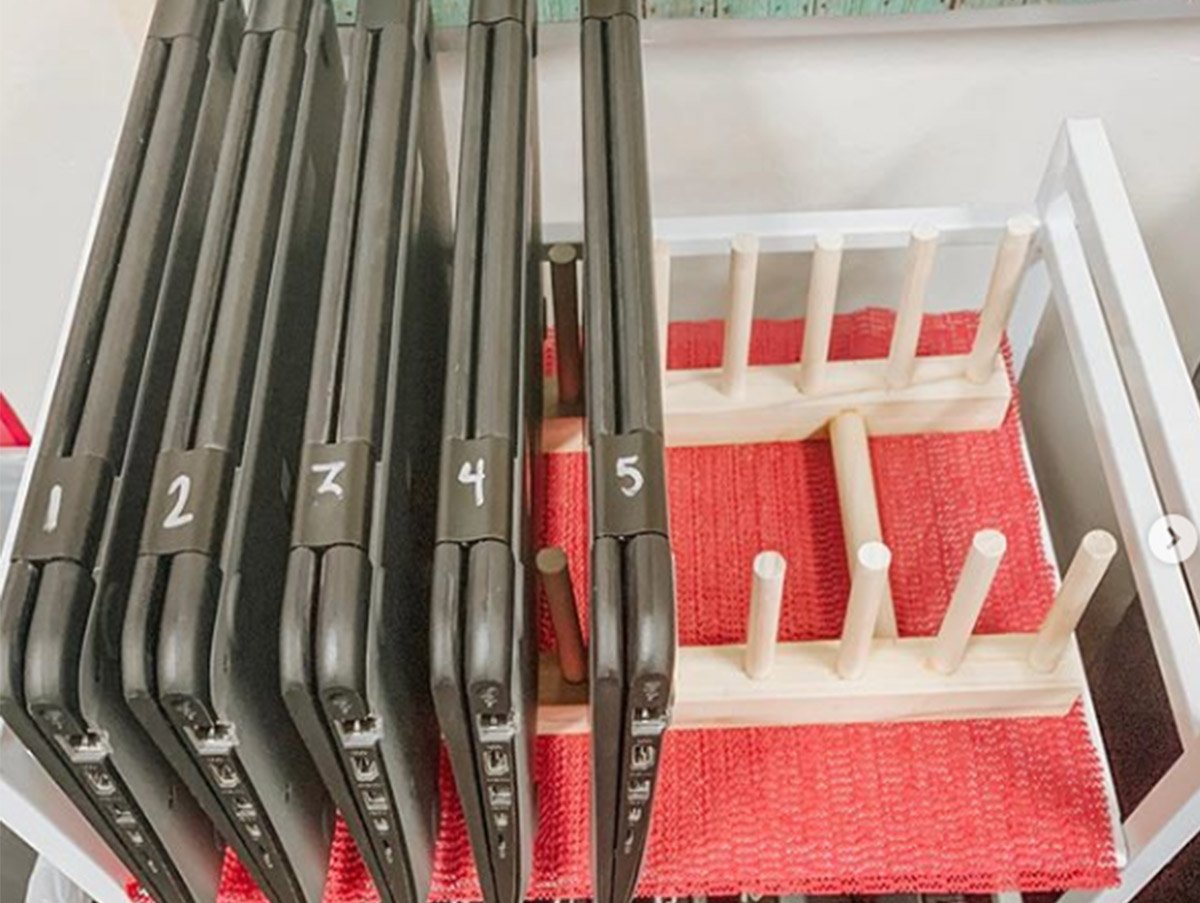 ---
(6) Small Containers for Counters
This not only is a great way to store your counters, but it also saves a lot of time! If students need counters for individual work or small group work, they simply grab a container and off they go – no more rummaging through a large counter of counters and then dropping them all over the floor!
@teachingwithmissvandijk got these small containers from Kmart! Best of all, they come with little erasers inside. Bonus – use the erasers as prizes!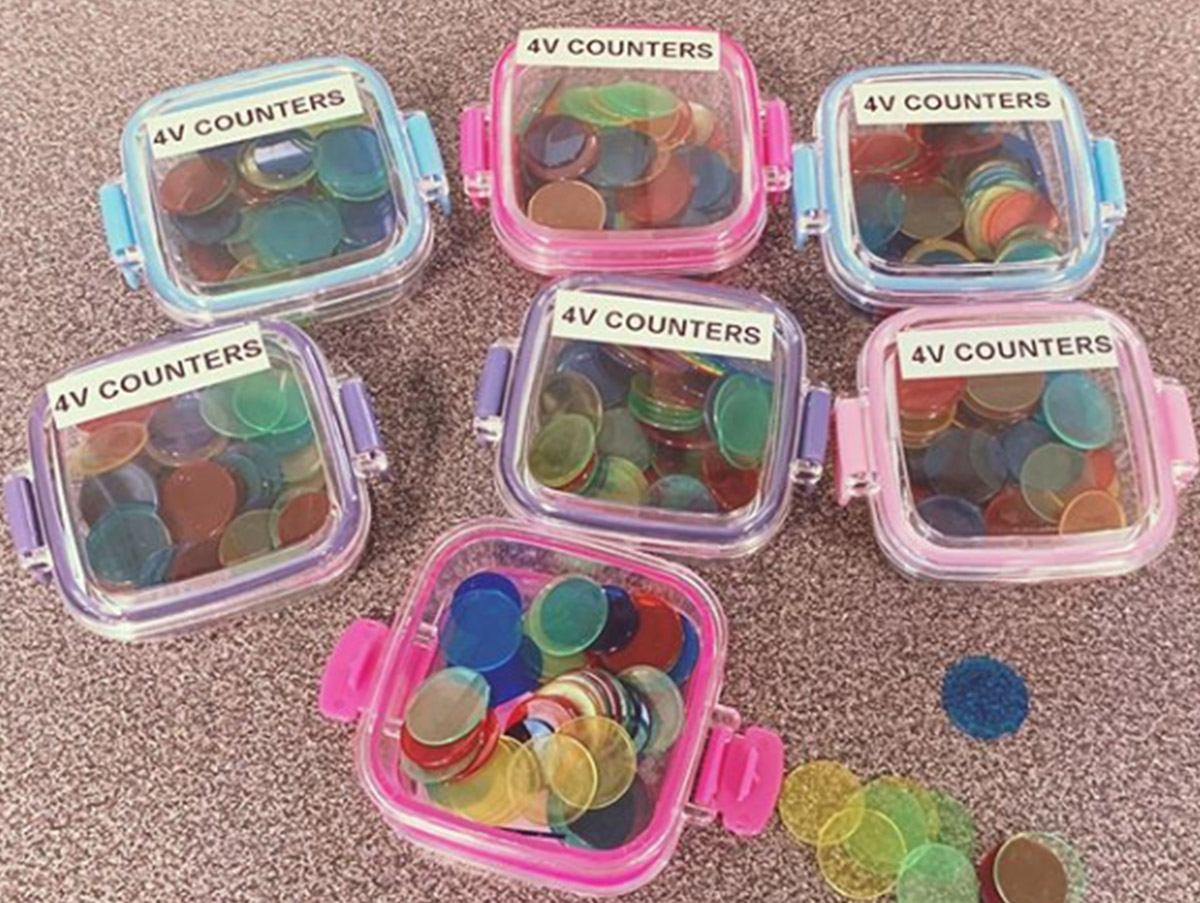 ---
(7) Aldi Storage Hacks for the Win
Another one of our fabulous Instagram followers got creative with the wooden Aldi storage caddies.
She painted them these gorgeous colours to brighten up her classroom. Best of all – they are perfect desk storage units for desk groups in the classroom. Or, why not use them for English or maths rotations?
The pink group – gets the pink caddy with all of their materials inside! Winning!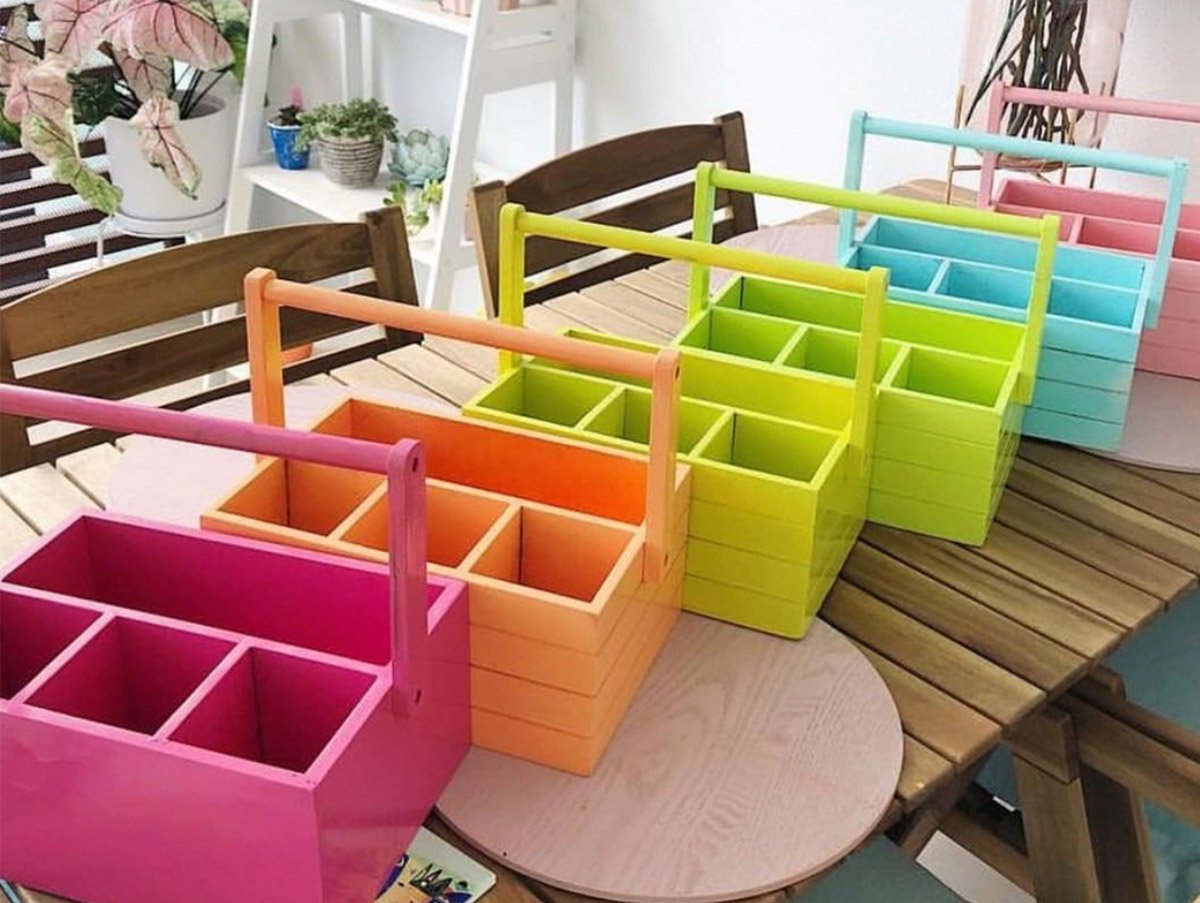 ---
(8) Letter Tiles Storage Solution
This is brilliant! @miss_bingham is using one of these mini toolboxes (found at Spotlight or Bunnings) to store our printable letter tiles resource.
No more shuffling through all the tiles to find the letters that you want to give to your students…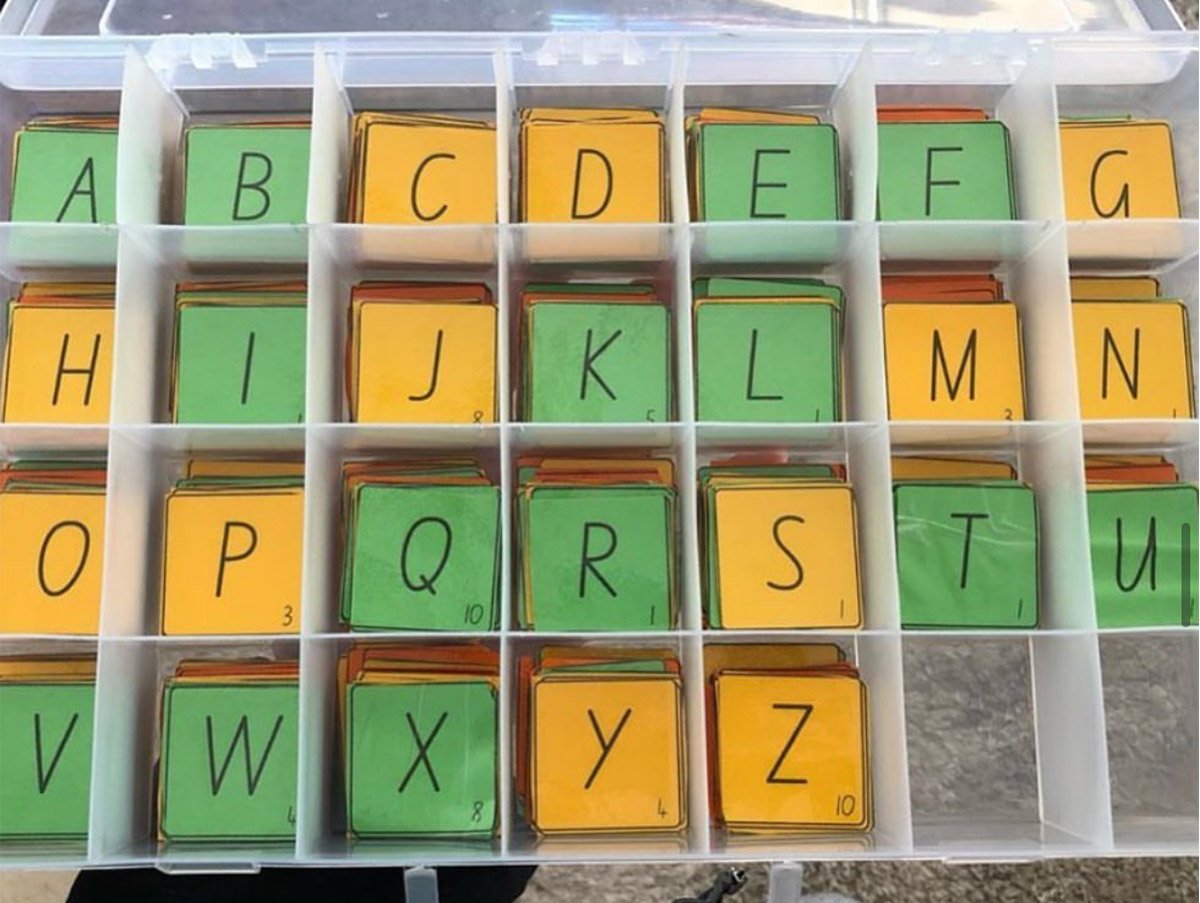 ---
(9) Task Card Storage
This is #taskcardgoals! Do you ever have so many sets of task cards that they get all mixed up? Or, you forget you even have them?
This clever idea by @desireephilip2614 is brilliant! She got the large clip from Bunnings. You can then store each set of cards on individual rings to make them easier to find and get off!
You might be wondering what task cards she has on here? It's our 120 Comprehension Task Cards – all organised and ready to go!
---
(10) Hanging Resource Storage
Do you have lots of fantastic maths games that you have printed but don't know where they are?
@missmccloudsclassroom purchased this rod from Daiso and has used some coathangers and pegs to create this super duper amazing maths games storage solution!
We spot a Teach Starter resource too!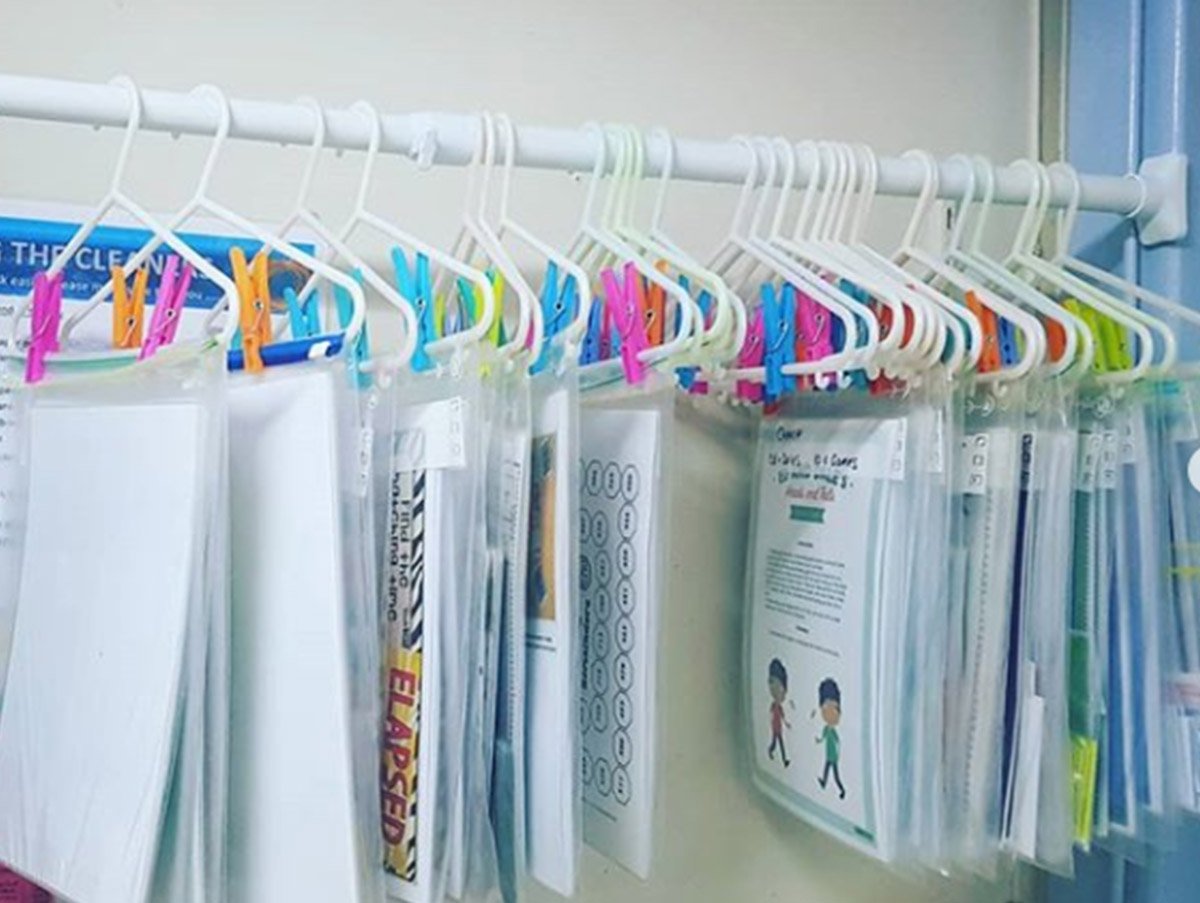 ---
(11) Drink Bottle Trick
Well, this is cool! Drink bottle holders that you would normally attach to bikes – attach them to your students' chairs! No more condensation all over their desks. And, more accessible to them than a communal drinks station.
Thanks to @educationlifeboat for sharing this awesome idea.
---
(12) Paper Storage Solution
All of the colours! Do you have lots of coloured paper you use? Have you got a slight obsession with the different colours you can buy??
It's all good – we have a storage solution for you. Thanks to @teachingmondaythroughfriyay for this great photo of coloured paper stored perfectly in a filing cabinet drawer.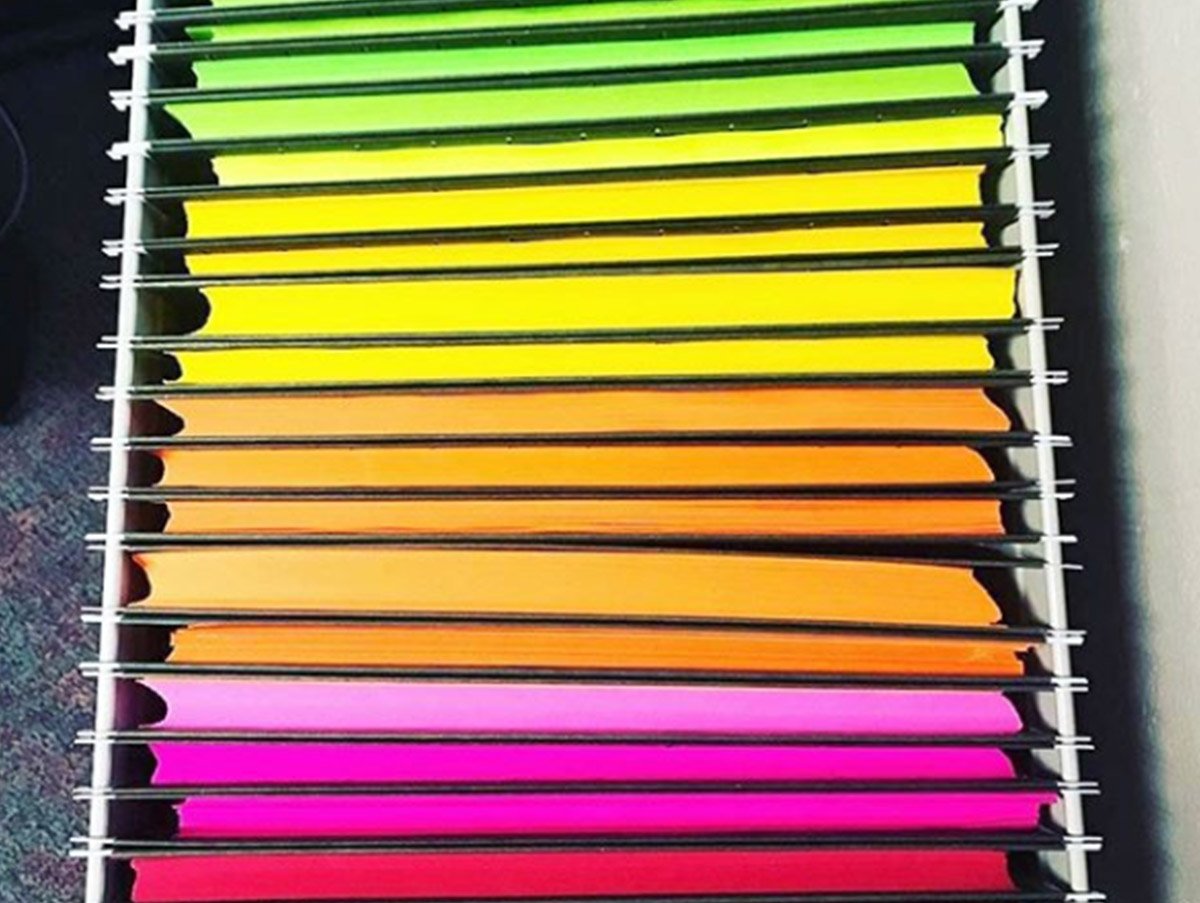 ---
13) Display Border Storage Solution
Does anyone else roll their borders up and put a rubber band around them? This makes it tricky when it comes to unrolling them and using them again the next year. This #teacherhack is super simple and brilliant!
Thanks to @mrscessac5th for this great photo!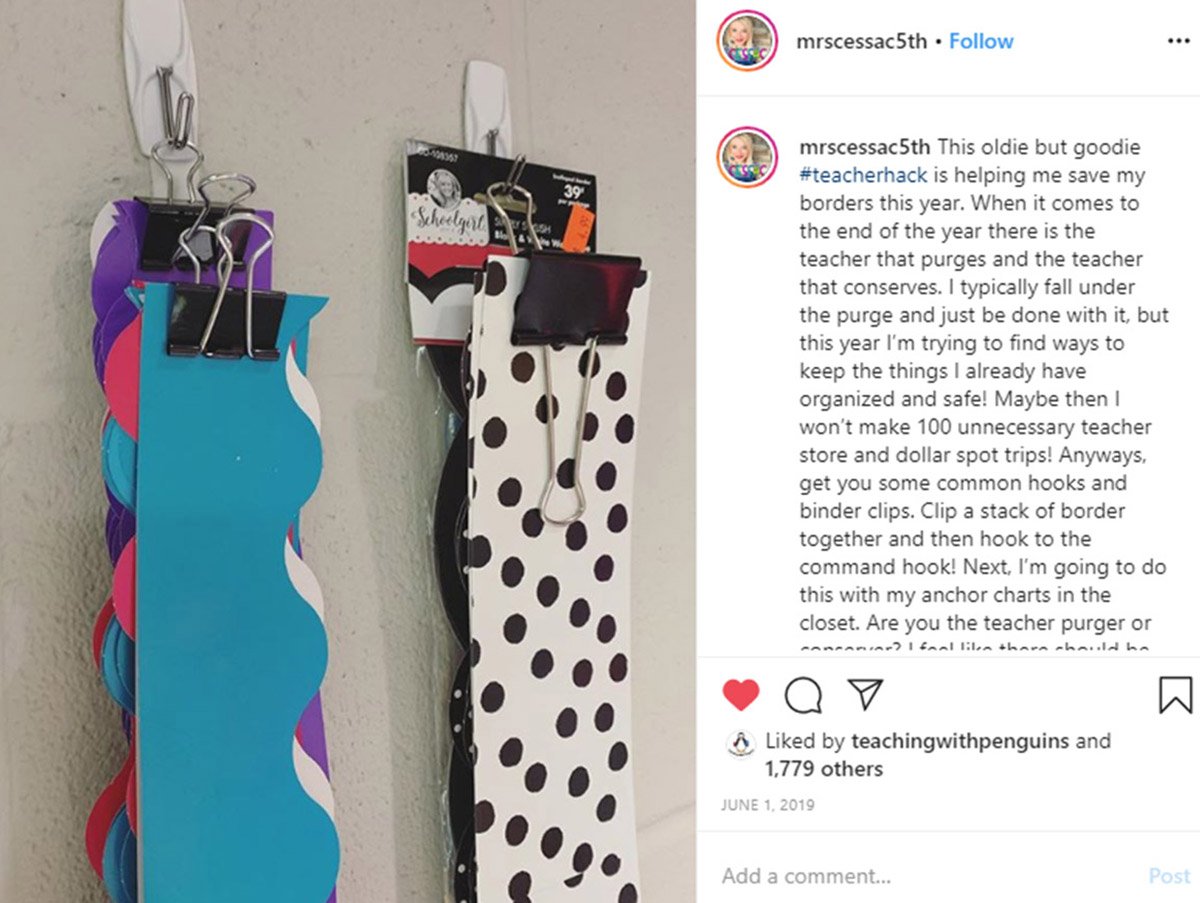 ---
(14) Classroom Trolley Storage
We couldn't write a classroom storage blog without featuring the famous IKEA trolley! This trolley can be used for so many things but we love how @miss_jaysclassroom has added hooks to hers to help with the storage of task cards that the students may need to use regularly.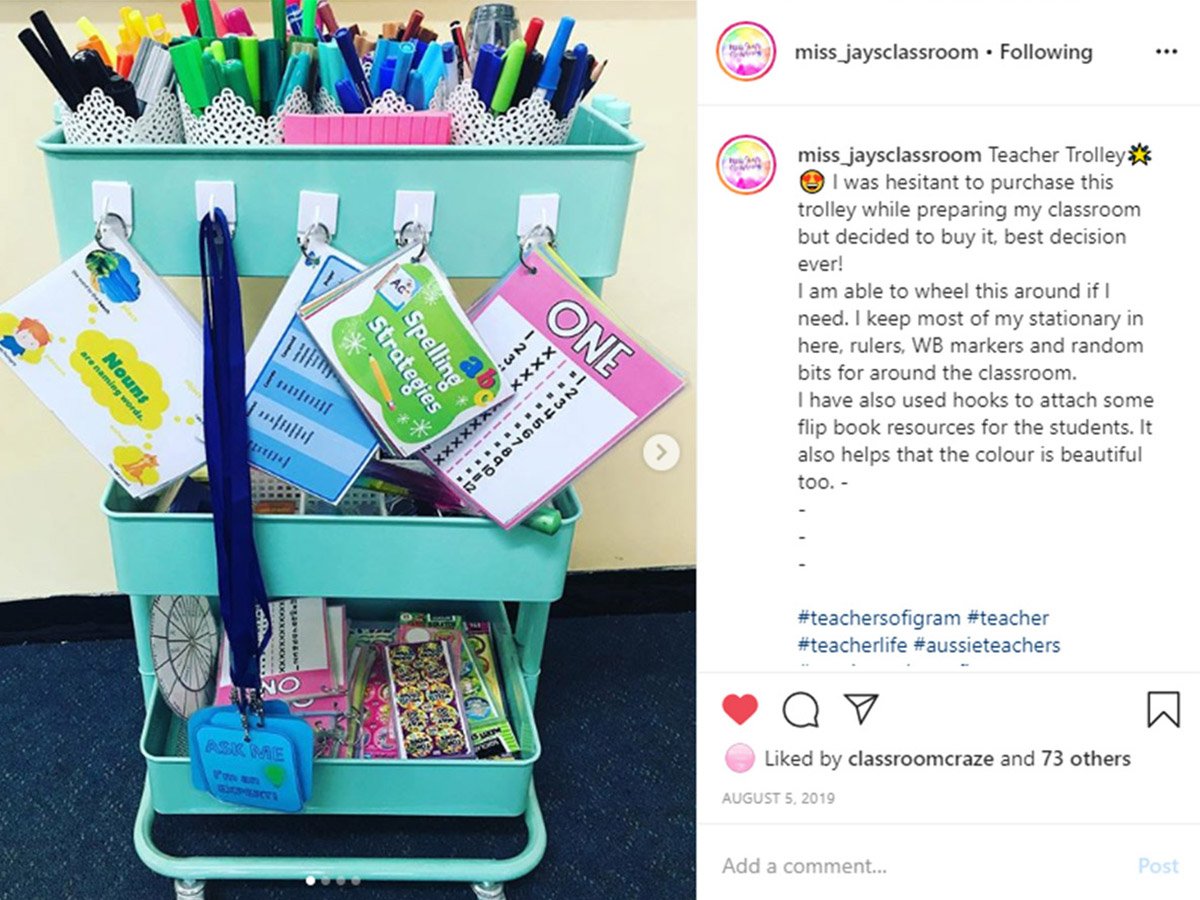 ---
(15) Whiteboard Pen Storage Solution
OMG! This makes us smile! To finish up, we are talking about the all-important storage of whiteboard markers. Make sure you find a container that will fit all of your beautiful markers and that you can store them upside down (makes them last longer).
Then, you need to add a super cute sign like this so that they don't go walkabout! Thanks to @stylininsixth for this great photo.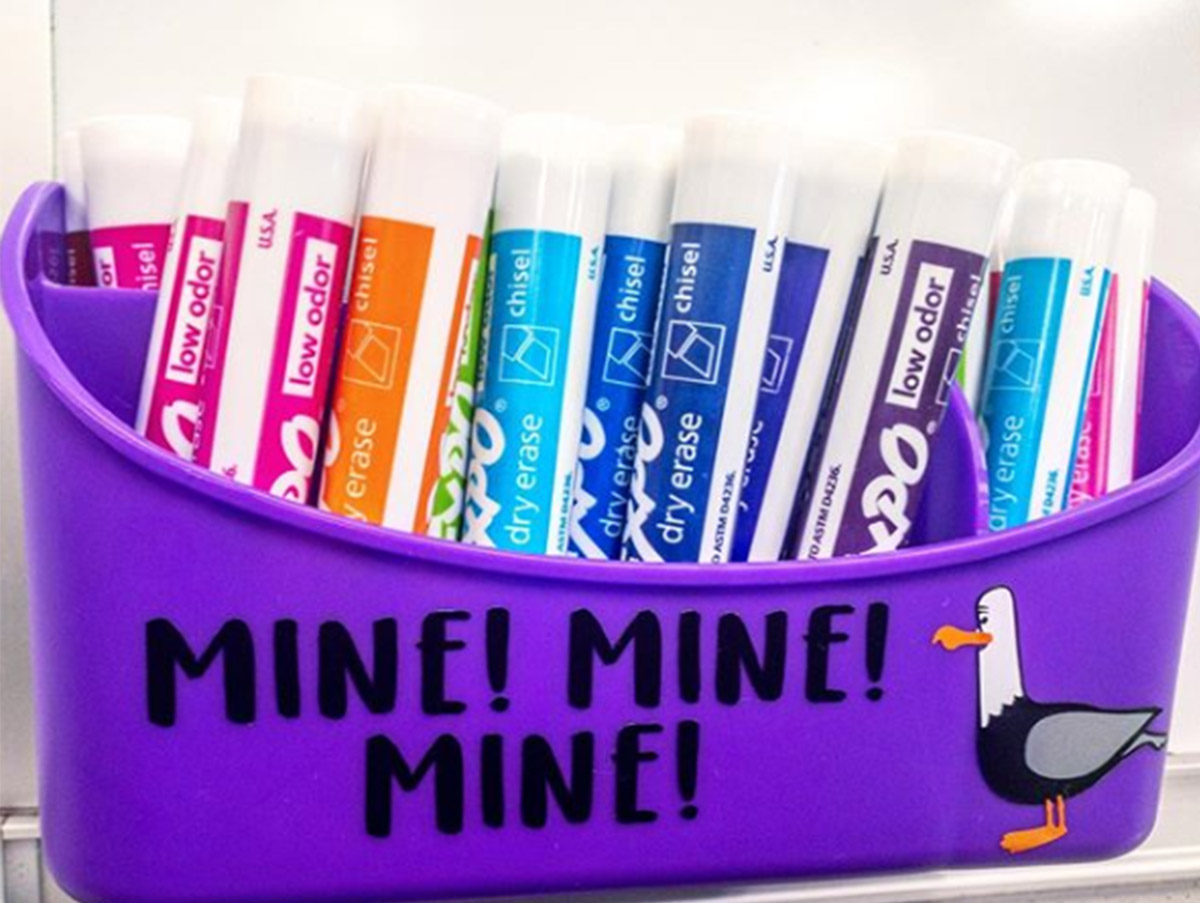 ---
(16) Puppet Displays
If you're anything like me, when I was in the classroom teaching Prep – I would forget that I had a box full of puppets that I had bought when I graduated. How super cute is this little storage hack for puppets? Use paper towel holders…
Thanks to @coffee.sing.teach.repeat for this awesome hack idea!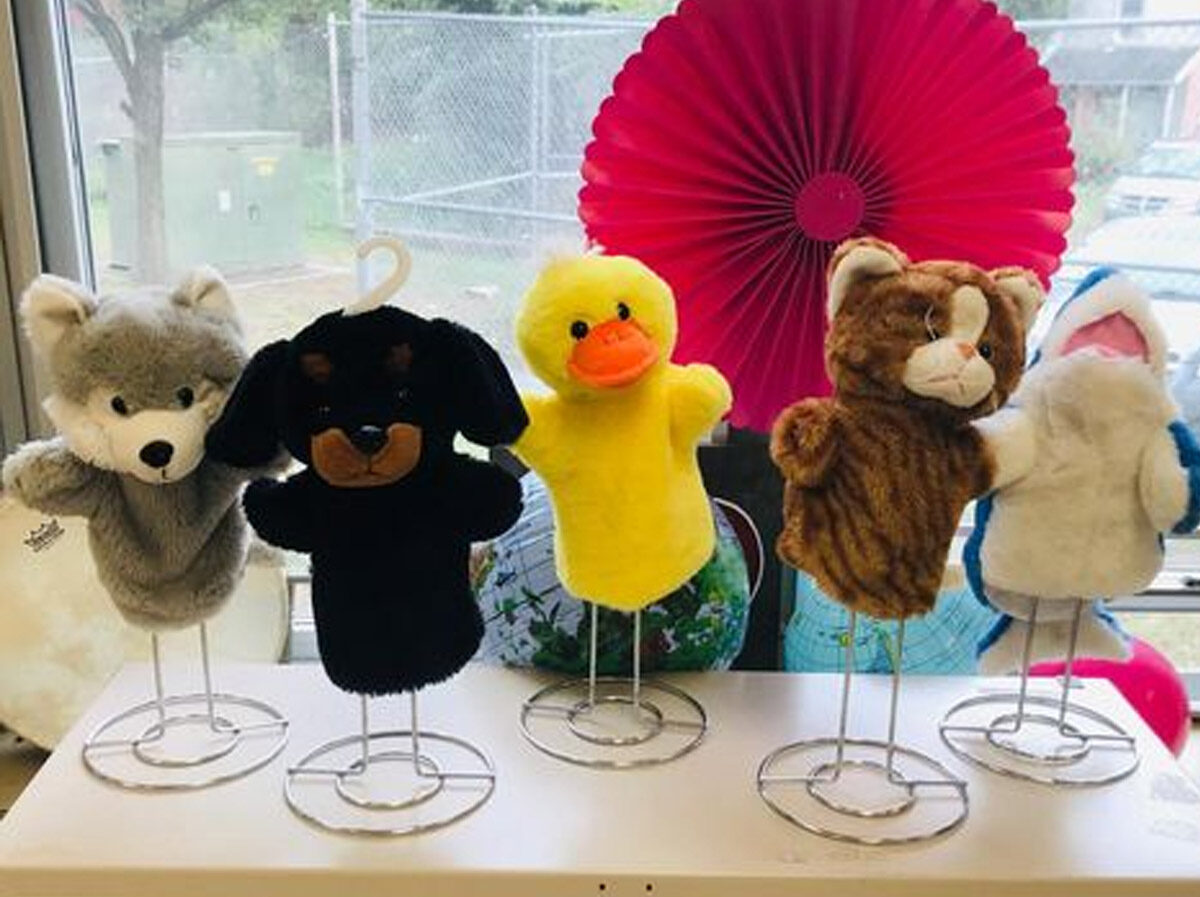 (17) Ladder Storage Fun
We couldn't help ourselves with this IKEA ladder idea! We just had to include it in our favourite classroom storage ideas going around. Kayla from @movemountainsinkindergarten uses this ladder in her classroom to store different stationery supplies – but oh all of the different ways you could use this amazing space-saving storage unit.

And, that's a wrap (for now).
If you have any super awesome #storagehacks make sure you tag @teachstarter in your photos so we can feature you in our next blog.