It's been a little while since we've written about what's happening around the Teach Starter office. Are you curious to know what's been going on behind the scenes of this website that you visit so often!? Here are five wonderful snippets of Teach Starter life from the last two months…
1. So. Many. Amazing. New. Resources.
Our core business is creating awesome teaching resources that not only save you time but that your students LOVE! Over the last few weeks, the Teach Starter team has uploaded so many wonderful new bits and pieces. Here are some of the highlights:
Year 4 Geography Units
Created by Steph, Ali and Kristian, our team of skilled and experienced teachers, these Year 4 Geography units each consist of 10 x 60 minute lesson plans, a curriculum-aligned assessment task and a host of supporting teaching resources including PowerPoint presentations, student activities and infographic posters.Together, these three units cover every single Australian Curriculum code for Year 4 Geography!
Games Bonanza
During the Commonwealth Games we took the word "games" and ran with it. With Holly's trademark enthusiasm pushing us along (and a Commonwealth Games theme decorated office to boot!) we held our very own Teach Starter "Games Bonanza". The team worked SO hard during the fortnight, producing and publishing 35 brand new classroom games!
"Inference v Prediction" Lesson and Resources
This host of resources is thanks to teacher Kristian and designers Boaz, Errol and John! Including a 60 minute lesson plan and a PowerPoint presentation, these new Inference teaching resources include beautiful original illustrations and fantastic activities that will have your students understanding the difference between inference and prediction in no time.
2. The Real Faces of Teach Starter
The Teach Starter characters are cute, don't get me wrong, but we are so proud to be able to bring you more glimpses into the people and the work behind all that Teach Starter is. Meet the Teach Starter team on our new About Teach Starter blog section!
3. BETA Spirit of Learning Conference
If you're a beginning teacher in or around Brisbane, there's a chance you saw us at the Beginning and Establishing Teacher's Association Spirit of Learning conference last weekend! Scott, Holly, Kristian and I enjoyed meeting hundreds of enthusiastic teachers (even though the TS goodie bags were probably more appealing than just a plain old chat with us… haha!).
It was exciting and inspiring to hear that so many of the conference attendees had heard of Teach Starter and that many were already members. Being able to converse with you guys, face-to-face, and hear that the work we do really saves you time and reduce your stress levels is the most wonderful reward of all!
4. Recent Giveaways
As always, Holly our social media guru has been teeing up giveaways for you guys left, right and centre!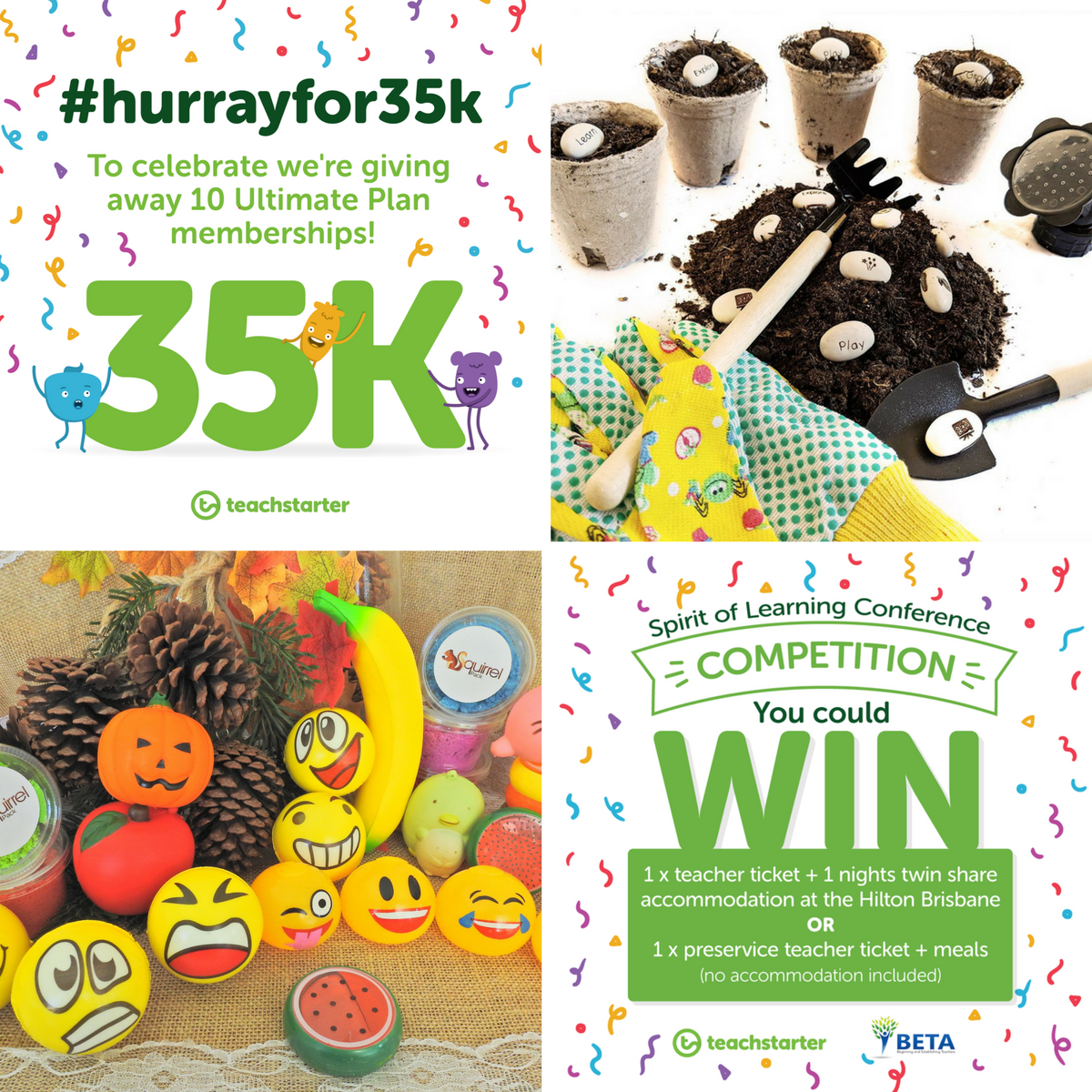 Since the last "What's New at Teach Starter HQ" post, we've given away:
Spirit of Learning Conference tickets and accommodation at the Hilton
10 Ultimate Plan memberships when we celebrated 35K on Instagram!
Squirrel Pack gift pack
"Classroom Bean Packs" from Bean Me Up
To ensure you don't miss out on our regular giveaways, be sure to follow us on Instagram and Facebook.
5. New Teach Starter Office in the Works!
Last, but not least, we are extremely excited to share news of our new office! While our current office here in the inner city burbs of Brisbane is a lovely one, we have simply outgrown it. Having more kids means you need a bigger house, right?! During the next few months, our amazing new office will be fitted out, ready for the Teach Starter team to move in. A few weeks ago we had the chance to visit the new office and bathe in all of its spacious glory!
As always, it's been a busy few months around here!
Thanks again, for sharing in the Teach Starter journey.