Teaching kids handwriting and correct letter formation is crucial, especially in the early years classroom. There is only so much pen to paper letter formation practise you can do until their little minds start to wander and get bored! Get them excited to practise their letter formations with this collection of super fun, and slightly messy letter formation activities for the classroom.
These activities are best suited to children who are familiar with letters and the concept of print. With a focus on the lowercase letter to begin with the idea is that these letter formation activity trays will consolidate children's concept of how to form each of the letters of the alphabet.
They are also perfect activities to help students who may be reversing their letters. For more information about why students may reverse their letters read our blog, Why Students Reverse Letters | A Guide for Teachers (Mirror Writing).
---
Fun Ways to Teach Letter Formation
By providing your students with a variety of opportunities to practise their letter formations you will be setting them up for success. The activities mentioned in this blog have been tried and tested by little hands themselves and have received the tick of approval for 'messy' fun that got lots of giggles!
Don't you think a child's giggle is one of the most beautiful sounds in the world?
(1) Craft Sand Tray Activity
This sensory activity has an added element of vibrancy with the coloured paper stuck to the tray before the craft sand was poured in!
What you need to create this letter formation activity tray:
wooden tray
bright coloured paper
scissors
glue
craft feather
craft sand (white or coloured).
We found this wooden tray at Kmart, but you can also just use a baking tray or anything that has sides to create the same activity. Repurpose things that you already have.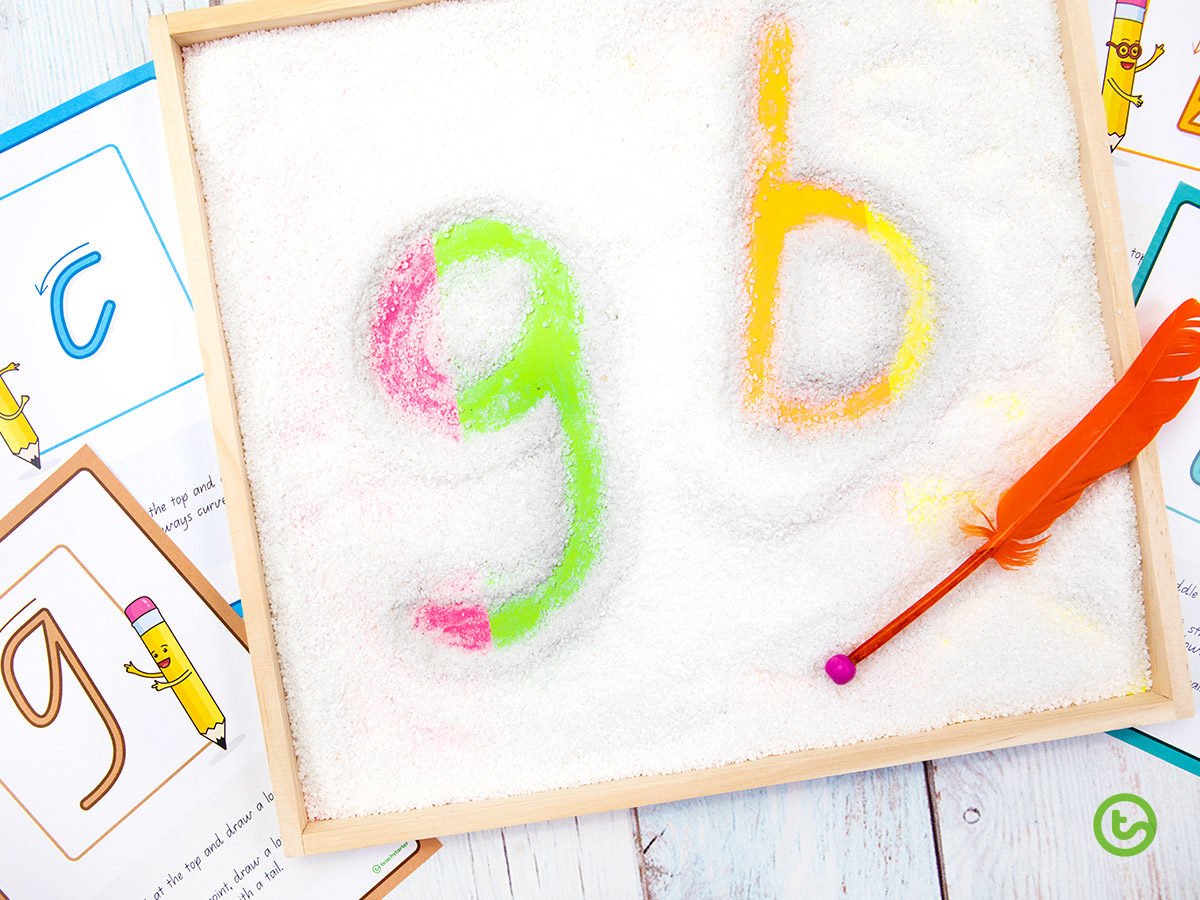 Utilise our collection of letter formation posters for guidance for your students during these hands-on activities.
[resource:533864][resource:156804][resource:19776][resource:3525]
(2) Shaving Foam Activity
Have you ever played with shaving foam? It's strangely satisfying and kids love getting their hands messy!
This activity is probably one of the cheapest and easiest activities featured in this blog – but, it's probably the messiest!
All you really need is a can of shaving foam and a desk or a tray to spray it on and you're done!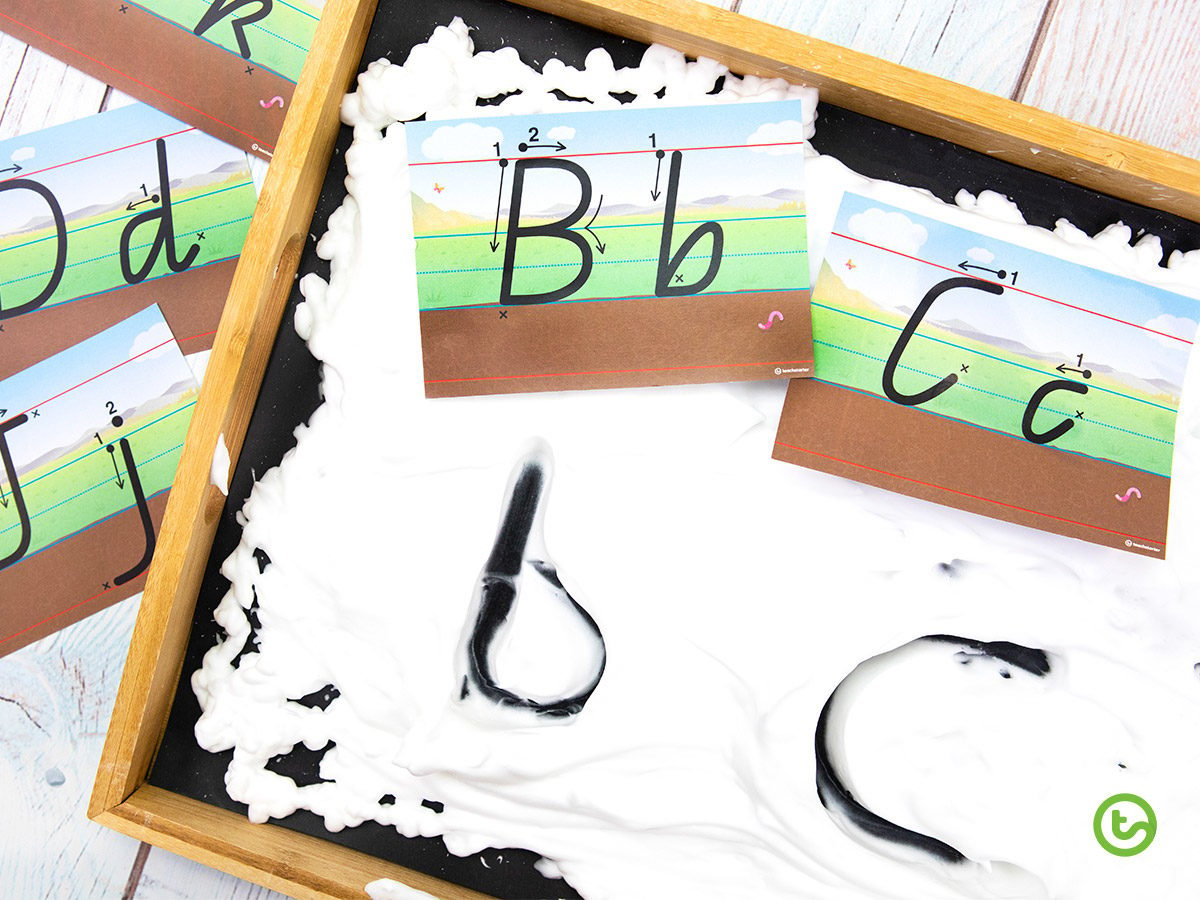 (3) Squishy Bags
If you are looking for something with the same effect but a little less messy – squishy bags are for you! These can even be used for children who are at the pre-writing stage to practise different shapes and develop their fine motor skills.
How to make squishy bags?
There are many different ways that you can create these squishy bags. We used a mixture of flour, water and paint (purchased from Kmart) for ours.
What you need:
zip lock bags
flour
water
paint
sticky tape.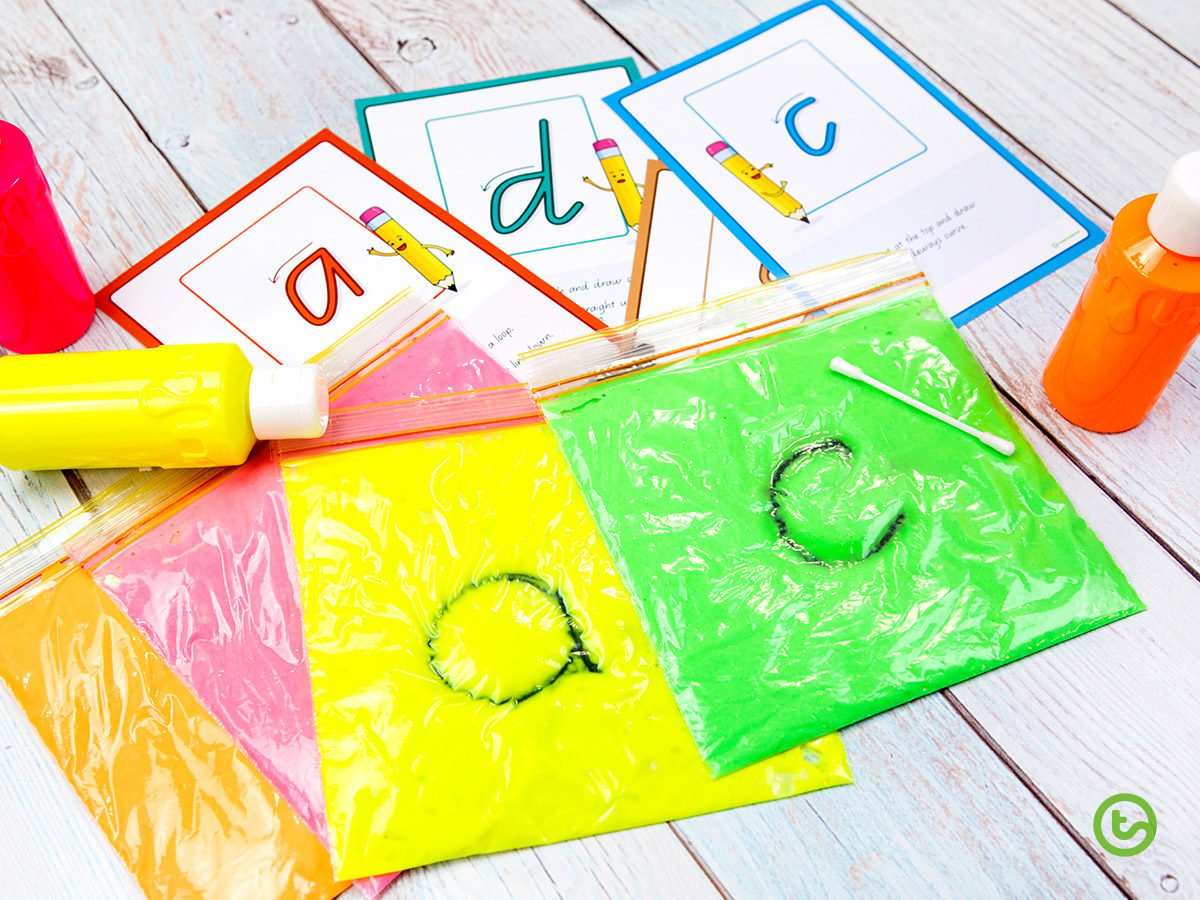 Steps
Combine together 75 ml of flour with 50 ml of water and give it a good mix.
Add a few drops of coloured paint or food colouring and mix.
Spoon the mixture into a ziplock bag.
Slowly flatten the mixture in the ziplock bag ensuring as much of the air is pushed out as possible before closing the top.
Place sticky tape along the top to secure the opening.
(4) Mini Blackboard Activity
Kids love to write on small blackboards and whiteboards. Take advantage of this interest by getting them to practise their letter formations.
Have students use chalk to practise writing a letter and then get them to use a paintbrush dipped in water to erase the letter again!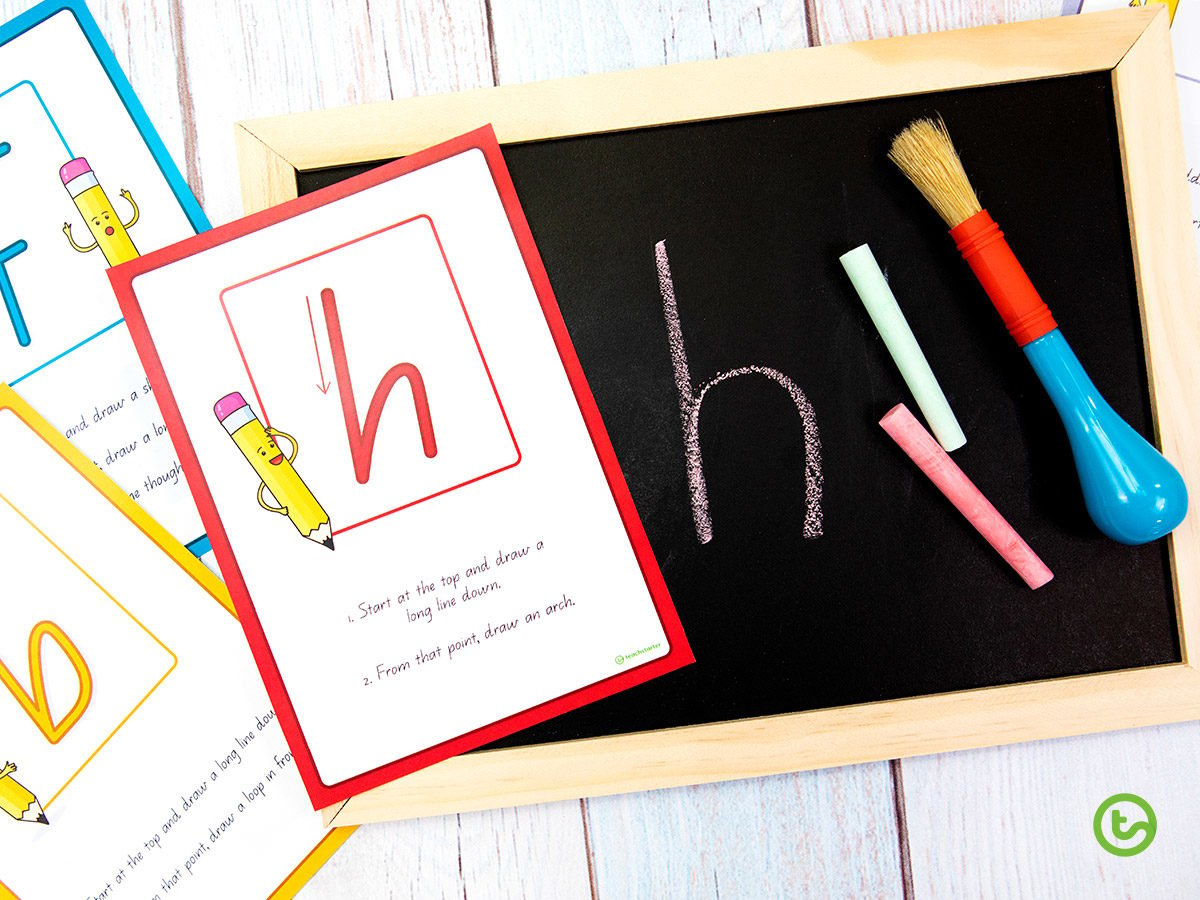 Tip: Take this activity outside with some sidewalk chalk instead
Utilise our collection of letter formation posters for guidance for your students during these hands-on activities.
[resource:533864][resource:156804][resource:19776][resource:3525]
For more general alphabet activities, check out our blog, The Alphabet Activity You'll Want to Get Your Hands On.
Share your favourite letter formation activities with us in this blog. Alternatively, tag us @teachstarter on Instagram.