Put your hand up if you've had reluctant readers and writers in your class? If you have, you know that you sometimes have to pull out something magical to improve their motivation in literacy. Making literacy fun with comic strips is one easy and fantastic way to bring the wow-factor back into your lessons!
Not only do these wonderful text types help students develop their reading skills, but they also help kids in a number of other ways! From storylines to sequencing and dialogue, trust us when we say there are many benefits to teaching literacy lessons with comics.
---
The Power of Making Literacy Fun with Comic Strips
Comic Book stores may not be as popular as they once were, but the power of the comic strip lives on. Not only do they make reading more accessible, but they make reading and writing fun by making words on the page more visually appealing.
The combination of graphics and written text mean that comic strips make the perfect stepping stone to inferential reading and structured writing.
---
How to Include Comic Strips in Your Literacy Lessons
Many students will already be familiar with comic strips. Introducing them into your reading and writing lessons should come with a collective gasp of excitement.
Using Comic Strips to Support Reading
The visual nature and structure of comic strips provide essential clues for students who may find texts difficult to comprehend. In this way, comic strips are just what you need to get those reluctant readers to pick up a book!
Start off by providing a number of comic book options as part of your classroom library. If you don't have a class set of books, why not bring in some of the local newspaper's comic strips to share with your students who may not find reading enjoyable?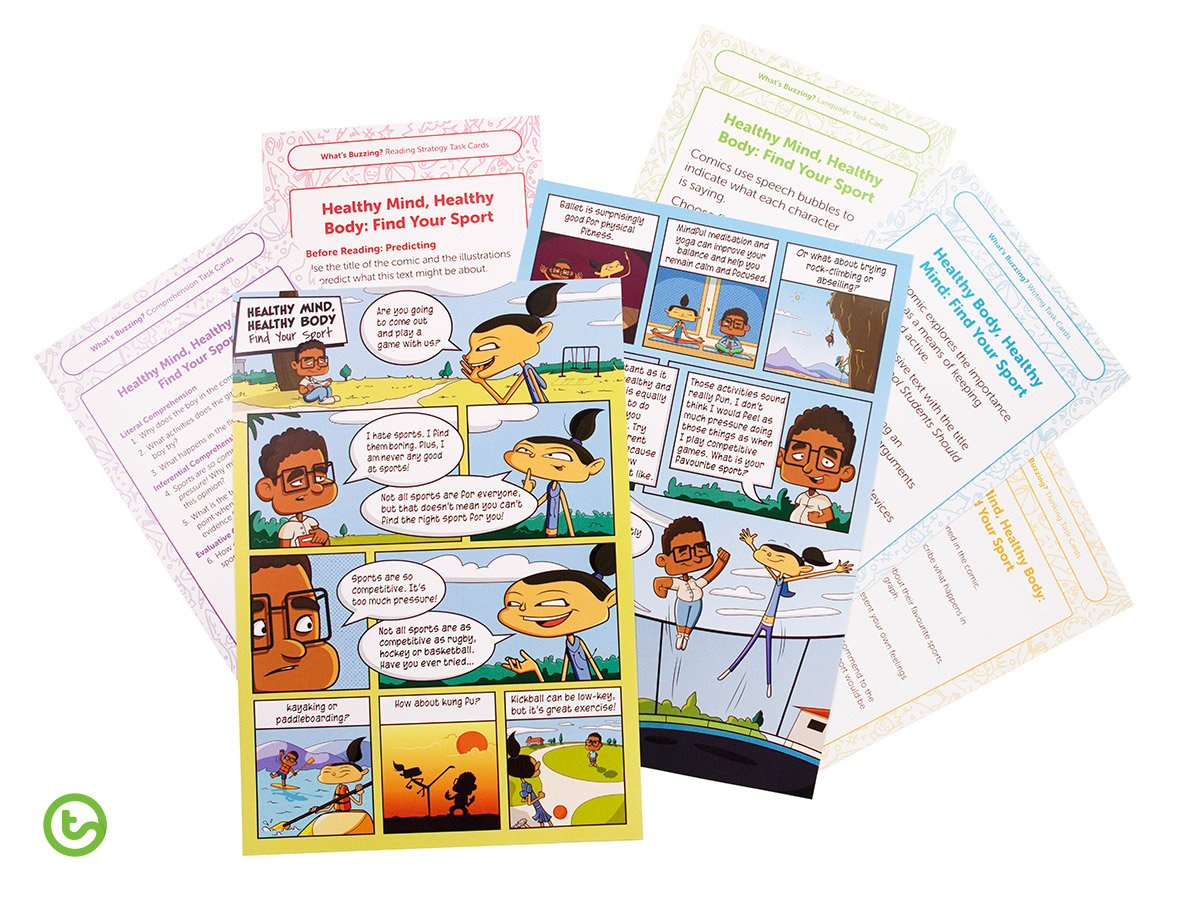 If you're looking for something a little deeper, we have an amazing selection of at-level, curriculum-aligned comic strips as part of our Magazine – What's Buzzing? Teaching Resources. Each magazine contains a comic strip, and with accompanying task cards or worksheets your comprehension activities are done for you! Alternatively, you can find the comic resources from each magazine by taking a look at our Comics teaching resources.
Using Comics for Inference
Working on inference is easy with comic strips as well. So many frames don't have any text at all, yet they still work to propel the storyline. Work on your student's inferring skills with our set of Inference Comics.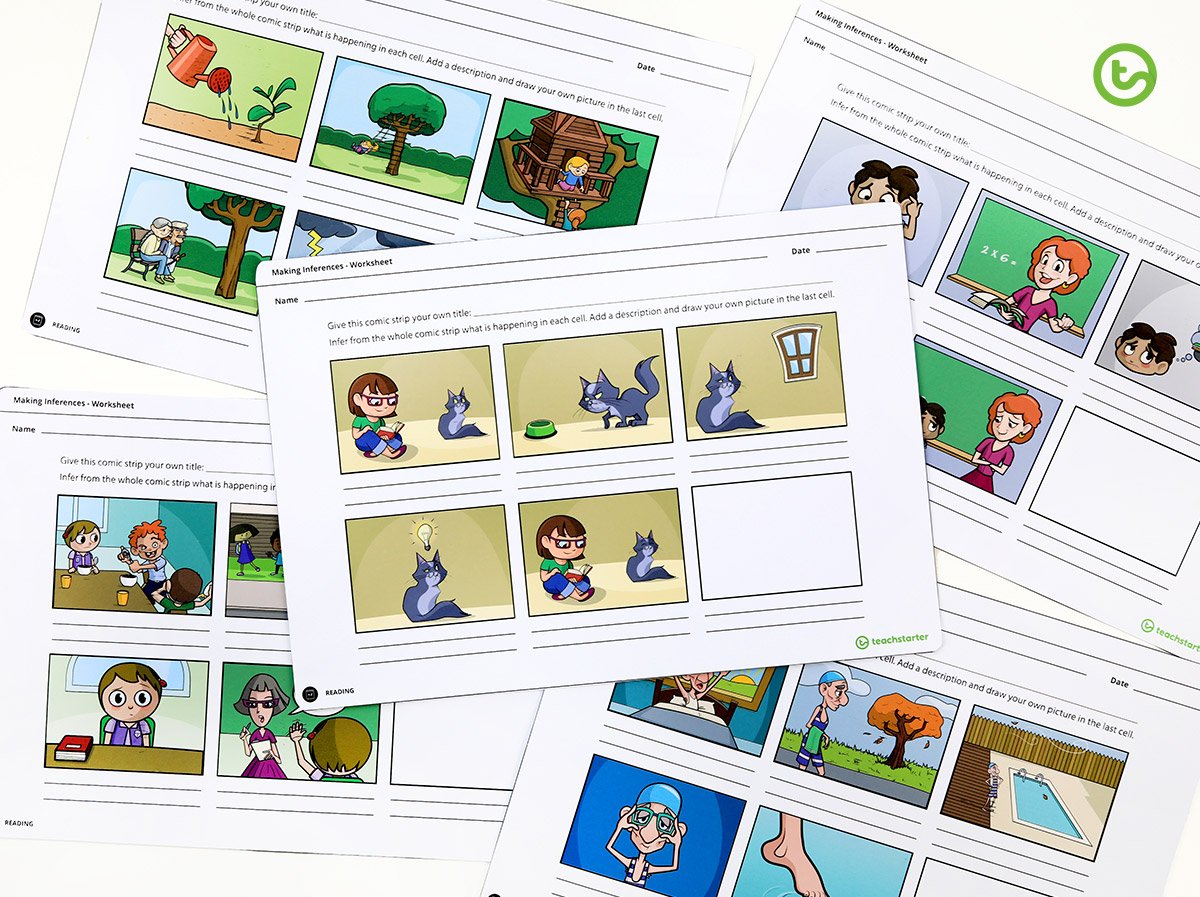 Comic Book-Related Vocabulary
The language featured in comics is in a league of its own! With a particular emphasis on onomatopoeia and sequencing words, your students' vocabulary can be greatly extended by including comics in your literacy lessons.
Why not ask students to keep track of some of the wonderful words they come across? They can write a new word down, as well as its definition. Then, put those words in a sentence using our Word Power Vocabulary Worksheet.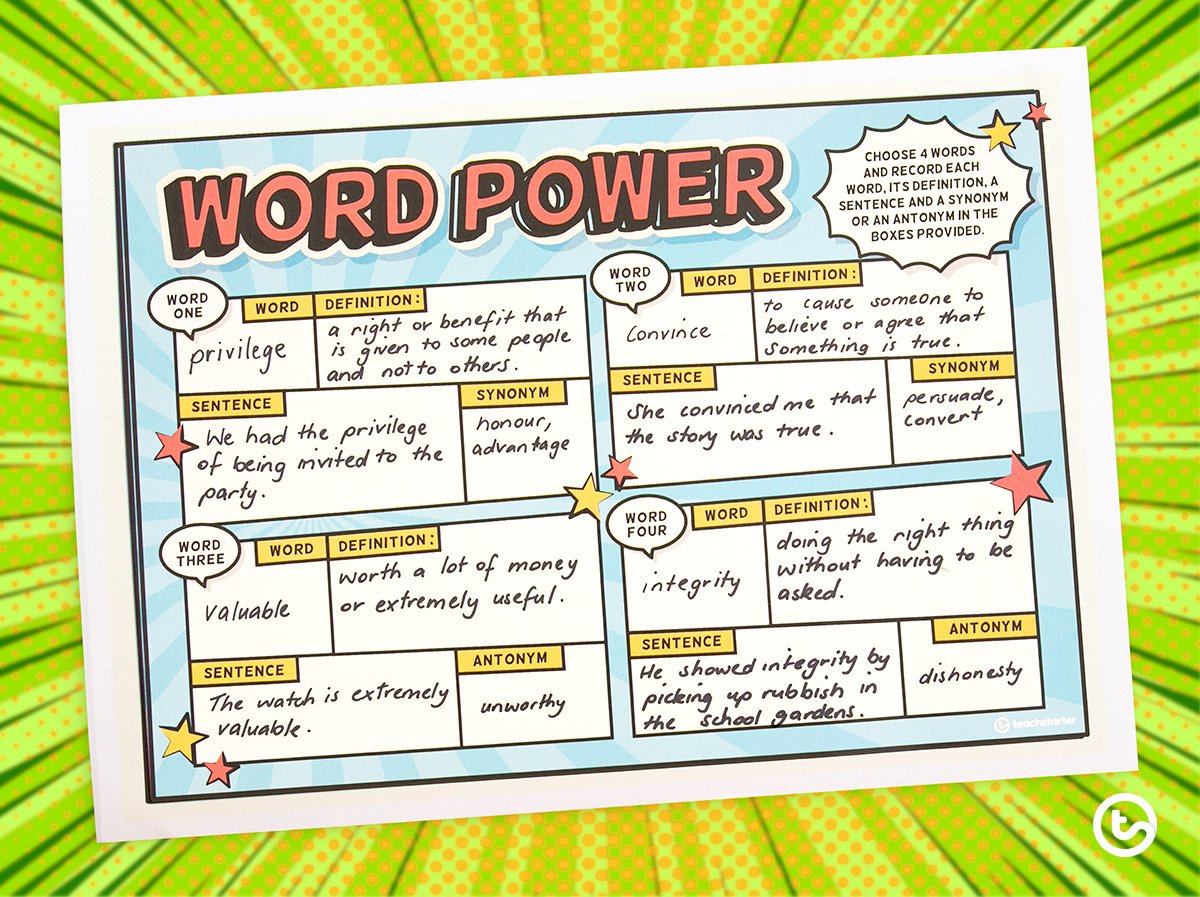 Help your students remember some of the wonderful words they read in comic strips by putting up our Onomatopoeia Word Wall.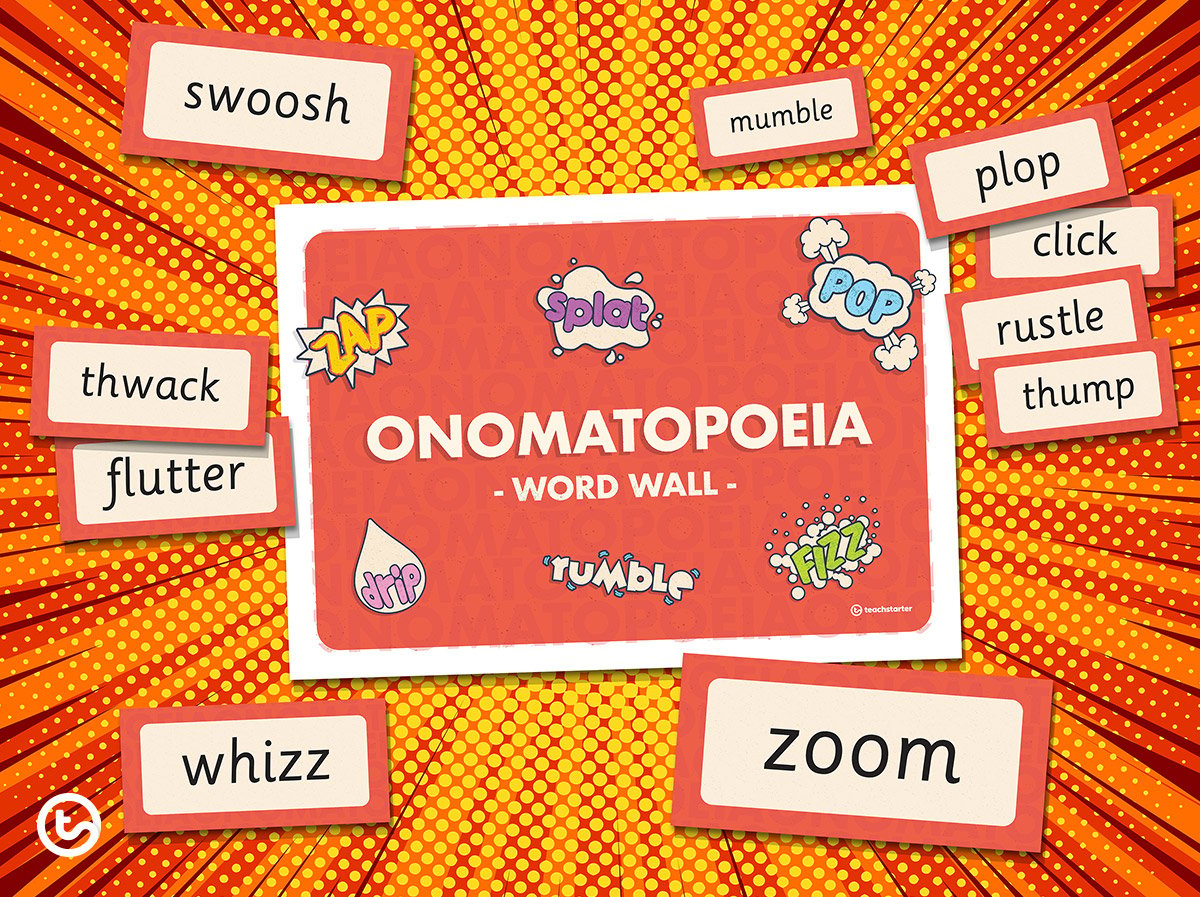 These amazing words will give them the inspiration to write comics of their own.
From Reading to Writing Comic Strips
Once your students have fallen in love with reading comics, they'll be ready to write some amazing strips of their own!
Start the ball rolling by getting your students to visually retell a story they have read. Our Comic Strip Templates are the perfect thing to get your students excited about transcribing what they've read onto the page. Choose a narrative that the class has shared to start, or have students retell a story that they love.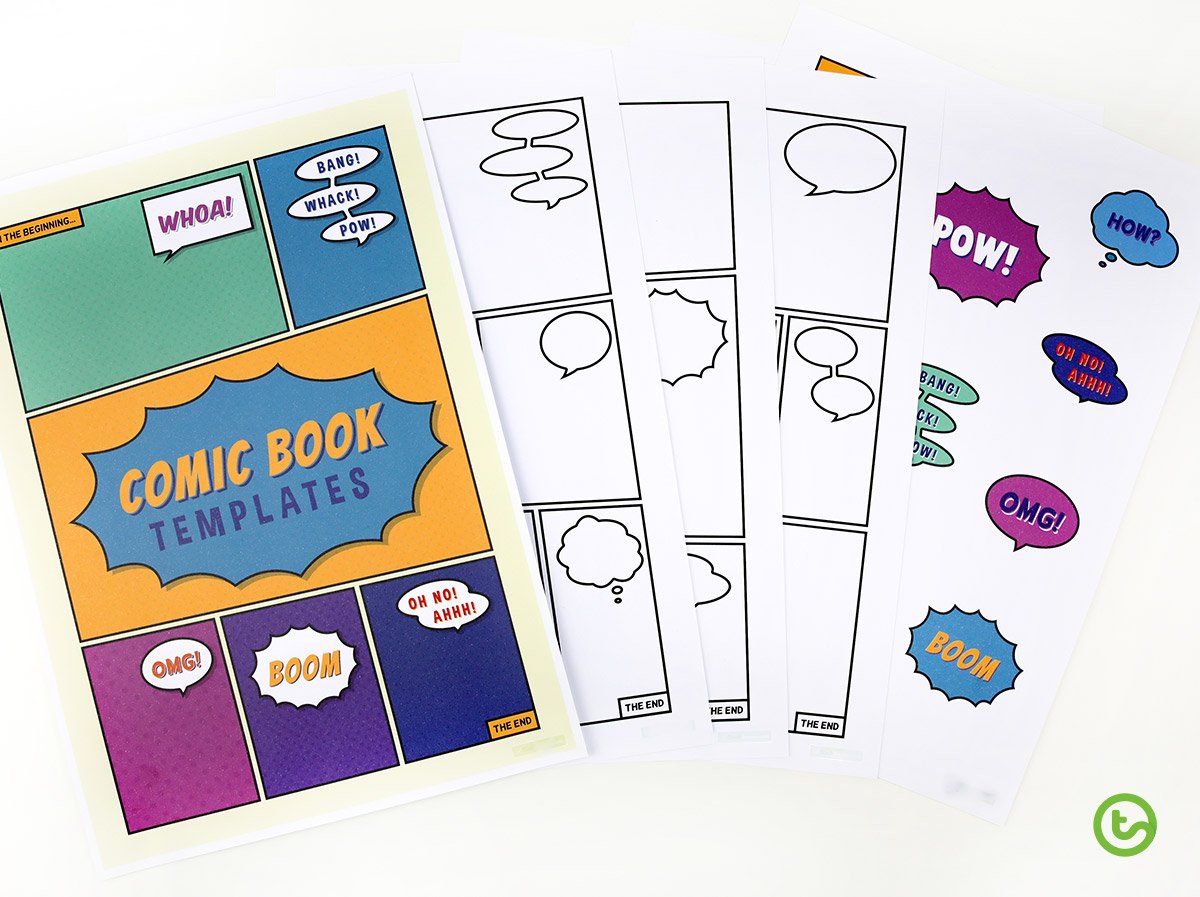 Comic Book Structure
Once your students are ready to create their own, take a closer look at the structure of a comic strip. And here's where you'll see one of the main benefits of using comic strips to help reluctant writers… These wonderful tools help students to organise their writing in visual ways.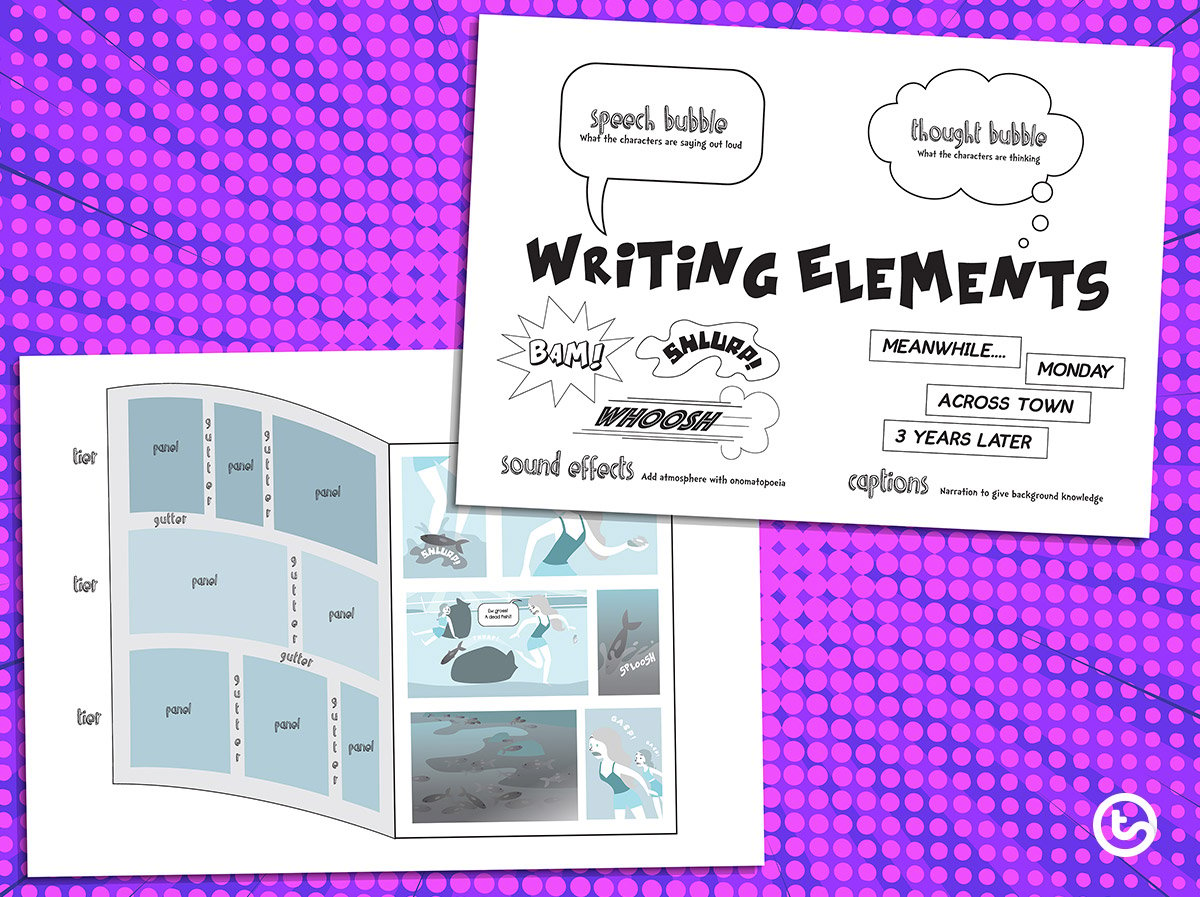 These pages come as part of our Comic Book Writing Resource Pack. And as you can see, they help students understand comic-related vocabulary. As well as this, they are a great tool for helping students visualise how their narrative text will be structured.
Creating Narratives with Comic Strips
Once your students know all they can about the structure of a comic, they're ready to write!
Sometimes, the reason a writer is reluctant is that they can't settle on an idea for a narrative. Give them a little nudge with our Roll to Create a Comic. Using this fun worksheet, some dice and our Comic Strip Templates (remember those from before?) your students will be authors of their own narratives in no time!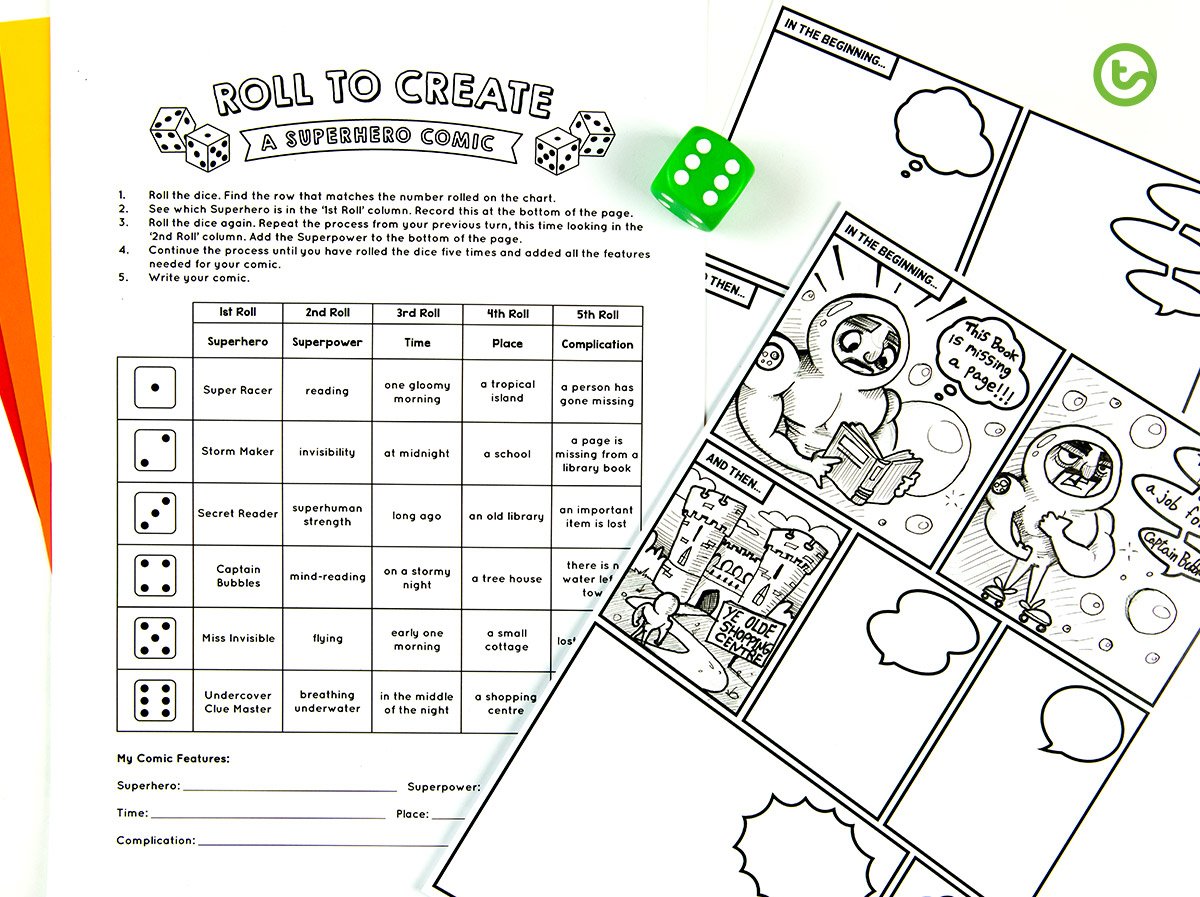 Another reason young writers may be reluctant is that all the elements of a narrative are just too overwhelming for them to organise their thoughts. By creating comic strips, students practise composing a storyline, sequencing and writing dialogue. Then, they have the fun part of illustrating their masterpieces!
If you want something a little more blank-slate, check out the Blank Comic Strip Template and square-only Comic Strip Template from our resource collection. Your reluctant writers will be no more, and their portfolios will be full of unique narratives.
---
Creating comics digitally during remote learning?
Why not try digital storytelling! Ask your students to create a narrative and use graphics from the internet to illustrate their stories.