Particularly in the last few years, digital technologies education has come ahead in leaps and bounds. School students as young as five years old are getting involved in STEM (Science, Technology, Engineering and Maths) learning. Whether that's in coding challenges in class, after-school robotics clubs or leisure time spent using apps to design and test code, kids everywhere are keen on coding!
Digital technologies aren't taught (or learned) in isolation – they permeate the curriculum in a world which is ever-changing to meet new and yet unknown technological needs of the future.
If you're ready for a new coding challenge, our brand-new Orb Robot Task Cards will have your class engaged and excited about learning to code in no time!
Why Teaching Coding to Kids is Imperative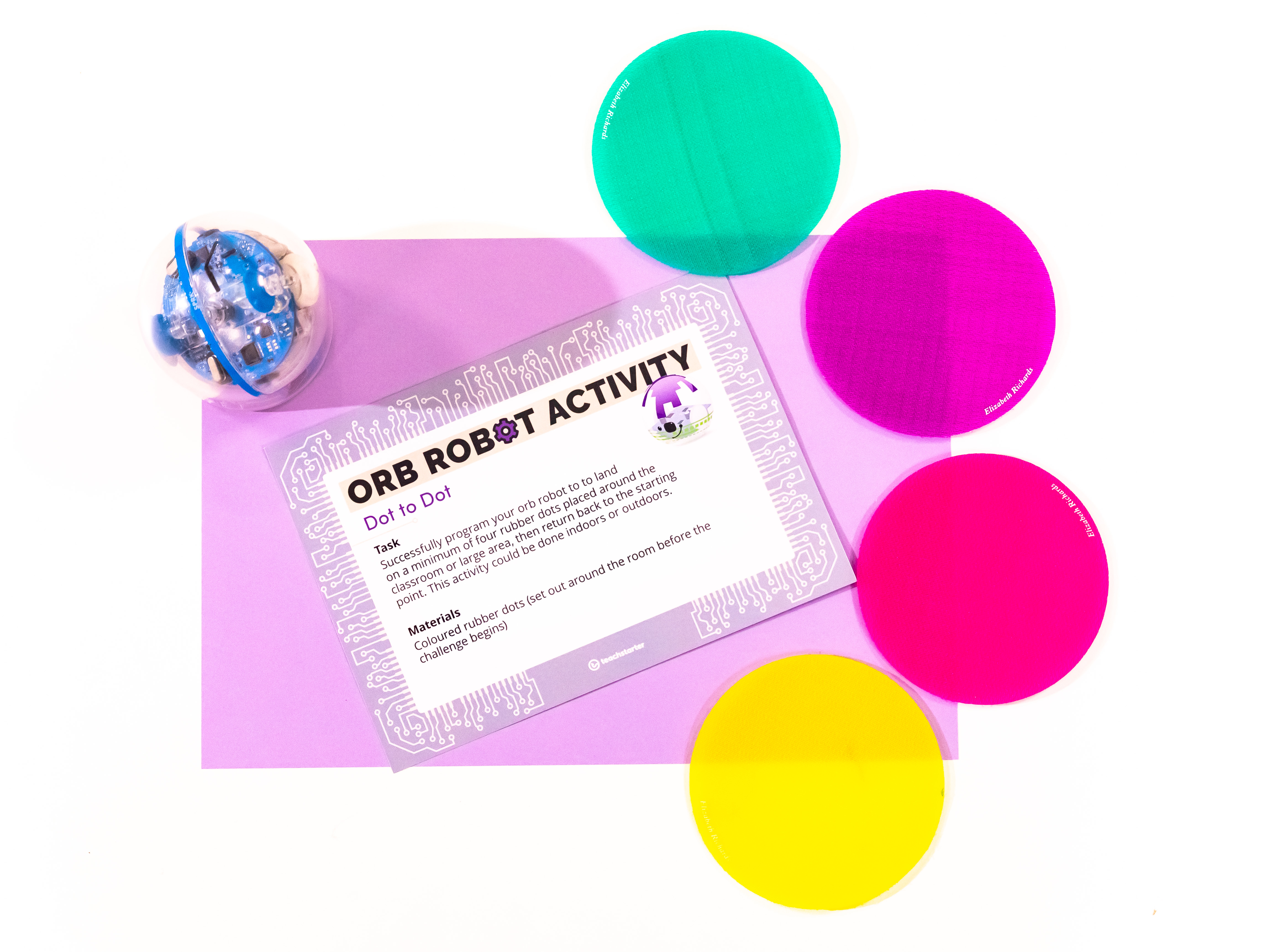 In its rationale for the learning area of Digital Technologies, ACARA states that:
Digital Technologies provides students with authentic learning challenges that foster curiosity, confidence, persistence, innovation, creativity, respect and cooperation. (It) helps students to be regional and global citizens capable of actively and ethically communicating and collaborating. – The Australian Curriculum: Digital Technologies.
Coding is an important life skill for primary school aged students growing and learning in a digital age. Digital literacy is vital, and equipping our students with the skills required is our responsibility as contemporary educators. Even if we're not totally comfortable or confident teaching Digital Technologies, this onus falls upon us. While this can be daunting, there's no better way to do it than to jump in, embrace change, and learn alongside your students.
We have a fantastic blog post about how to start teaching coding, even if it's outside of your comfort zone or perceived area of expertise.
Introducing Our Newest Coding Resource: Orb Robot Task Cards!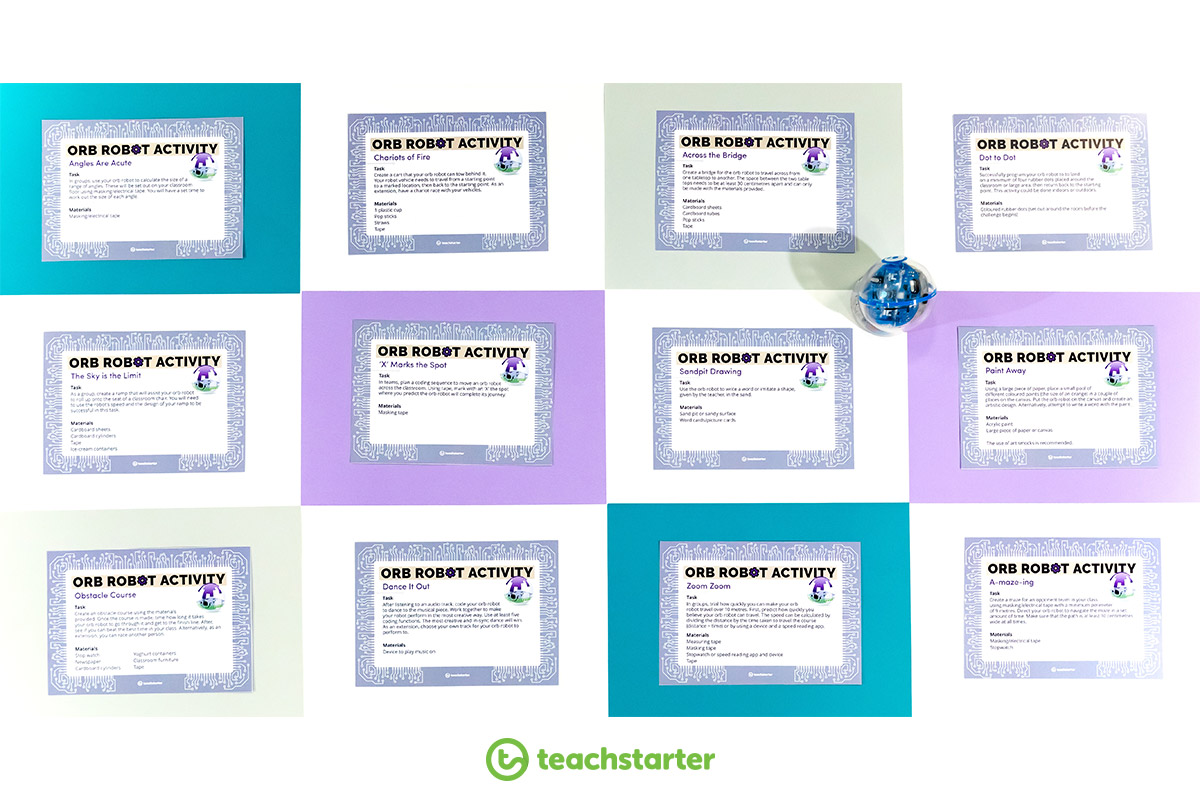 Dive into 12 exciting coding challenges with your students, with our new set of curriculum-aligned Orb Robot Task Cards! This teaching resource helps students develop problem-solving, critical thinking and teamwork skills within the classroom.
Just print out these cards and laminate them for your students to choose from. These activities can be completed individually, in groups or as a whole class activity.
Students will need to use a variety of materials to design and create solutions to orb-related tasks!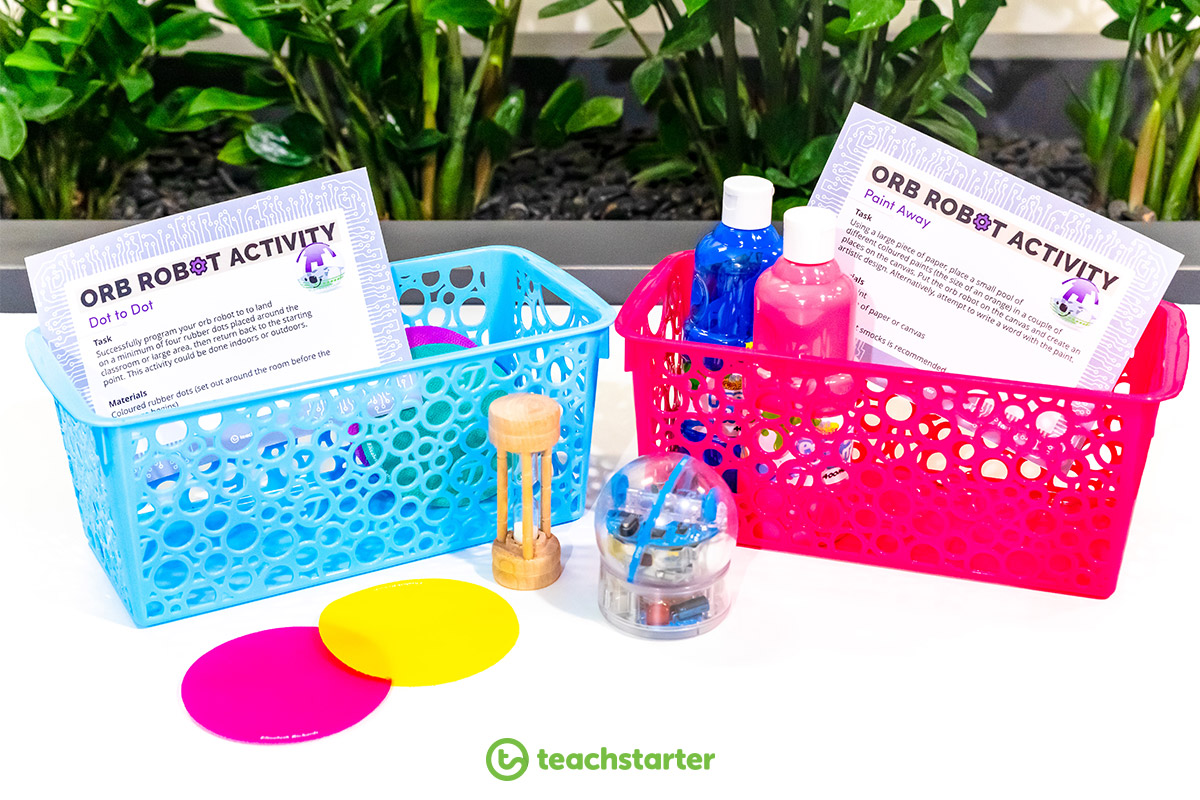 Perhaps you're reading this post because you already have access to one or more orb robots in your classroom. But if this is all new to you, there are some items you'll need to grab in order to use our new Orb Robot Task Cards. You could even assemble kits for each of the activities in the set of cards.
You can purchase an orb robot like the one we're using in the Teach Starter office at Officeworks for $198. It's a substantial initial expense, but could be shared between two neighbouring teachers (at least to begin with, as you'll probably both become hooked!) or even a year level team.
You'll also need a compatible device (we used an iPhone) for your coding challenge. Next, you'll have to download the app for your robot.
Other materials required to complete all 12 Orb Robot Task Card activities are:
Masking tape
Black electrical tape
Paper cups
Pop sticks
Straws
Sticky tape
Stop watches
Newspapers
Cardboard cylinders
Yoghurt containers
CD player/device to play music on
Cardboard sheets
Access to a sand pit
Word wall cards
Measuring tape
Ice cream containers
Felt or sticky dots
Paint
Large pieces of paper.
Looking for Even More Amazing Resources for Teaching Coding?
At Teach Starter, we have a whole collection of fantastic coding teaching resources to use with your primary-aged students! If you're looking for a resource for your next coding challenge, take a look at these four interesting activities:
teaching resource
A comprehension activity relating to technologies and codes.
teaching resource
A comprehension activity relating to technologies and coding systems.
teaching resource
Guide students in understanding the difference between hardware and software with this cut and sort activity.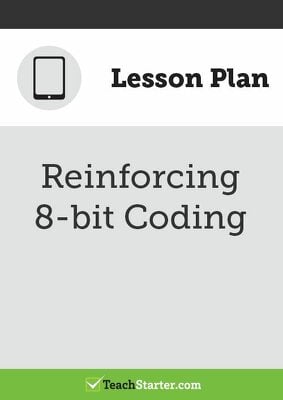 lesson plan
A 60 minute lesson in which students will develop confidence in identifying and exploring coding data.
We love to hear about new and exciting Digital Technologies lessons you're teaching. Be it coding, programming or robotics, we want to know all about what you're up to with your class.