Before we dive into this heavy topic, I must warn you – there's no time for shyness in this post! We are going to talk about explaining puberty to kids, and we're going to be candid. More specifically, we're going to talk about how you can help your students navigate this, at times confronting, topic. But, we're all adults and we know that things like puberty are a fact of life! So, join me at leaving our uncomfortableness at the door, and let's dive in.
When you are an adult, you understand that there are biological things that men and women go through. Growing older, our bodies change, and this gives us the ability to procreate. Pure and simple – it's science!
But how do you explain this to a little person who is confused about their body changing? And how much do you share? And when?
With this blog, I hope to empower you to be able to have these important conversations with your students. Read on for all things puberty, bodily functions, and of course, some frequently asked questions!
---
Why Talk About Puberty?
Puberty can be an incredibly scary and confronting stage in a child's life. It can lead students to feel confused, and as though they have lost control of their own bodies.
It's no surprise, then, that ACARA lists puberty as important learning content in the Year 5 and 6 curriculum:
Discussing the biological changes surrounding puberty can help your students feel less isolated and more capable of managing the transition.
---
At What Age Do You Talk About Puberty?
Typically, puberty starts between the ages of 8 and 13 in girls and the ages of 9 and 15 in boys – this is a pretty large time frame! It makes sense, then, that there's no real 'right' time to talk to your students about puberty.
Deciding if your students are old enough and mature enough to discuss the topic of puberty really comes down to individual professional opinion. My only advice would be, don't leave it too late! It's not fair on early bloomers if you leave them in the dark because they're out of the median age range.
Puberty shouldn't be a 'taboo' subject – talking to your kids early on will help them accept and become comfortable with the natural biological changes their bodies will experience.
Each child is different in terms of their maturity, and what they're ready to understand and take on board. If you're unsure, have a chat with your school management before you bring up a sensitive topic.
The number one rule – ALWAYS talk to parents first. Make them aware of your plans. This gives them a chance to have a chat with their children first to prepare them, or they can have the choice of withdrawing their child if they don't feel they're ready.
---
How Do You Talk to Your Students About Puberty?
Talk about the topic of puberty as you would any other topic in the classroom – normalising the conversation around puberty is the first step to eliminating the embarrassment and shame that can be associated with this stage in life. What's important is investing your students with knowledge about their bodies and compassion for others.
Many schools outsource educational programs about puberty and sex education, however, it still pays to be prepared to have these conversations. After all, you are more than likely the one person that your students feel most comfortable talking to and confiding in! They will be full of questions and may come looking to you for answers.
Before You Have the Chat
Developing empathy is the first step in making sure your students are ready for the conversations they will be having with you and each other. If you think the topics of discussion will be left inside the classroom, you have another thing coming!
The discussions that you will be having with your class should be done with dignity. Establish discussion guidelines as you introduce the topic of puberty, and make sure that students understand that only respectful viewpoints will be taken seriously.
You may like to pre-empt this discussion with a lesson or two on Growth and Change – remind students that the way they look now is very different from when they were babies! Quick activities such as the Human Growth and Change Sorting Activity can help put your students into the right mind-set. Our Growth and Change Teaching Resource Pack also has a great variety of resources to remind younger students about life cycles and different stages of life.
During the Talk
Some may argue that it's important that boys and girls be separated during talks about puberty, but it really depends on school policy, and the depth at which you are discussing the changes students will go through.
Initial discussion topics which you may wish to bring up may include:
body odour
body hair
vocal range changes
mood swings and feelings
pimples and acne
changes in body shape.
What About the Heavier Topics?
If you're teaching older students, you may like to discuss heavier topics. Talking about issues such as male and female reproductive changes may require separating your students. This is helpful for students who may be shy asking questions in front of members of the opposite sex! You need to be careful, however, that this does not encourage the stigma surrounding issues, such as periods and nocturnal emissions.
Remind your students that puberty is something everybody goes through, though they may experience things at slightly different times to their peers. And that everyone experiences things uniquely!
Remember, this topic can be quite confronting to students (and teachers too, if you're not used to discussing it!) so be patient, and compassionate with your students, who may feel embarrassed. Again, remind your students to consider different viewpoints and discuss things maturely and respectfully. It may be a great time to discuss things such as consent and respect for others, to tie in with feelings and physical urges.
We have a couple of resources to help you explain these things in further detail:
Our Puberty and Reproduction Word Wall Vocabulary can be customised if you wish to remove or add words that you think will be particular to your discussion and can be used alongside our posters of the Male and Female Reproductive Systems.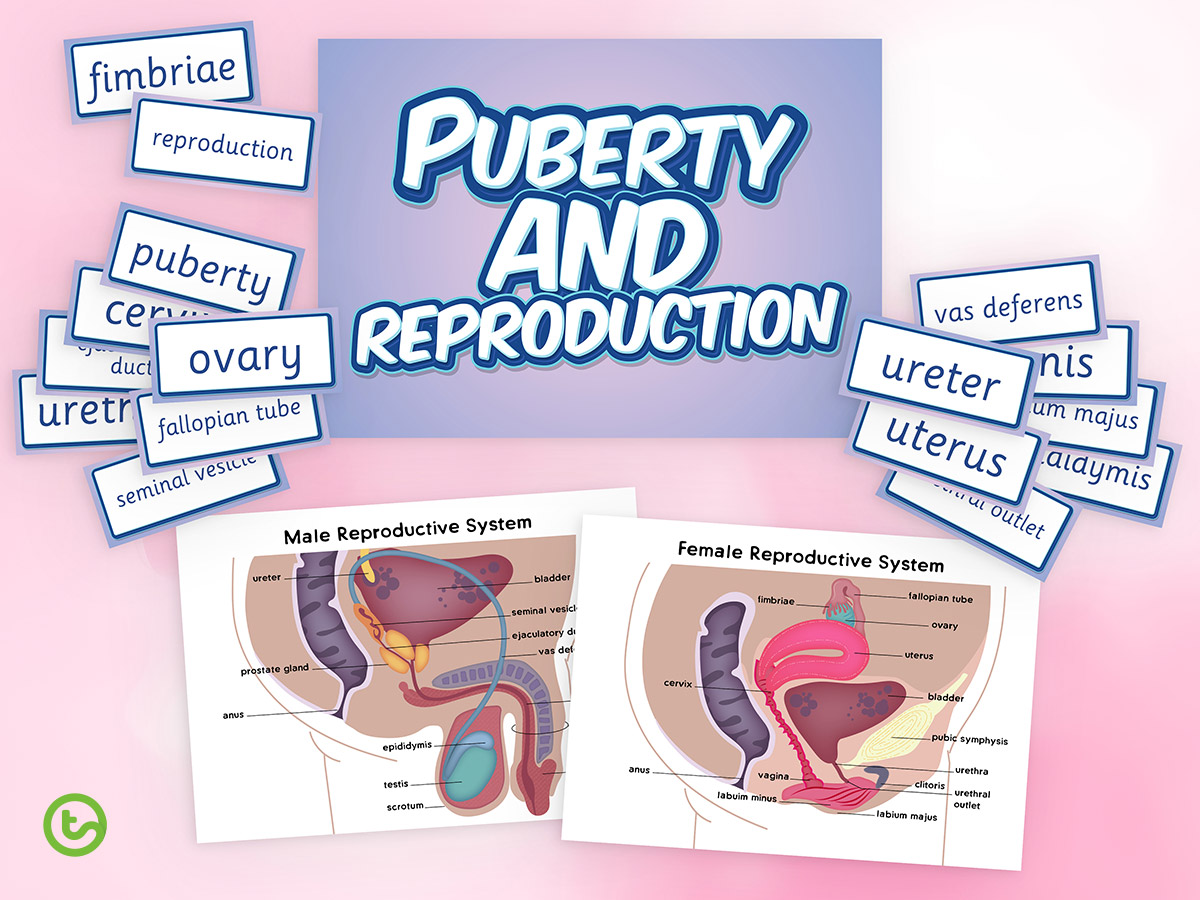 ---
After Explaining Puberty
Perhaps even more important than the initial discussion about puberty is the way you help students process the information after your chat.
Being available for students to discuss their thoughts and feelings is a way to help students feel that they can process their new knowledge at their own pace. Reducing the stigma about puberty doesn't mean shouting things from the rooftops! Having casual discussions about body changes and functions can help do this, however.
There are a few different things you can have available in your classroom so that your students feel they can safely and confidently navigate this next stage in their life:
FAQs About Puberty
Put together an 'Anonymous Question' box! Make time once a week to go through the box and discuss the questions – some pre-reading might be necessary on your part so that you know if you have any tricky questions to navigate!
Some frequently asked questions you may come across include:
Do boys have periods?
How do you start puberty?
Does puberty hurt?
How do you know if you're going through puberty?
When should girls start wearing bras?
Why do people get pimples?
Sit down with your class and discuss these questions without judgement so that each student's question gets answered. You may even find that students who were too embarrassed to put a question in the box benefit from these sessions the most!
Books About Puberty
While these books are mostly gender-specific, they touch on the physical changes that most children experience as they enter puberty. From illustrated picture books, to chapter books – there's sure to be something to suit students of a range of ages.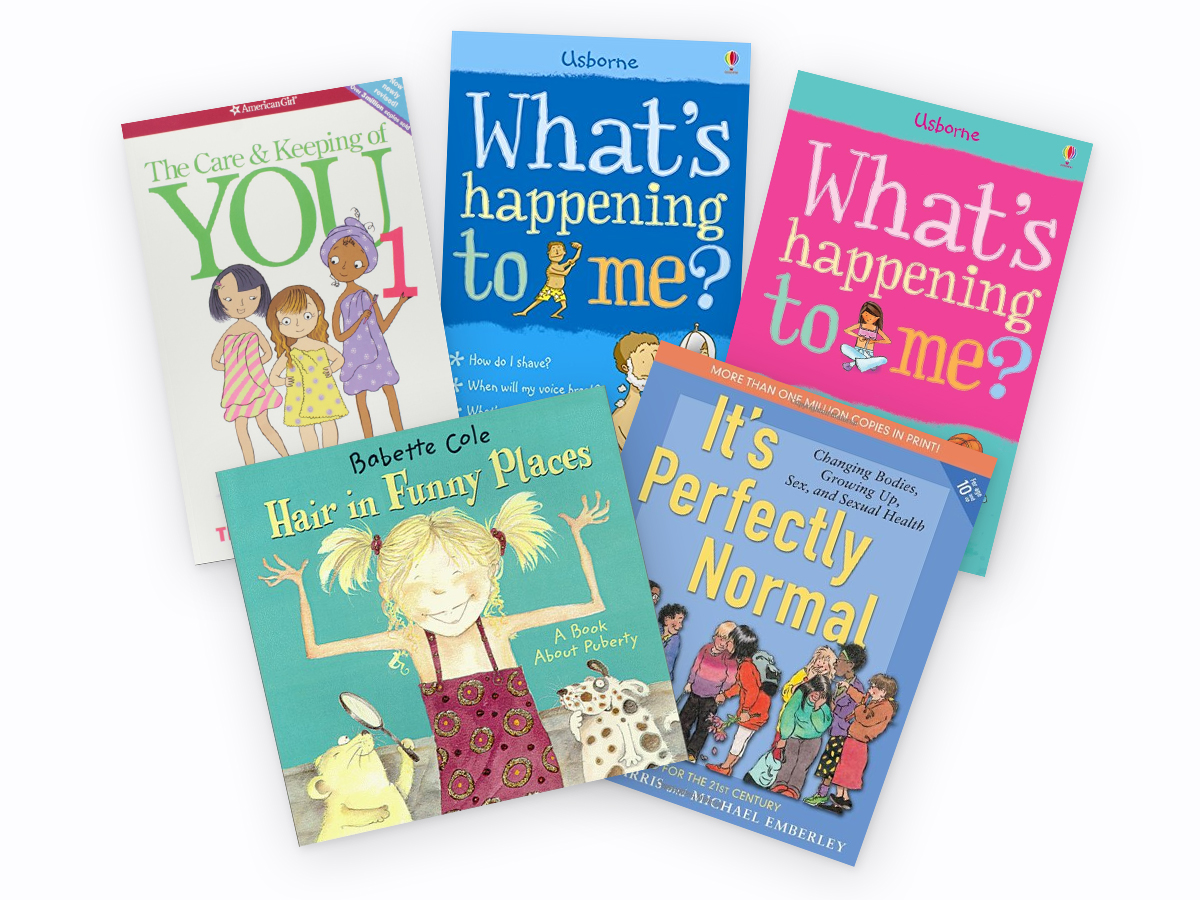 Hair In Funny Places – by Babette Cole
A cheeky yet endearing book in which a young girl talks about 'hair in funny places' with her teddy bear!
What's Happening to Me? – by Alex Frith, Neil Francis , Adam Larkum (Illustrator), Susan Meredith (Editor)
A sensitive and detailed guide to the emotional and physical changes that boys will experience as they go through puberty.
What's Happening to Me? Facts of Life for Girls – by Susan Meredith, Nancy Leschnikoff (Illustrator)
A comprehensive and informative guide to female puberty, from periods to buying your first bra.
The Care and Keeping of You | The Body Book for Younger Girls – by Valorie Schaefer, Josee Masse (Illustrator)
"You'll find answers to questions about your changing body, from hair care to healthy eating, bad breath to bras, periods to pimples, and everything in between." Suitable for girls age 8 and up.
It's Perfectly Normal | Changing Bodies, Growing Up, Sex, and Sexual Health – by Robie H Harris, Michael Emberley (Illustrator)
An up to date book which touches on all things puberty and sex-education – from puberty to internet use and gender identity.
Activities
If you're still looking for more activities on teaching the trickier side of puberty, there are different resources to help you. On a recent episode of For the Love of Teaching Podcast, Bron spoke to Tasha Lawton from Period Talk, presented by Share the Dignity, about the trickier side of talking about periods! The best thing about Period Talk is that it's not just for girls – it's boy and girl-friendly!
With curriculum-aligned videos delivered by kids for kids, and physical resource packs this is a great resource to help your students normalise the conversation and smash the shame and taboo around periods.
---
We hope we've helped you tackle this difficult topic with your students!
Comment below to share your experiences with our teaching community.
Blog header image: designer491/shutterstock.com