Well, there is no denying most people's obsession with Kmart, however, a teacher's obsession with Kmart is next level. We were super inspired and excited by some of the amazing teacher hacks that some very, very talented and creative teachers had shared with the teaching Instagram community.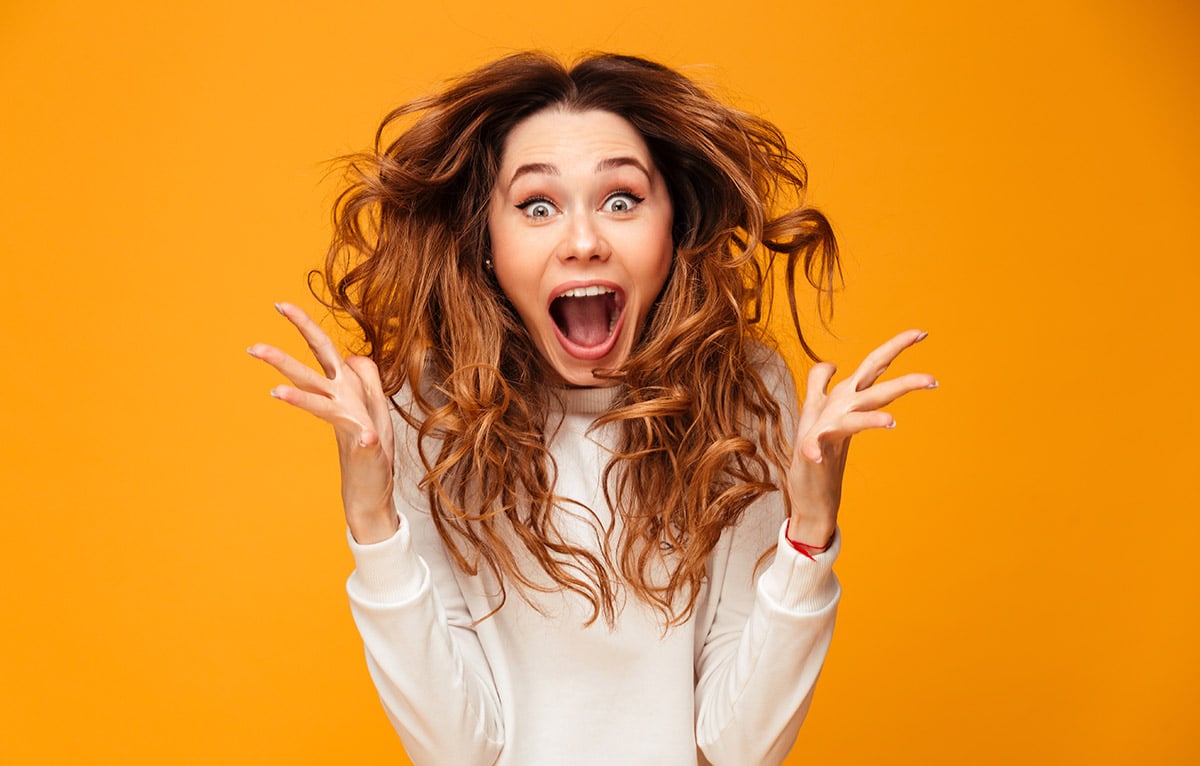 15 Kmart Teacher Hacks That Are Beyond Amazing!
Persuasive Structure in a Burger
Most of us would have seen the burger inspired parts of a paragraph poster but this visual is next level!
Love it @teaching.with.miss.e.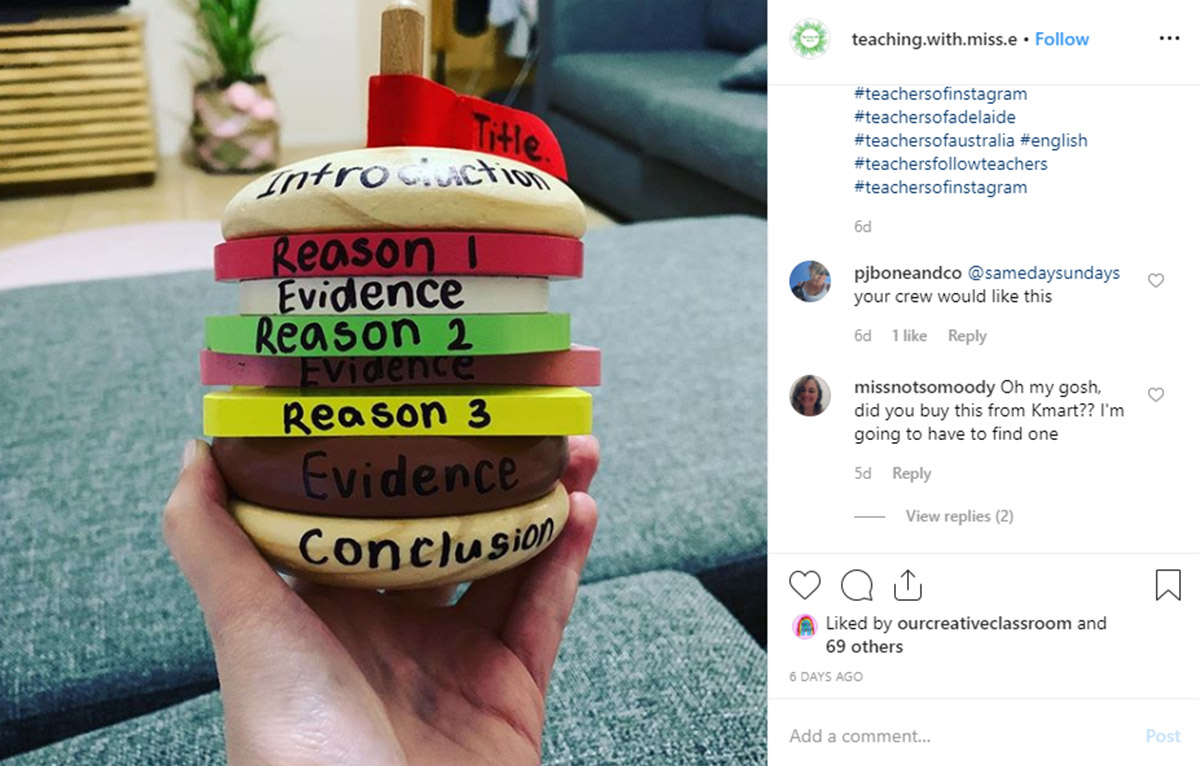 For more about how to help students plan their persuasive writing, check out our blog – 3 Quick and Effective Persuasive Writing Scaffolds.
CVC Hands-On Activity
We shared this image on our Instagram page as it just makes learning fun in a clever kind of way. Plus, they are colour coded as well – a teacher's dream, right?
Go check out the amazing @learnlovegrow for her amazing classroom ideas!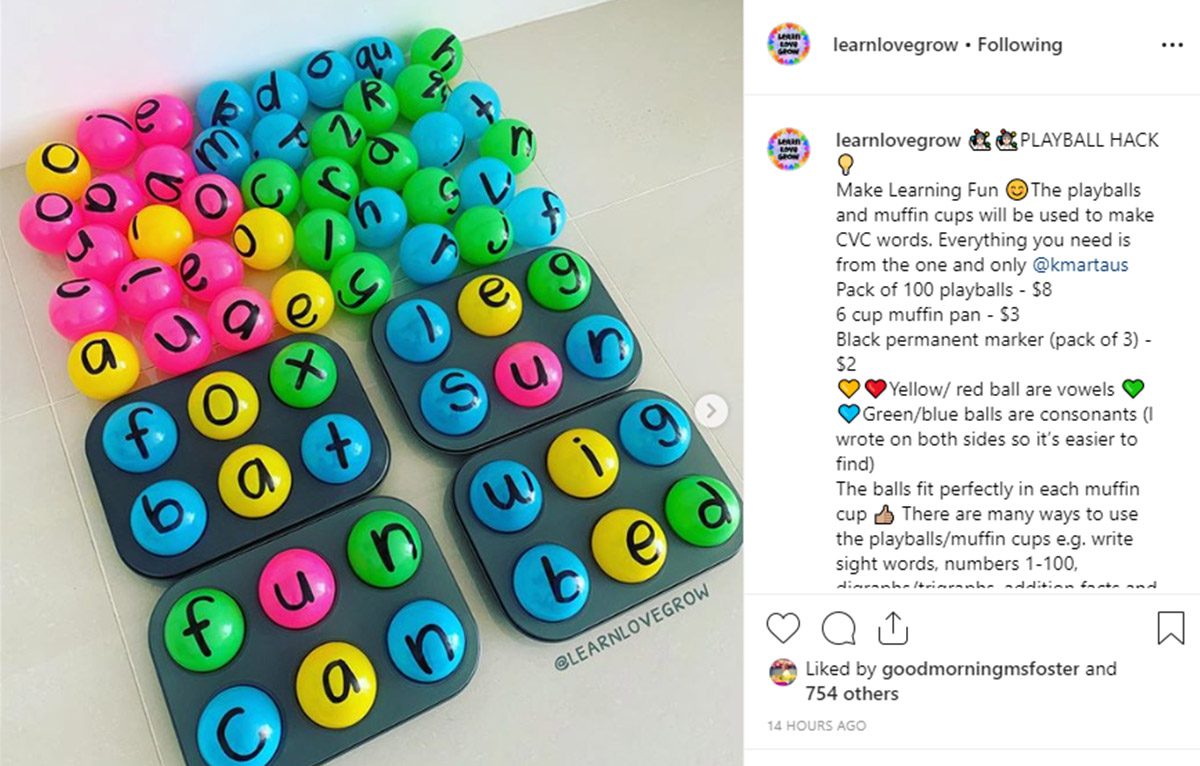 Here are some other CVC activities you may like to check out…
Do Not Disturb Light
Use this simple night light to help let your students know when you are busy.
This would be the perfect addition to a guided reading session during literacy rotations in the classroom. Thanks to @roomtwoadventures_ for this fantastic idea.
When the light is on – do not disturb.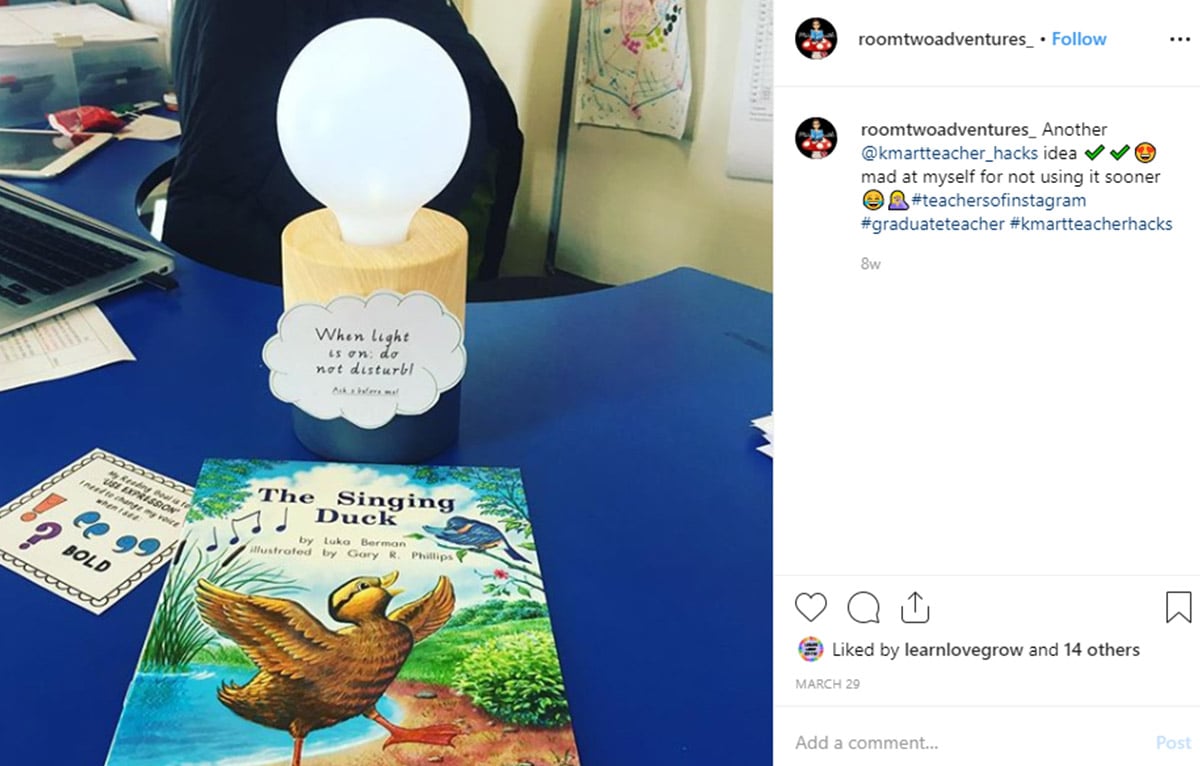 Sight Word Fishing Fun
There are a number of fishing type games that you can purchase from Kmart like this one featured on @teaching_with_butterflyqld Instagram page.
Write sight words on the fish and get students to say the words when they are trying to 'catch' the fish! Genius!!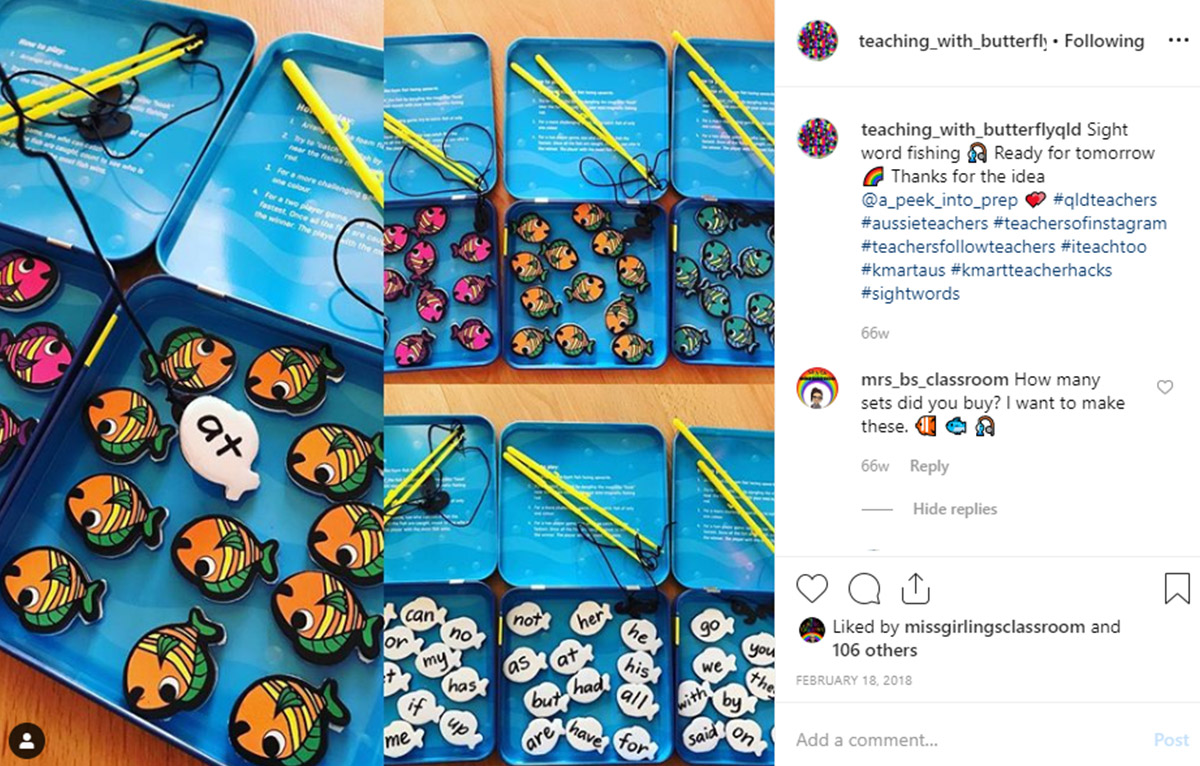 Guess Who Making a Come Back
Another from our friend over at @teaching_with_butterflyqld using the Guess Who game from Kmart and our collection of templates to be used in the Guess Who? board game.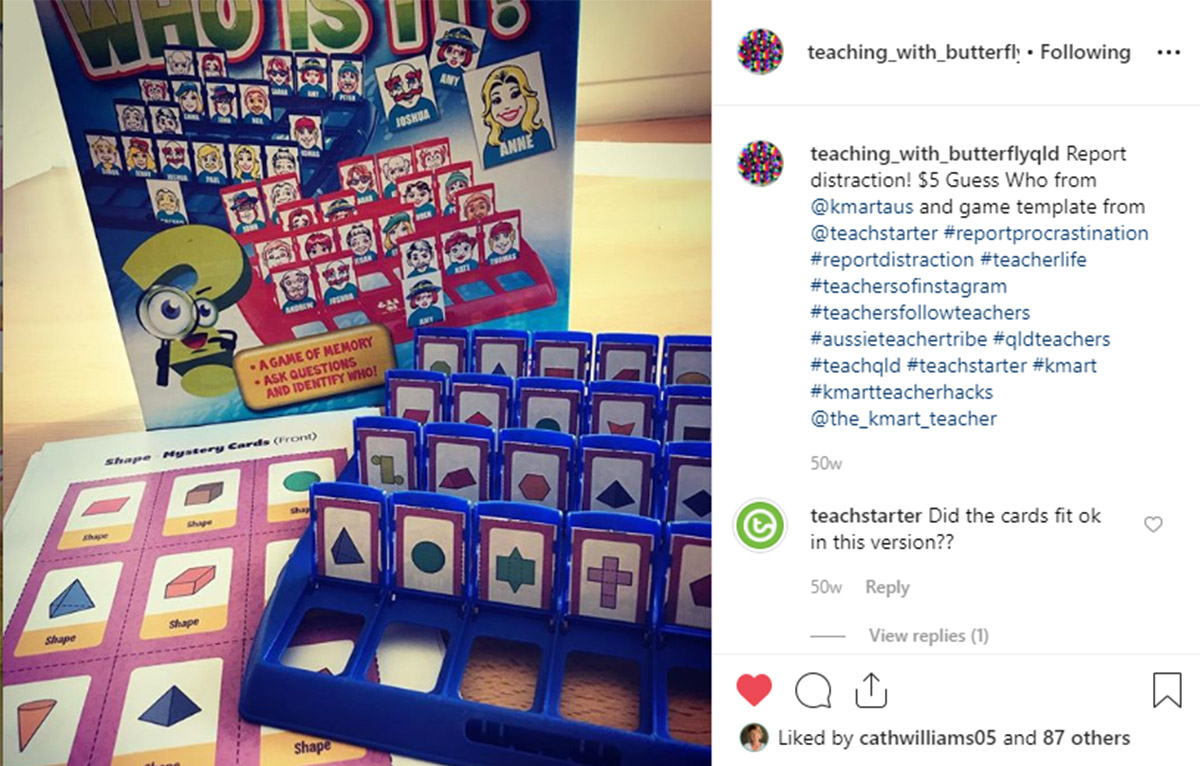 Guess Who templates:
Alphabet Fun with Wooden Pegs
Combining letters with fine motor is brilliant.
As these are capital letters – why not do some matching of lowercase and uppercase letters using the pegs? Bravo! Thanks to @learnwithmisslaura for this awesome idea…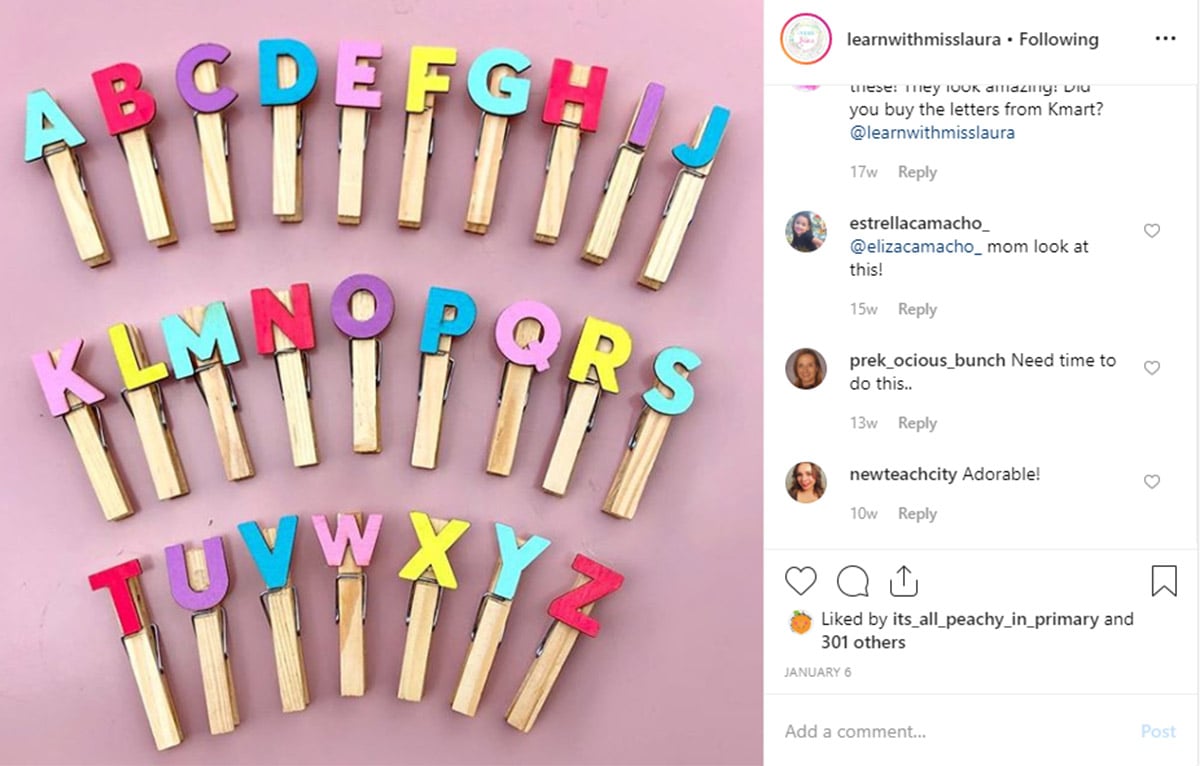 Pool Noodle Hack
We love how @learnlovegrow has used this pool noodle hack to get students to create CVC or sight words. Again – colour coordinated for consonants and vowels.
She has also used wooden rulers for students to create the words.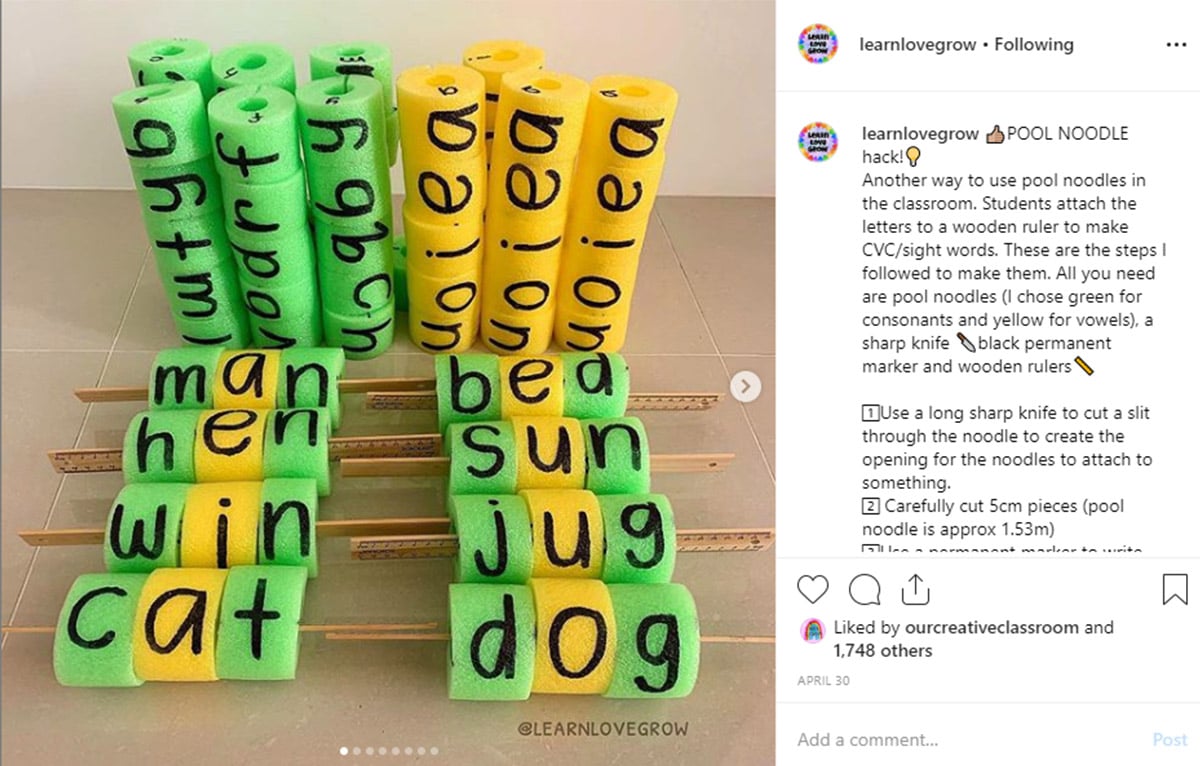 Hands-On Hundreds Chart
This was a popular #kmarthack seen on Instagram and it's no wonder why… it's brilliant and can be used for a variety of levels too!
Thanks to @misstyr3 for this awesome photo. Extend students by getting them to just count in 5s and only attach those tiles together.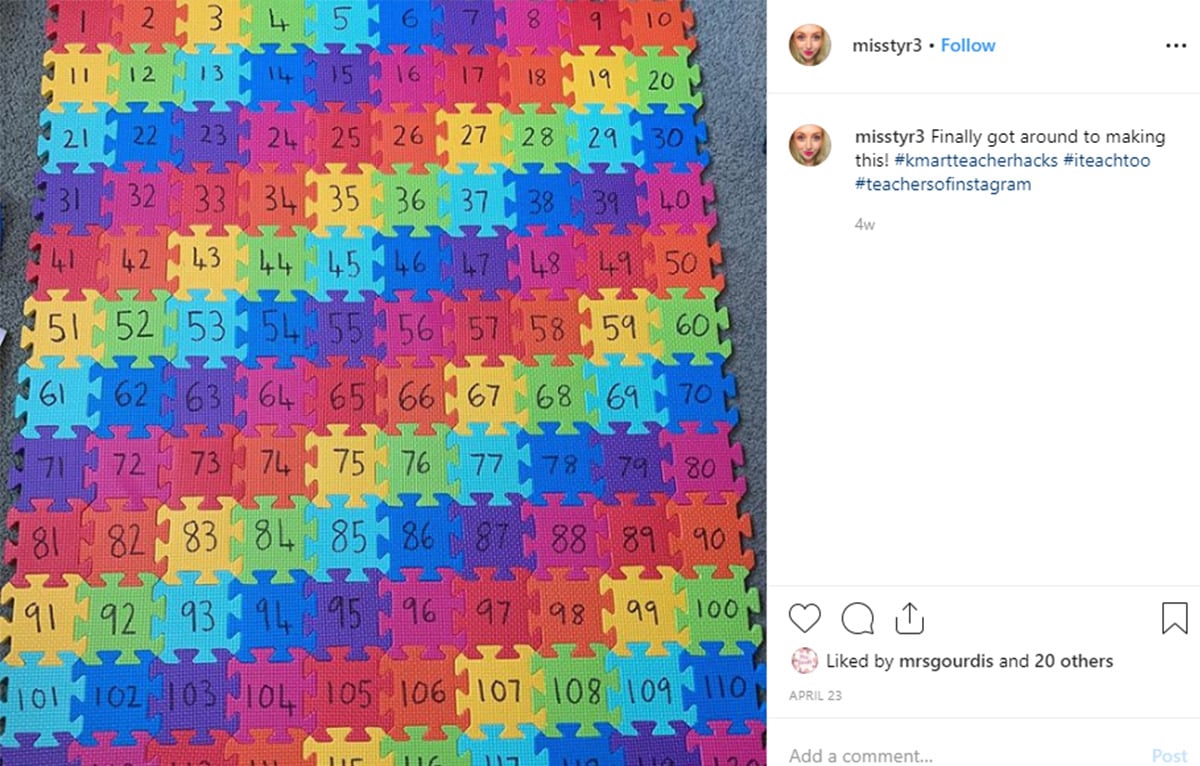 Classroom Storage Solutions
These pots are just the perfect size to store pencils and crayons – and this colour coordination is simply #classroomgoals!
Thanks to @missdriscolls_class for this stunning photo! Check out that organisation!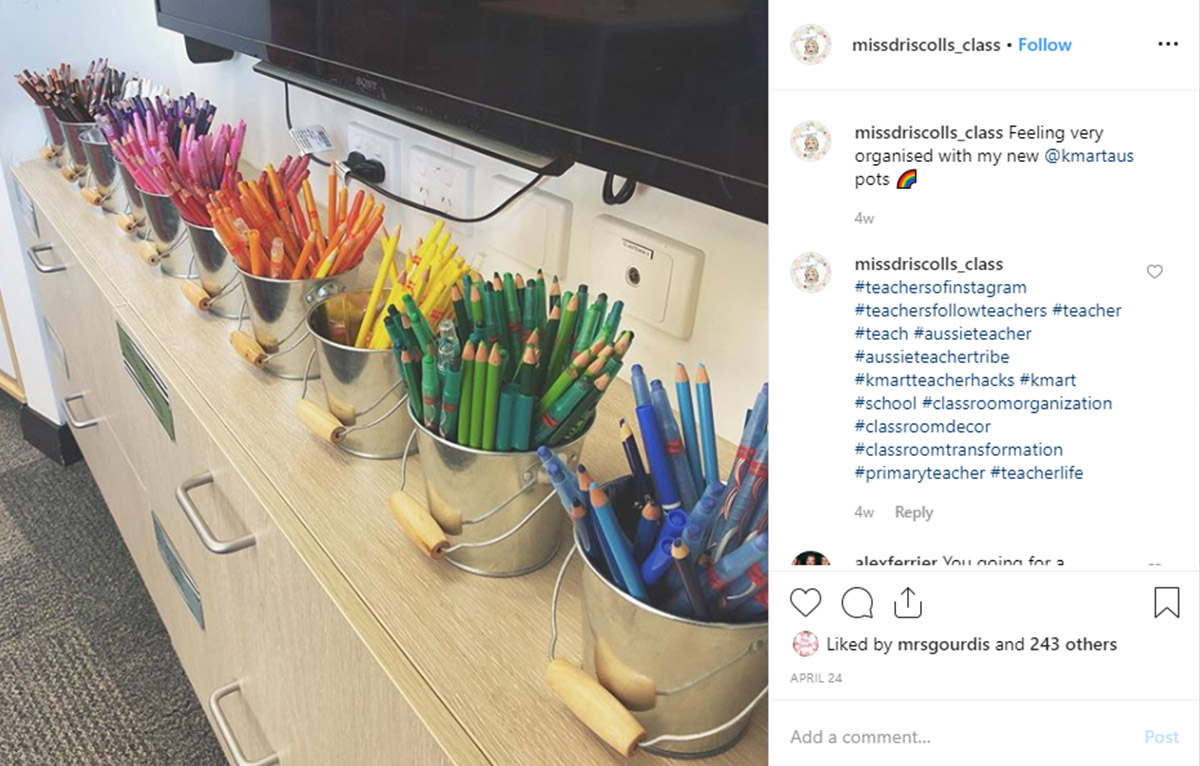 Student Whiteboard Markers
Apart from these pens looking fantastic, they are perfect for students to use when they are writing on their whiteboards or 'show me' boards!
Build in whiteboard eraser is a genius idea too!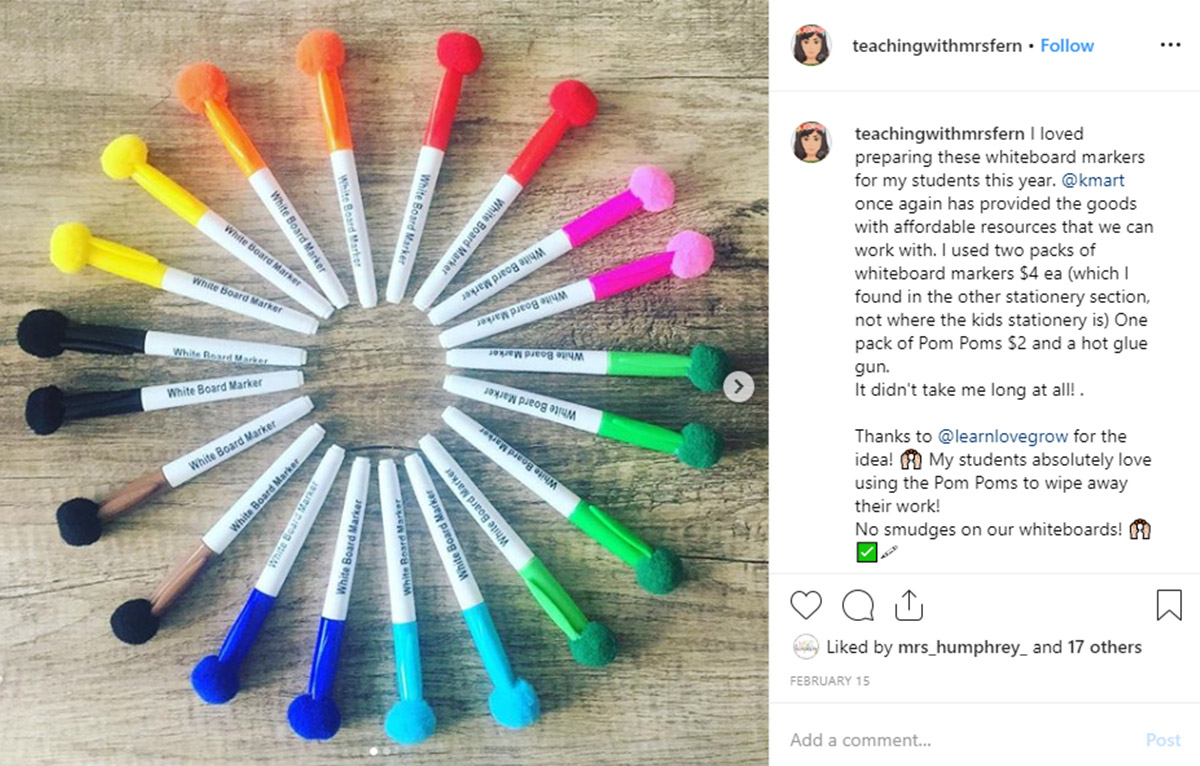 Pom Pom Pals
We absolutely adore this idea by @ridgydidgeresources.
She is adding them to her relief bag for relief teaching – only the children staying on task and doing the right thing will receive a pom pom pal! Love it!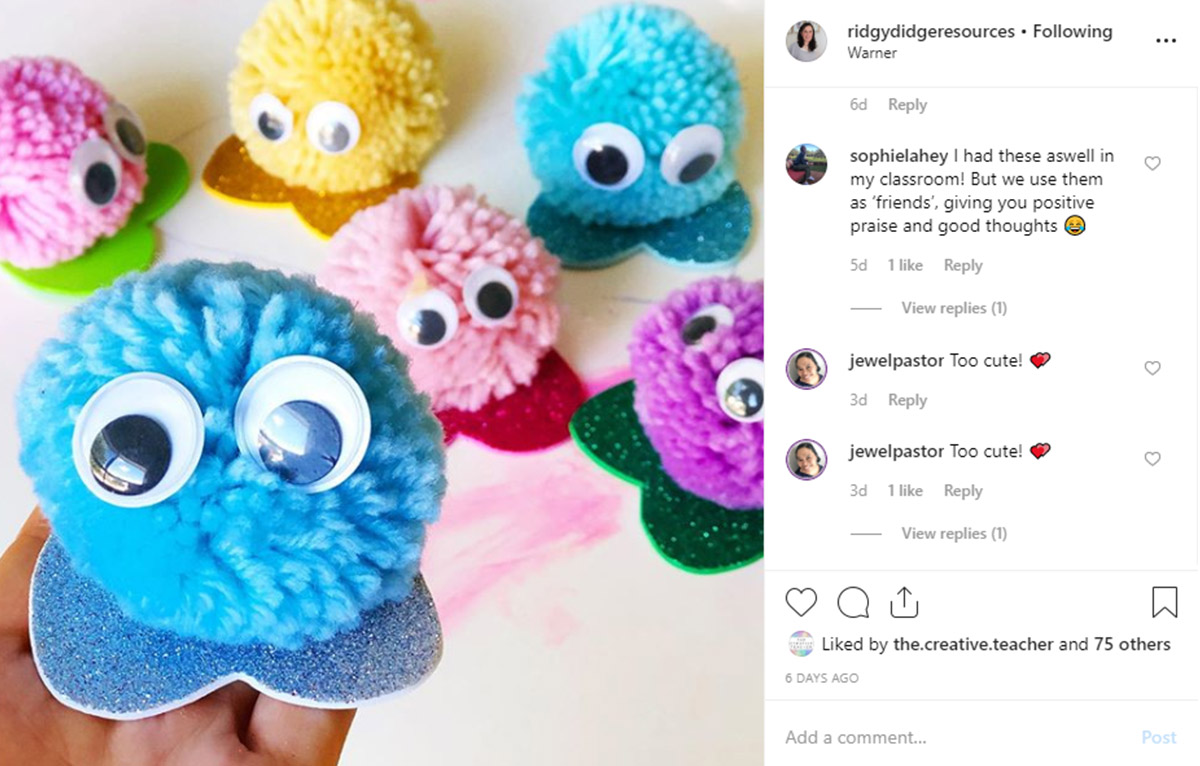 Rainbow Fact Fun
Finally, a use for those gorgeous rainbow sticky notes! @mrsstennettsclassroom has used them to create some gorgeous rainbow fact cards. She laminated them so the kids can hold onto them when working through maths problems – brilliant!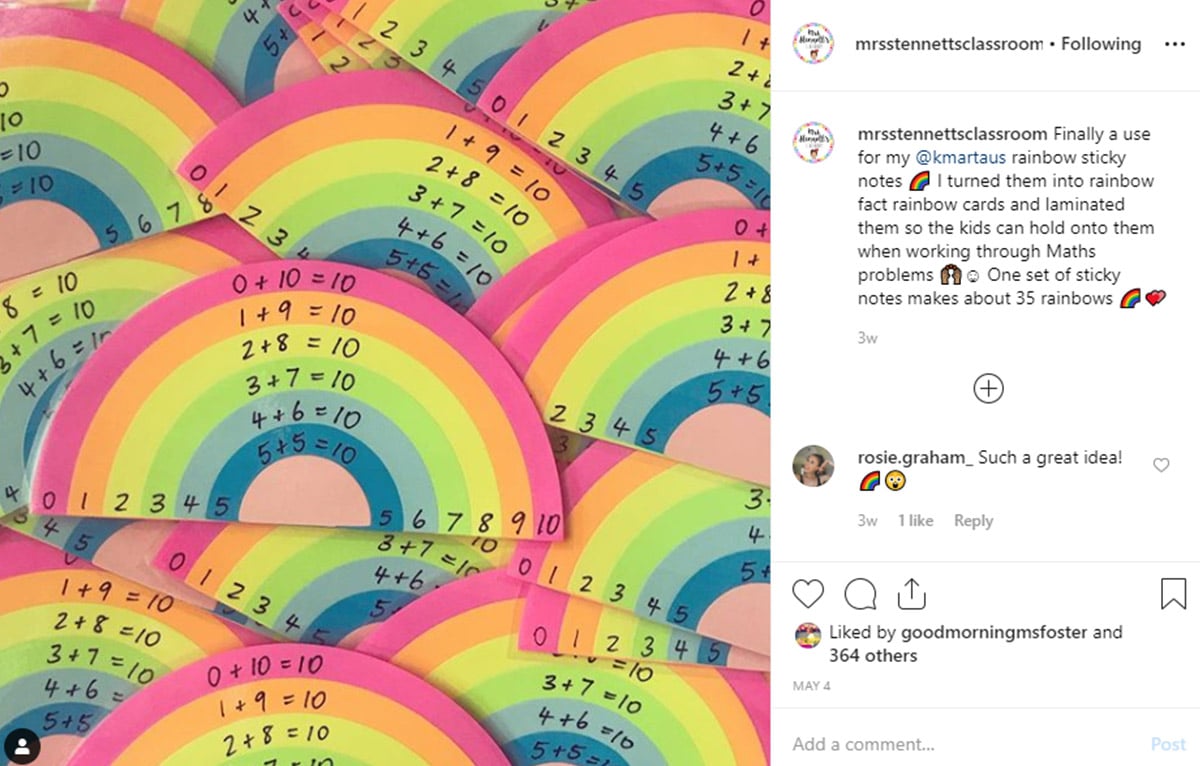 Tangram Goodness
Our Tangram Treats Task Cards and Templates go perfectly with the wooden Tangrams from Kmart.
Thanks to @teachingwithmisst_ for discovering this match made in heaven!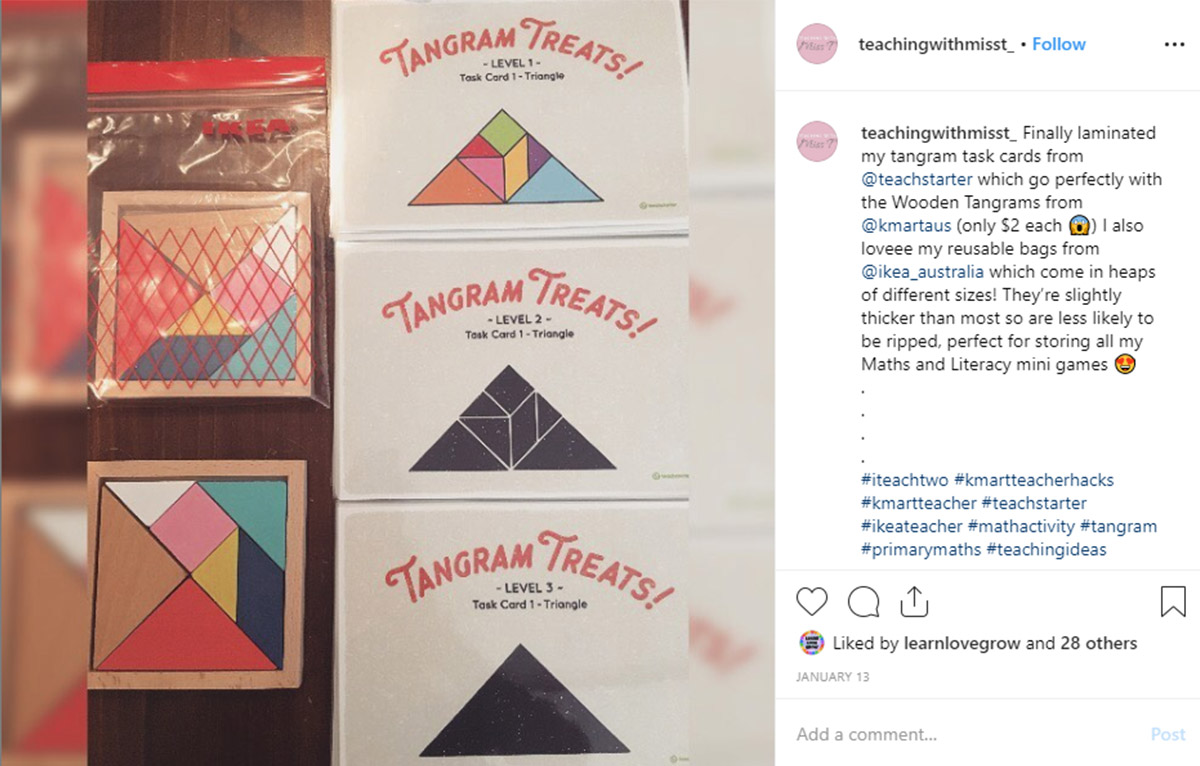 Scissor Storage Solution
Do you feel like your students are constantly looking for their scissors? This storage hack is brilliant and super easy to implement in your classroom!
Brilliant #teacherorganisationhack by @classofmissmac.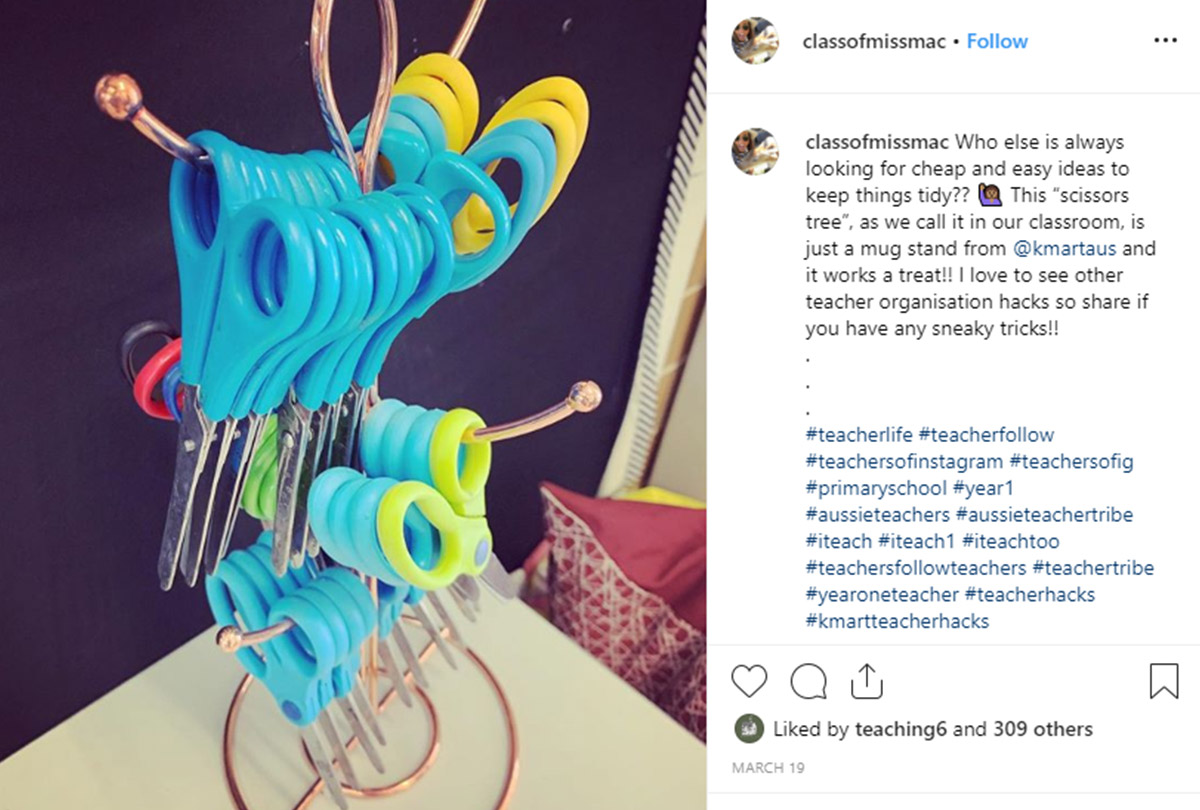 Kmart Puzzle Hack
Puzzles are always fun – why not get your students to learn other skills all while having fun with a puzzle?
The beauty of this idea is that you can create it to suit the needs of your students.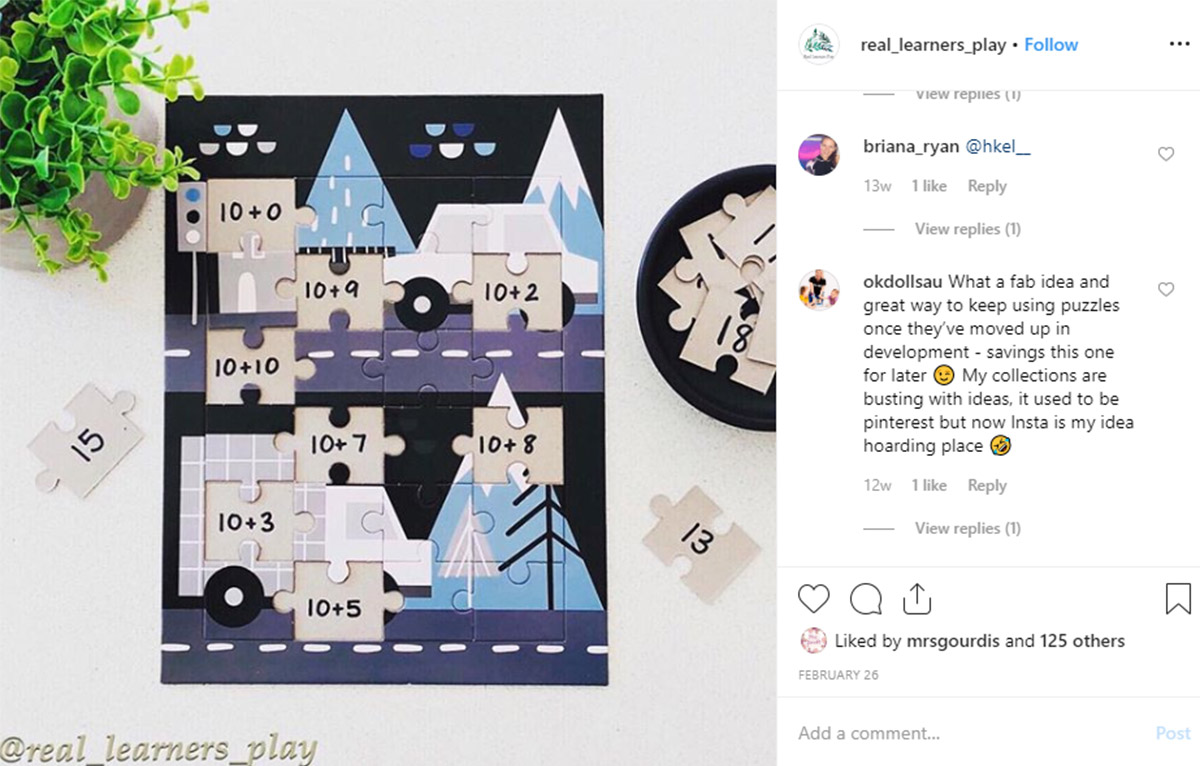 Did any of these spark some inspiration?
We'd love to hear your thoughts in the comments section of this blog.