Well, it's certainly come around quickly! The first day of school will soon be here. Children and teachers around Australia will both be waking up a little nervous, perhaps a little excited and possibly a little anxious. Anxious to see how the first day of school for 2022 pans out! A great way to alleviate any nerves is to set up a fun first day of school photo booth props display.
What is the benefit of doing this? Other than it looks amazing, of course! By setting up a photo booth display, you're giving the students something to do as they enter the classroom. You can also use it as a talking point with parents if they are able to come into the school grounds this year. Parents can take a photo of their child at the photo booth, settle them in at their desk and head out of the classroom.
There might be a chance that parents aren't able to come into the school for the first day. Having a photo booth set up is a special memory you can send home to parents and carers.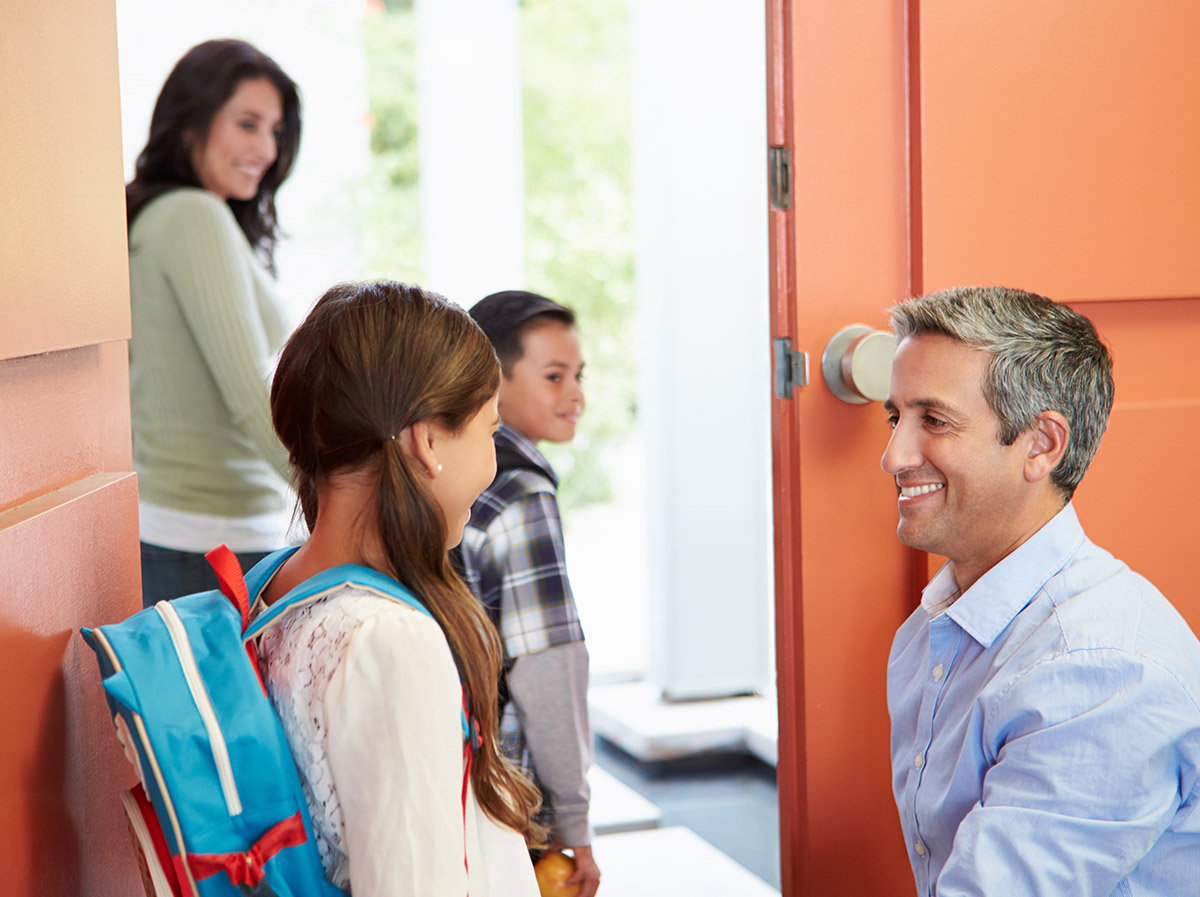 Shutterstock.com / Monkey Business Images
---
Printable First Day of School Photo Props
So, you've seen the banner of this blog and are wondering – how do I do that in my classroom? Well, we have tried to make it as easy as possible. The larger items such as the pencils and frame are already blown up ready to print on A4 paper. So, it's just a matter of printing it all out and piecing it all together.
First Day of School Photo Frame
As part of the First Day of School Photo Props and Display, you'll find the pieces you will need to put this super adorable frame together. If you don't have the space to create the backdrop in your classroom, this frame will still create a beautiful memory.
Why not take it outside and use nature as your backdrop!
Once printed, you can stick it all together and cut out the inside white part to create the frame. To make it sturdy, we stuck some thick poster card to the back. This is advised to ensure the frame is strong enough for little hands – many little hands! As an added bonus, backing the frame will make it more durable so that it can be used in years to come. This frame is also available with space for a year level as well as a Kindy, Prep and Reception option (just use the drop-down menu near the download button on this resource page).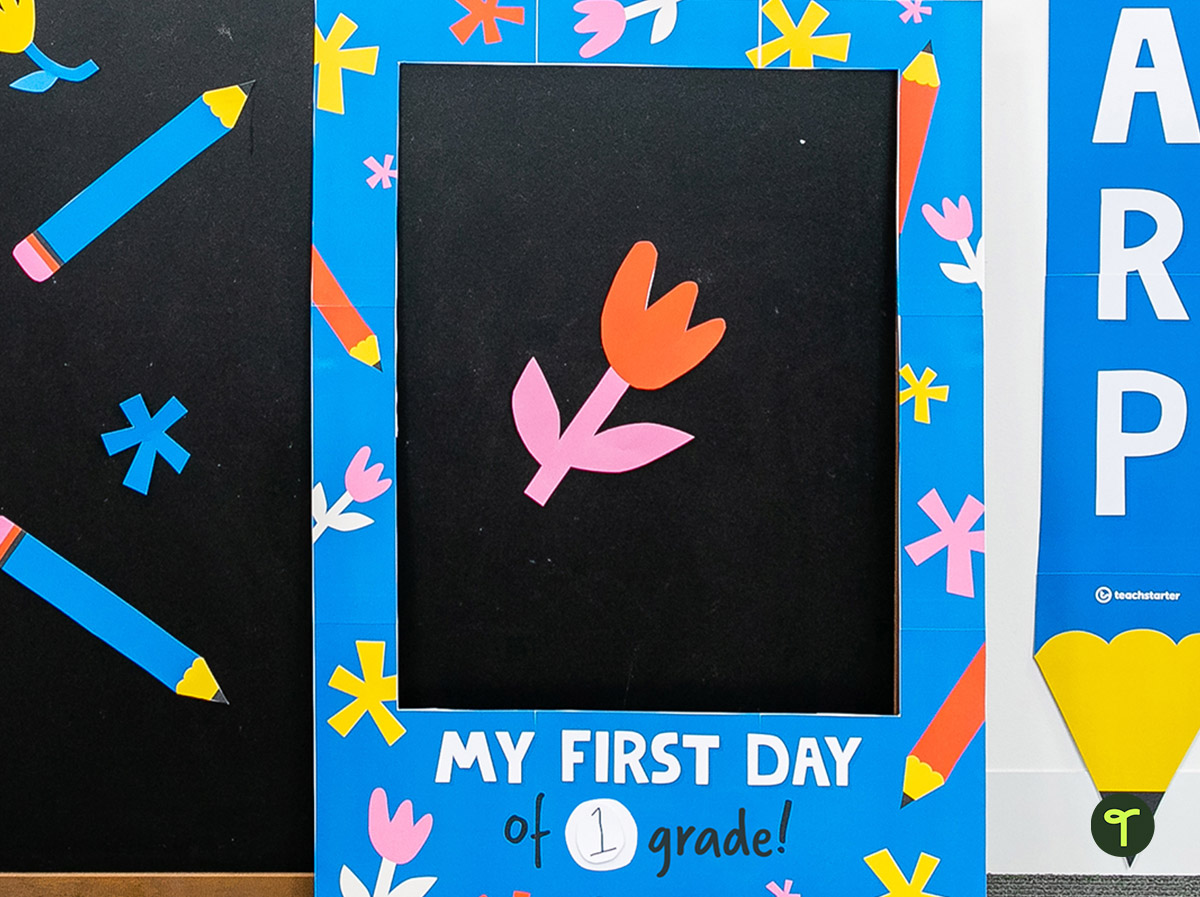 Here are some of our Teach Starter models showing off the frame. It's also super cute for siblings to jump in the frame if they are helping to drop off their brothers or sisters! What better memory for the family to cherish for years to come?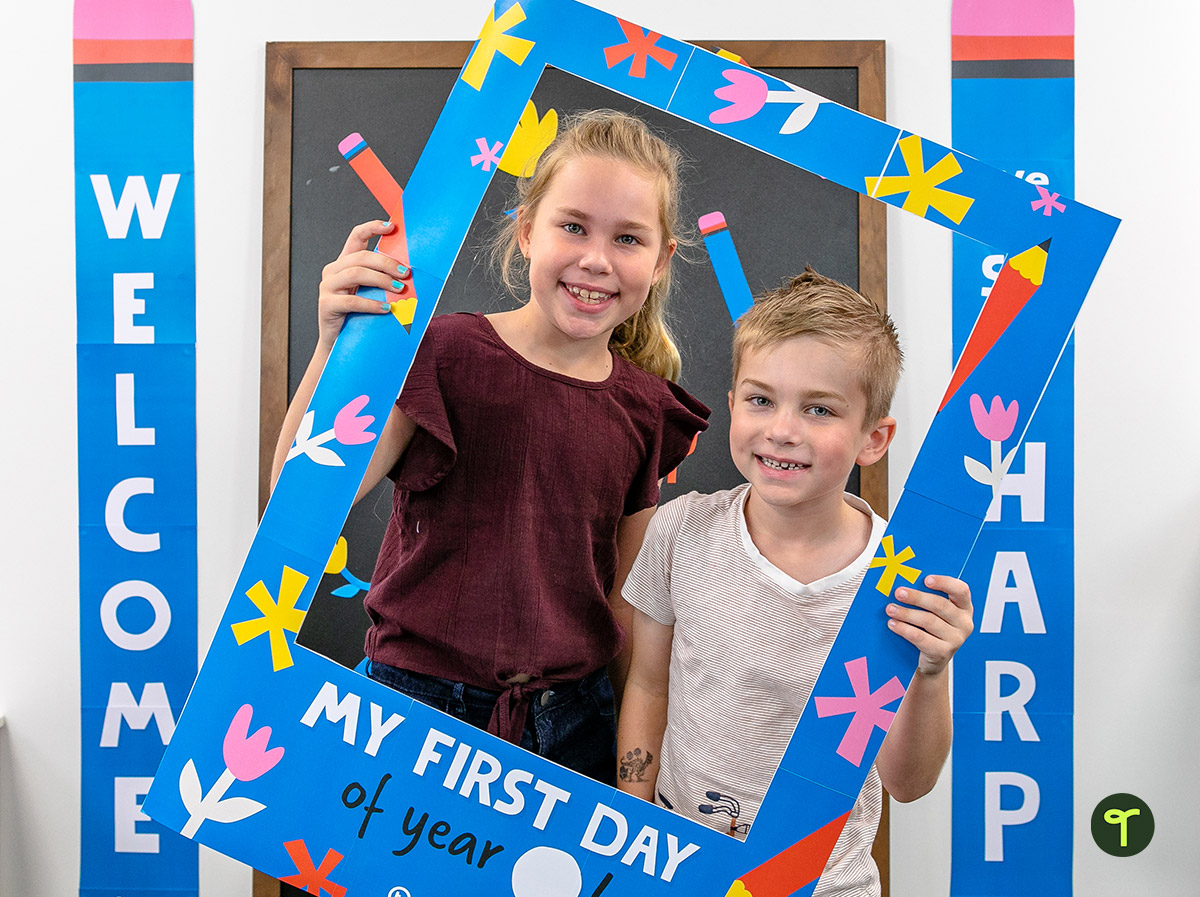 First Day of School Photo Backdrop
How's this for a first day of school photo backdrop? If you have the space to do this in your classroom, then you won't regret setting this up. This would also work perfectly at the classroom front door, with one pencil on either side. Imagine the look on your students' faces when this is the first thing they see as they enter their new classroom for the year.
Again, we have tried to make this as easy as possible. The large pencils are already the correct size – so all you have to do is print and stick them together with some glue. The other decorative pieces are super easy to print and cut out as well.

First Day of School Polaroid Frame
When all is said and done, sometimes we don't have space, the budget, or the time (I confess this was always me). So, we have also included in this pack these super adorable little polaroid frames. These print four to a page (so not as much paper), and all you have to do is take a photo of each of your students and stick it in the white space. Cute!
There you have it! A super adorable option for any teachers out there looking for something new and fresh to do on the first day of school. Before I depart I wanted to say – you've got this! Good luck with the year ahead wonderful teachers.
We'd love to see your creations! Share them on Instagram and tag @teachstarter #ready_set_teach.