Let's face it! Most school readers that get sent home are not the most interesting books ever written. If you have students in your class who are reluctant readers, then school readers are not the answer.
Finding that character, or even better, an entire series of books that hooks them in is an absolute "Hallelujah!" moment as a teacher!
Ten Books to Hook Your Students on Reading
What books do reluctant readers want to read?
Whether you are searching for books for boys, books for girls, or just the best books for kids, here is a collection that is sure to encourage a love of reading in some of those reluctant readers.
---
1) "WeirDo" collection by Anh Do
Ages: 6-12 years – though I know some adults that would get a kick out of reading this series too.
"Weir Do is the new kid in school. With an unforgettable name, a crazy family and some seriously weird habits, fitting in won't be easy… but it will be funny!" – Anh Do
It's got the usual 'bottom' jokes, that kids seem to gravitate to! Why not use them in a way to encourage their love of reading right? Awesome illustrations also keep the children interested.
"My parents could have given me any first name at all, like John, Kevin, Shmevin… ANYTHING. Instead, I'm stuck with the worst name since Mrs. Face called her son Bum…"
There are eight books in the series, with the ninth due for release September 1, 2017.
---
2) "The Bad Guys" collection by Aaron Blabey
Ages: 6-12 years
This is sure to be a crowd-pleaser!
"Mr Wolf. Mr Shark. Mr Snake. Mr Piranha.
They're bad guys, everybody knows that. They're scary and dangerous and well… just BAD.
But these guys want to be HEROES. And they're going to prove it by doing good deeds… whether YOU want them to or not. Buckle up for the funniest, naughtiest and coolest book you'll ever read – it's time to meet the BAD GUYS."- Aaron Blabey
With some of the most rave reviews around, The Bad Guys series by Aaron Blabey won the Children's Book of the Year at the 2016 INDIE Awards.
Episode 6 "Aliens vs Bad Guys" is due for release October 1, 2017.
---
3) "Flat Stanley" collection by Jeff Brown
Ages: 9-12 years
"Stanley Lambchop is an ordinary boy. At least he was, until the night his bulletin board fell off the wall and flattened him. At only half an inch thick, Stanley can slide under doors, mail himself across the country in an envelope, and fly like a kite!" – Goodreads
Not just a successful children's book series, Flat Stanley has inspired the writing and exchange of letters between children all around the world! The Flat Stanley project connects classrooms across the globe, who send each other a 'flat' character. Students track and document their character's journey, participating in exchanges via traditional mail, email or the Flat Stanley Project app.
---
4) The City of Ember Series by Jeanne DuPrau
Ages: 8 +
"The four Books of Ember tell the story of a city where it's always dark. There's no sun, no moon, no light at all unless the electricity is on. And the electricity is beginning to fail.
Is there a way to save the people of Ember? No one knows. But Lina Mayfleet has found a puzzling document, and Doon Harrow has made discoveries down in the Pipeworks. With these clues, they start their search." – Jeanne DuPrau
This series contains thought-provoking themes that are highly relevant to our world today. With a driving sci-fi mystery narrative, The City of Ember is another book that is great for kids who are sometimes reluctant to read.
---
5) The Land of Stories by Chris Colfer
Ages 8 – 12 years
"When the twins' grandmother gives them a treasured fairy-tale book, they have no idea they're about to enter a land beyond all imagining: the Land of Stories, where fairy tales are real.
But as Alex and Conner soon discover, the stories they know so well haven't ended in this magical land—Goldilocks is now a wanted fugitive, Red Riding Hood has her own kingdom and Queen Cinderella is about to become a mother!" – Chris Colfer
In this popular series, the real world and fairy tale worlds collide. Twins Alex and Connor find themselves lost in the Land of Stories, where the magical characters they know aren't quite as they expect!
---
6) The Treehouse Series by Andy Griffiths and Terry Denton
Ages 8-12 years
"Andy and Terry's 13-storey treehouse is the most amazing treehouse in the world! It's got a bowling alley, a see-through swimming pool, a tank full of man-eating sharks, a giant catapult, a secret underground laboratory and a marshmallow machine that follows you around and shoots marshmallows into your mouth whenever you're hungry." – Andy Griffiths and Terry Denton
And the treehouse just gets bigger and bigger and bigger! Each new book brings with it hilarious new adventures, from the author who penned the classic "The Day My Bum Went Psycho".
---
7) Frogkisser by Garth Nix
"Poor Princess Anya. Forced to live with her evil stepmother's new husband, her evil step-stepfather. Plagued with an unfortunate ability to break curses with a magic-assisted kiss. And forced to go on the run when her step-stepfather decides to make the kingdom entirely his own." – Garth Nix
Published in February 2017, this is a fresh and exciting story that promises to be "50% fairy tale, 50% fantasy and 100% pure enjoyment from start to finish!"
---
8) Diary of a Wimpy Kid Series by Jeff Kinney
Ages: 8 – 12 years
"It's a new school year, and Greg Heffley finds himself thrust into middle school, where undersized weaklings share the hallways with kids who are taller, meaner, and already shaving. The hazards of growing up before you're ready are uniquely revealed through words and drawings as Greg records them in his diary." – Jeff Kinney
The Diary of a Wimpy Kid series features 11 books, with the 12th due for release this November, 2017. Following Greg's journey, as he navigates early high school, this series is great for upper primary students too.
---
9) Tom Gates Series by Liz Pichon
"I'm Tom Gates. When my teachers don't have their BEADY EYES on me, I like to draw pictures and think of ways to annoy Delia. My teachers think I am easily distracted and "lack focus". Which is a bit harsh, because right now I am VERY focused on which biscuit should I eat first… mmm?" – Liz Pichon
Booktopia advertises book one of the Tom Gates Series with a warning… "Do not attempt to read this in public. You will snigger loudly." And as Winner of the Roald Dahl Funny Prize in 2011, well, that's very likely to be true!
---
10) Little Lunch by Danny Katz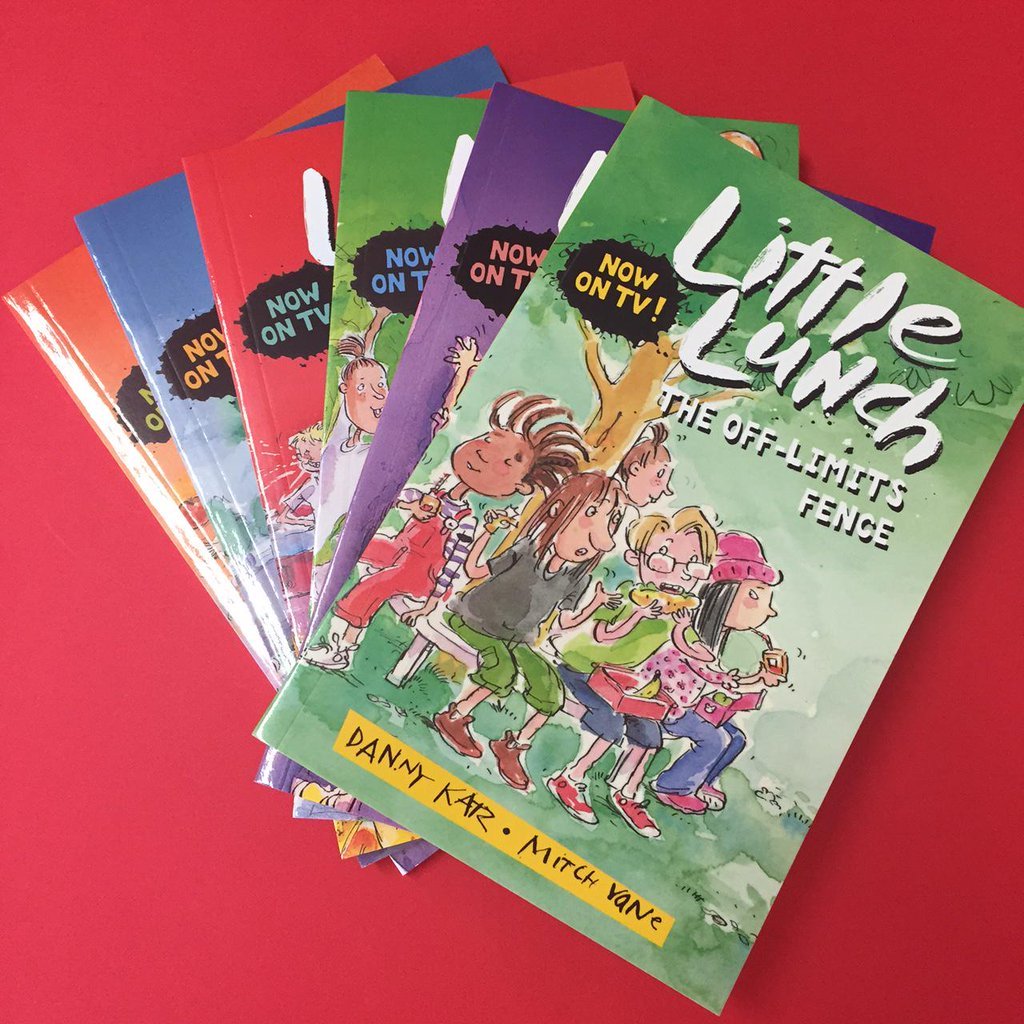 Ages: 3 – 6 years
One for the younger readers, the Little Lunch Series by Danny Katz are fabulously illustrated stories about a group of kids and their adventures during the fifteen minutes of "Little Lunch".
In 2015, the series was adapted for television in the popular comedic genre of "mockmentary" and the ABC series has been lauded as one of Australia's best children's shows (Cameron Williams, The Guardian).
---
There they are! Ten of the best kids books around.
Well, many more than ten if you count every book in each of these fantastic series.
While there are many more excellent books around to help encourage kids who don't usually enjoy reading, hopefully, this list will have given you a good place to start!
We also have an ever-growing catalogue of reading and comprehension resources for both teachers and parents to use in supporting learning. You can find a range of high-quality activities and worksheets to use in conjunction with texts your kids' love!
Which books do you recommend for reluctant readers? Tell us in the comments below!