An interactive multiple choice quiz to prompt thoughtful discussion about Anzac Day.
Use this teaching resource in the lead up to Anzac Day, an important day of remembrance in Australia and New Zealand.
The presentation covers the following key information:
the significance of the date
why and how we can commemorate Anzac Day
some of the symbolism of the day, e.g. poppies, playing of 'The Last Post'
the tradition of reciting 'The Ode of Remembrance'.
Conduct the quiz in small groups, or as a whole class.
To activate the interactive functions on this PowerPoint, ensure that you have 'enabled editing' and are viewing the PowerPoint as a 'slide show'.
A worksheet version of this quiz is also available and can be accessed via the thumbnail below.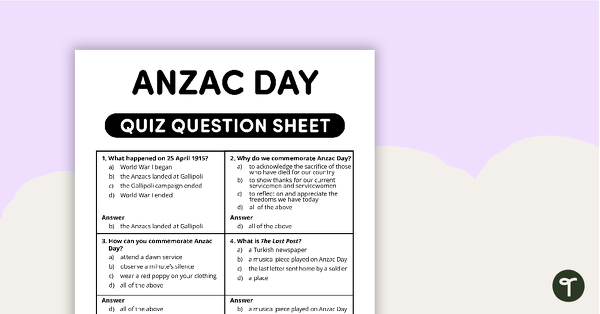 teaching resource
Six multiple choice quiz questions to prompt thoughtful discussion about Anzac Day.