Display and discuss Anzac Day words with an Anzac Day word wall.
Anzac Day Words for the Classroom
The importance of Anzac Day is imprinted in students' minds from a young age.
Lessons on Anzac Day vocabulary are so important for helping students understand the reasons why we respect and remember this significant day.
Print and Display Anzac Vocabulary 🌅
Print out these Anzac Day Word Wall Vocabulary cards and cut along the lines. Stick them up around your room to immerse your students in the content-specific vocabulary.
Our Anzac Day Word Wall includes 42 vocabulary words that students will immediately recognise, as well as vocabulary terms to stretch their language skills (and history knowledge): 
Anzac

Australian
Anzac Day
New Zealand
World War I
Army Corps
memorial
honour
poppies
rising sun
Gallipoli
remembrance
parade
peace
khaki

wreaths

Lest We Forget
Last Post
RSL (Returned and Services League)
bugle call
April 25
Anzac biscuits
regiment
battlefield
remember
simpson's donkey
parade
spirit

trench
pre-dawn
soldiers
dawn service
digger
march
fallen
pride
silence
religious services
public holiday
mate-ship
medals
hanger
Ode of Remembrance
There is a blank sheet provided at the end for any extra words that your students may want to add.
What can you do with Anzac Vocabulary?
Use these words before, during and after lessons with your whole class, small groups or individualised instruction. Check out ways to expand your Anzac history lessons:  
Vocabulary Hunt🔍
Provide your students with a range of fiction and nonfiction texts on Anzac Day. Challenge them to see how many vocabulary words they come across in 10 minutes. At the end of the time, ask your class to discuss the meaning of each word from their reading.
Word Web🕸️
Expand and explore the relationship between the vocabulary words by creating a word web with your class. This is a great way to consolidate knowledge at the end of a vocabulary study.
Anzac Art🖌️
Use these vocabulary words to create Anzac Art by exploring how colour and texture can demonstrate mood. Create a display with words that are coloured and designed to reflect solomn remembrance.
Writing Tasks📝
Encourage students to use their new vocabulary in an Anzac Day writing task, such as for our Reflections on Anzac Day – Template.
In addition, use these word wall activities throughout your lessons to help students recognize and define vocabulary words: 
🎖️ Spark discussions and make connections between words.
🎖️ Use them for Daily Oral Language and spelling word of the week exercises.
🎖️Identify parts of speech (noun types, verbs, adjectives, etc.).
🎖️ Practise alphabetical ordering.
🎖️ Play games like Charades, 20 Questions, Swat, etc.
Before You Download
Use the dropdown icon on the Download button to choose between the PDF or Google Slides version of this resource. Print on cardboard for durability.
Alternatively, you can create your own custom, printable word wall:
Select the type of font you would prefer from the drop-down box above.
Click on the blue button and use the Teach Starter Studio to add a custom word list to the resource.
Download and print your custom, themed word list.
---
Looking for more ways to incorporate Anzac history in your lessons? We've got more activities and teaching tools to check out: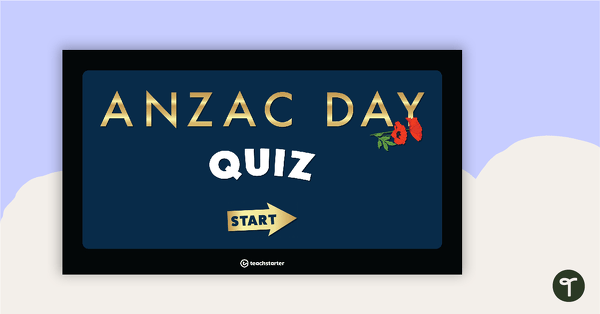 teaching resource
An interactive multiple choice quiz to prompt thoughtful discussion about Anzac Day.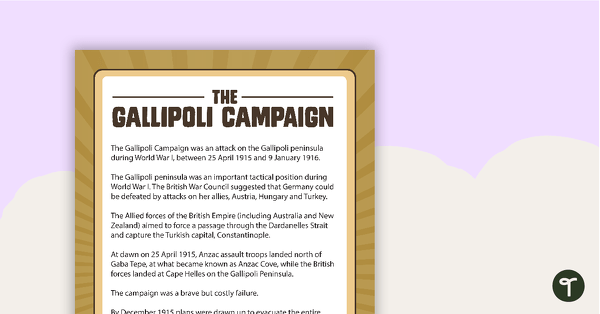 teaching resource
A set of worksheets about the the Gallipoli Campaign.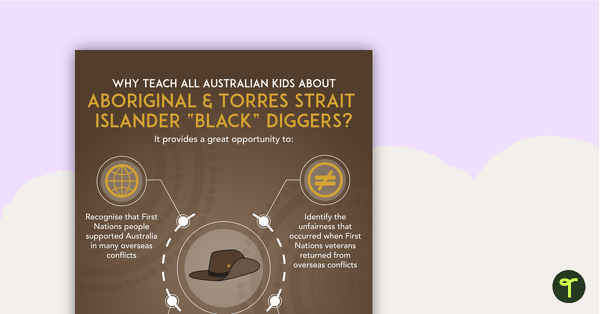 teaching resource
Use this educational poster to provide a rationale for teaching Australian children about Aboriginal and Torres Strait Islander diggers.