Use this printable time capsule template during the first week of school and again at the end of the year!
Introducing a fun new first day of school activity: Create a time capsule with your students with this printable template!
Time Capsule Idea for Kids on the First Day of School
Looking for a new first day of school activity that your students will remember for years to come? Try this time capsule idea!
The goal is for students to include information about themselves on the first day of the school year. The time capsules are then put away until the last day of the school, where students can then open up their time capsule to see how much they have changed in just one short school year. You may even like to invite parents into the classroom to have an 'opening of time capsules' celebration at the end of the school year!
How to Build Your Time Capsule
Print the time capsule templates including the capsule cover labels and blank templates.
Help your students fill out each of the boxes of information, and then roll up the pieces of paper and use some twine or ribbon to fix them into place.
The glass jars we have used in our photos are readily available at cheap shops, but you could also put out a request for students to bring in their own bottle or glass jar for their time capsule. This just means you can fill out the time capsule template on the first day and put it all together once the donations of jars and bottles start coming in.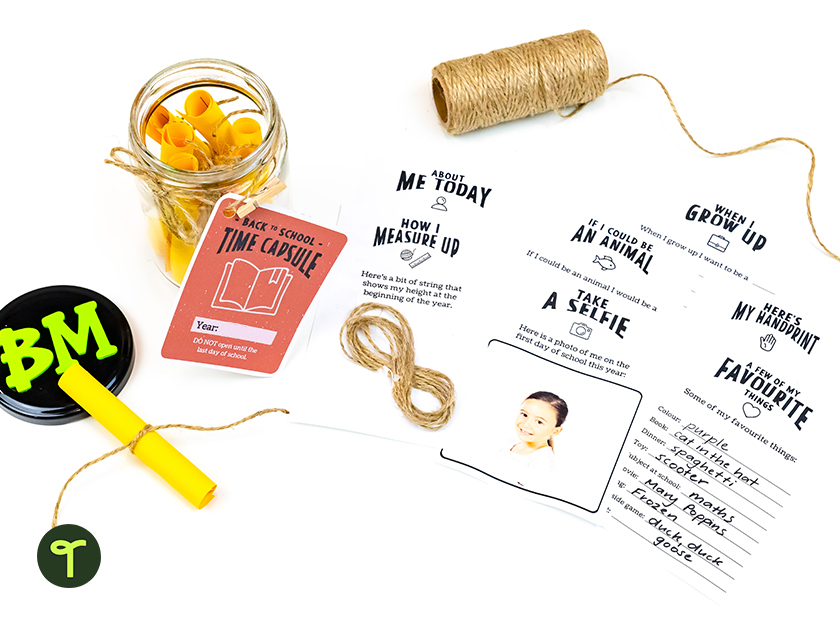 Use the cover label to stick on a glass jar or recycled plastic bottle and then get your students to complete each of the smaller templates and roll them up to fit in the jar or bottle.
Here's a snapshot of what your students will include in their time capsule:
How I measure up – This is a template for students to measure their height with a piece of string and stick it to the piece of paper. Students can then open this on the last day of school to see how much they have grown.
Goals are important – Sudents write down one or two main goals for the year. This is a great way for them to reflect at the end of the year to see how far they have come.
Take a selfie – Students take a photo of themselves and stick it on this piece of paper. This makes a great visual for them to compare themselves and see how much they have changed on the last day of school.
A few of my favourite things – Students write down a few of their favourite things and then compare these items on the last day of school. Have any of their favourite things changed?
When I grow up – Students write what they want to be when they grow up and why. Will that change as the year goes on?
Here's my handprint – They'll get to see how much their hand has grown in a school year.
If I could be an animal – What animal would they be and why?
About me today – Finally, students add a few other facts about themselves including how many teeth they have lost, their weight, etc.
Once they are all complete, you may choose to pop the time capsules in your classroom storeroom. Alternatively, you could store them somewhere visible in the classroom to ensure you don't forget to open them on the last day of school.
At the end of the year, students can open up their time capsules to see what they looked like and what they wrote on their first day of the school year.