An easy-to-print Easter craft for kids.
An eggcellent craft activity to do with your class in the lead up to Easter.
Simply print these Easter egg baskets, pop them in front of the kids and that's the half-hour before lunch sorted!
Students will need:
a basket template (ideally printed on thick card)
coloured pencils/textas
scissors
glue
sticky tape.
Make the link to 3D Objects and their nets, asking students 'which 3D object does this basket closely resemble?'
Students will:
Decorate the basket.
Cut out the basket and handle.
Fold the along the dotted lines.
Glue the tabs to the inside of the basket.
Stick the handle to the inside of one side of the basket.
Bend the handle and stick it to the other side of the basket.
You could even grab some paper out of the shredder and add them to each basket.
Once the baskets are finished and the classroom is all clean and the students are out at lunch and the Easter Bunny has remembered the eggs, the baskets might just fill up with a few treats.
Make sure to make your own basket so the Easter Bunny doesn't forget you!
Provide your students with an alternate basket design by downloading our other printable Easter basket here: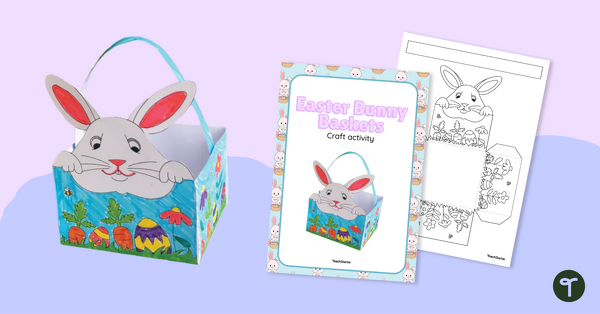 teaching resource
A printable Easter basket craft activity for kids.