Use this poem in the classroom in preparation for Remembrance Day.
Remembrance Day Poem for the Classroom
Remembrance Day is celebrated on the 11th of November every year. Remembrance Day, known also as the Armistice, is an annual commemoration of the end of WWI. Why not commemorate the occasion with this Remembrance Day poem for the fallen soldiers of WW1?
This download also includes a worksheet of reflective questions for your students to answer once they have read or listened to the poem.
Other activities to do with this Remembrance Day poem :
Read it together as a class.
Analyse the meaning of the poem.
Use a poetry analysis template with the poem.
Have your class perform the poem on a school assembly.
Have students pick out meaningful words and write those words in a poppy template.
Easily Download & Print
Use the dropdown icon on the Download button to choose between the PDF or Google Slides version of this resource.
Don't stop there, check out these meaningful Remembrance day activities for kids:
teaching resource
A set of 6 worksheets to inspire students to think about Remembrance Day.
teaching resource
A template to use to make a poppy for Anzac Day and Remembrance Day.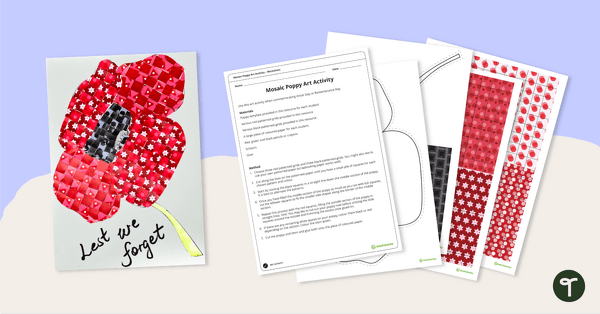 teaching resource
A creative art activity to use when commemorating ANZAC Day and Remembrance Day in the classroom.