Print this superhero classroom wall display (or photo booth) to encourage reading in your classroom!
Turn your students into "super readers" with a printable superhero classroom display and photo booth perfect for decorating the classroom in the first week of school!
After all, reading really is a secret power. When students develop decoding, comprehension and inferring skills, the whole world is opened up to them. The sky is the limit when a love of reading is developed early in childhood. Use this display to set the tone for a new school year or term, and let your students know that reading is the key to powering through their work!
The superhero-themed classroom wall display pack includes everything you need to turn each student into a reading superhero, and it makes the perfect addition to a superhero classroom theme.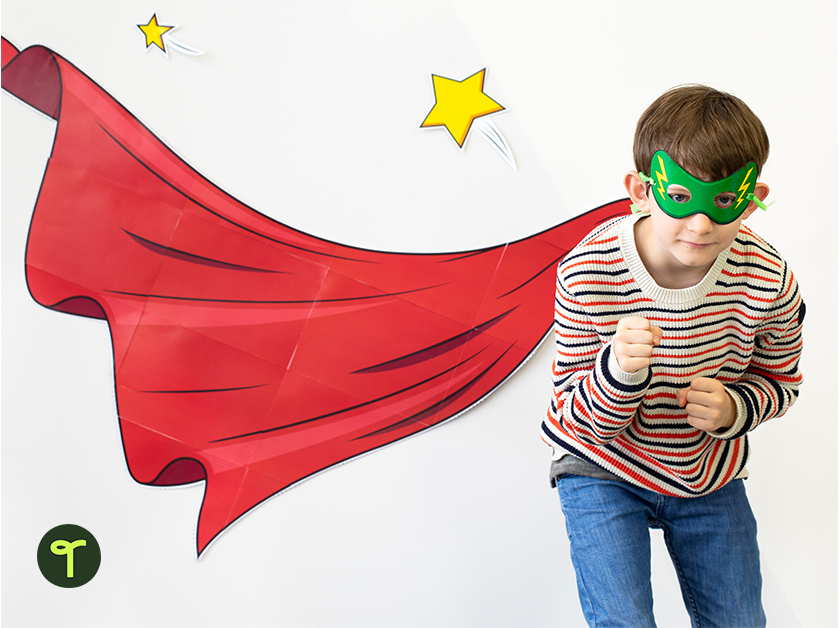 Easily Prepare This Printable Classroom Display
Use the dropdown icon on the Download button to choose between the color or black and white version of this resource.
This photo booth display kit includes:
"I'm a Reading Superhero!" cutout (display title)
superhero cape (cut and assemble display)
3 superhero masks (photo booth props)
cutouts & speech bubbles (for decoration)
4 mini photo frames (insert student photo for building a bulletin board)
Print on cardstock for added durability and longevity. When you are finished with the display, you can place all pieces in a folder or large envelope for easy access and reuse next school year.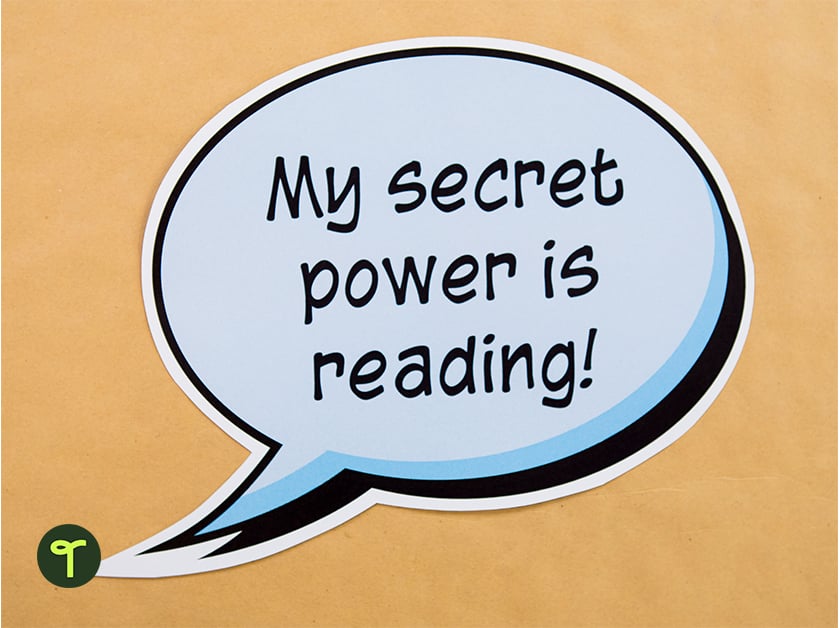 How to Set Up Your Superhero Wall Display
Cut out each piece of the 'I'm a Reading Superhero' Wall Display cape. You may need to write the side names on the back of each piece in pencil if you are cutting it all out at once.
In alphabetical order, attach each piece of the cape to its corresponding piece. E.g, The tab named A attaches to the side named A.
Hang the cape on your wall at student height, angled so that it looks as though it is waving in the breeze.
Place your display elements, speech bubble and title in an appropriate space around the cape!
When assembling your reading photo booth display for your students, be sure it is low enough on the wall for your students to stand in front of and that the superhero cape appears in the correct spot. Assemble the cape by attaching the letter tabs together.
Students can put on a mask and pose in front of the cape for a photo booth picture. Then use the photos and the frames to create a reading display in your classroom, the hallway, or on your classroom door for everyone to admire!