Display key vocabulary related to informative writing with a set of 48 word wall cards.
Navigate Informative Writing – Starting with a Word Wall!
Do you have a group of struggling writers this year? We know the feeling. It is difficult for young writers to plan out an essay or nonfiction piece that makes sense, is organized, and contains all of the elements that a piece of informational writing needs. We're here to help you do that with a simple yet highly effective informative writing word wall to support writers on their journey to an organized, informative essay.
Print out and display these informational writing word wall cards in your classroom.
Need more resources to build your Informative Writing Lessons? Try these!
teaching resource
A poster about the information report text type, including an annotated example.
teaching resource
A set of 6 fact files, covering a variety of topics.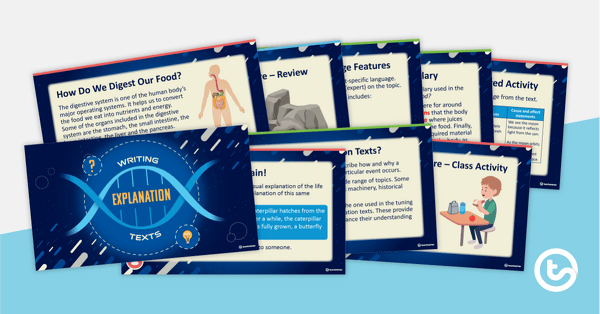 teaching resource
A 33-slide editable PowerPoint template to use when teaching your students about explanation writing.
This resource is fully editable in Google Slides if you would like to make a change or add additional cards. Use the dropdown to select the Google Slides resource file or the quick-print PDF resource file.
Build Academic Language with Exposition Writing Vocabulary Cards
Words include:
inform, explain, describe, instructions, procedure, description, recount, main ideas, and more!
---