Track kindness in the classroom with this kindness jar ready to be coloured in with random acts of kindness.
Fill Your Kindness Jar Today!
Whether you are focusing on World Kindness Day, Random Acts of Kindness Week or just looking at ways to teach your students about kindness, this activity is for you! If using individually, have students stick their kindness jar somewhere where they can easily access it. Each time they have shown an act of kindness to someone, they get to colour in their hearts. The goal is to fill the jar with colourful hearts! 
A reflection worksheet has also been included for students to reflect on how they felt when they were able to colour a heart in their kindness jar and why. They can also talk about their favourite act of kindness they showed and why it was their favourite.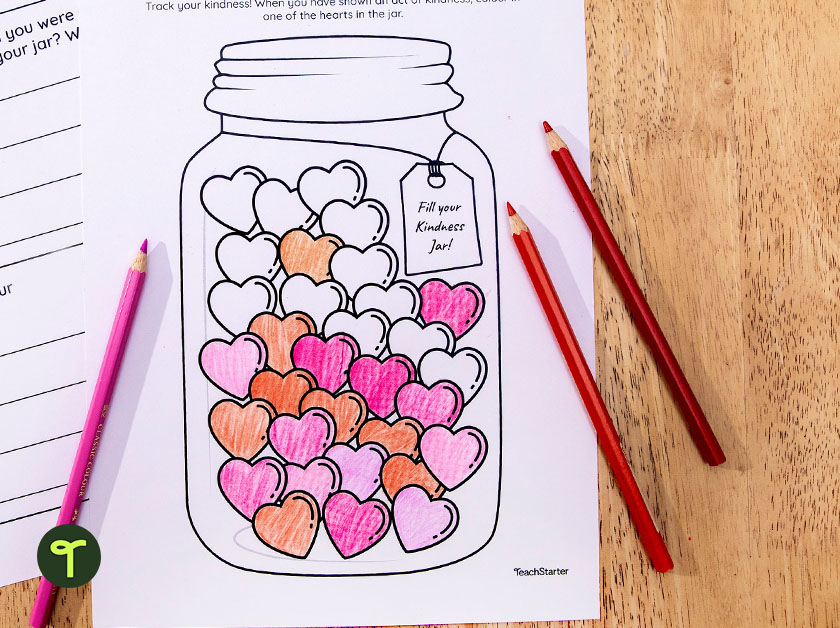 If you use the jar as a whole class activity, you may like to print out a banner with the heading 'Our Kindness Jar.' Why not use some of our printable bunting for this? Print the jar on a larger piece of paper, and stick this in a communal area for your students to access — each day, students can colour in a heart and tell the class how they have shown kindness throughout the day!
Download & Print
If you are looking to save on paper, you can print the jar and the reflection sheet back to back. This will keep it all together in one piece.