A poster to introduce students to the use of simple language in persuasive writing.
Use this poster as a visual stimulus when working on persuasive writing. This poster includes simpler language to help guide your students through using persuasive language, sentence starters and conclusions.
Persuasive Language
also
although
as a result
because
clearly
except
for example
for instance
for that reason
however
in fact
instead
it is clear
obviously
of course
surely
 Sentence Starters
It is clear that…
Clearly…
Everyone knows that…
Of course…
The fact is…
There is no doubt…
Surely…
 Conclusions
In conclusion,
To sum up,
As a result,
To end with,
In summary,
If you like this resource, you might also like: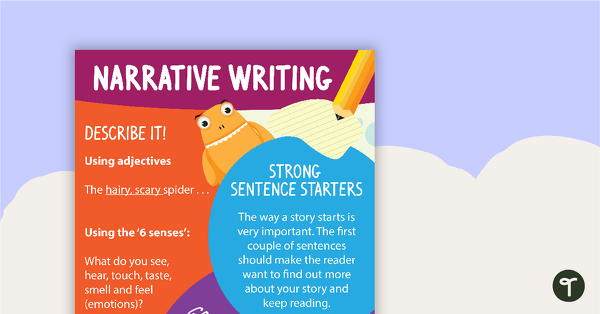 teaching resource
A poster to encourage your students to think about narrative writing.