A puzzle to assemble when learning about National Sorry Day.
This activity can be used as a conversation-starter when teaching Australian children about National Sorry Day. The resource is a combination of crossword and puzzle – with the assembled puzzle forming a map of Australia.
Phrases (crossword snippets) are glued on top of black strips on the puzzle pieces which are then assembled together to form the map.
Actions that need to be taken as part of reconciliation in Australia are the backbone of this resource. Underpinning those actions is the notion that reconciliation starts with every individual. When we take these actions, we move towards a more united Australia. Assembling the puzzle pieces is symbolic of this.
What Does Reconciliation Mean in Australia?
Reconciliation in Australia focuses on strengthening the relationship between First Nations people and the wider Australian community. It involves an acknowledgement and understanding of our shared histories.
National Sorry Day is a day of remembrance that is commemorated every year leading into Reconciliation Week. On National Sorry Day, we reflect on the mistreatment of First Nations peoples and, in particular, those Aboriginal and Torres Strait Islander peoples known as the 'Stolen Generations.' It is a significant day because the national apology recognises the truth of our history.
Piecing Australia Together – A Reconciliation Puzzle provides puzzles at two levels of difficulty. Both levels include:
a puzzle pieces page
a page of crossword snippets
the assembled map that includes the crossword snippets (this is essentially the Answer page).
In the Level 1 version, phrases are given to students on intersecting crossword snippets, whereas in the Level 2 version, students need to work out the missing words on the crossword snippets from a bank of words provided.
How to Use the Resource in the Classroom
Students begin by cutting out the puzzle pieces. They then cut out the crossword snippets, decide where to place each snippet and glue them on top of the black strips. (If students are using the Level 2 version, they should complete the crossword snippets before cutting them out). All the puzzle pieces are then joined together to form a map of Australia which can be glued into their workbook.
Use the puzzle to promote thoughtful discussion about reconciliation.
Further discussion about reconciliation might be prompted with these resources: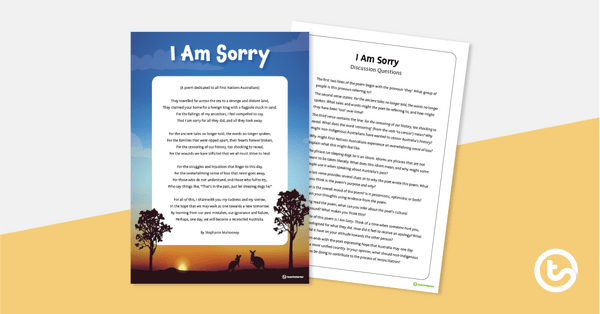 teaching resource
A poem to promote thoughtful discussion around issues of reconciliation on National Sorry Day.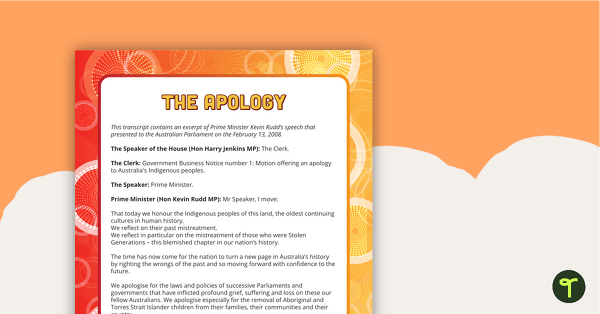 teaching resource
An excerpt from Kevin Rudd's Apology to the Stolen Generations with matching activity task cards.