Use this worksheet to review planet order, features and classifications.
🪐 How Do You Remember the Order of the Planets?
This can be a tricky concept to remember, but with the help of a mnemonic device, students will remember the correct order in no time!
With this science worksheet, students will answer questions about their understanding of planet order, types of planets and special features of individual planets. This worksheet accompanies the 'Planets of Our Solar System – Teaching Presentation' resource.
Additionally, if you are looking for themed posters to go with the worksheet and teaching presentation, check out our beautifully designed Planets of the Solar System Posters!
An answer key is included with your download to make marking fast and easy!  
Tips for Implementing This Resource 🚀
A suggested implementation of this resource would be to:
Distribute a copy of the worksheet to your students.

Display the Planets of Our Solar System – Teaching Presentation.

Step throught the presentation, modelling your thoughts when an answer to a question on the worksheet is covered in the presentation.

Scale back your explicit modelling of finding answers as you progress through the presentation.

Have a discussion with your students about their favourte facts.
For students who need a bit of a challenge, encourage them to find and record additional information about a planet of their choice. Students can use science textbooks, digital sources, etc. to find information.  
If there are students who need support with this worksheet, consider completing it in a 1-on-1 setting or with a small group.
🖨️ Easily Download & Print
Use the dropdown icon on the Download button to choose between the PDF or editable Google Slides version of this resource. 
To save paper, we suggest printing this 2-page worksheet double-sided. 
Turn this teaching resource into a sustainable activity by printing on thick card and slipping it into a write and wipe sleeve. Students can record their answers with a whiteboard marker, then erase and reuse them. 
Additionally, project the worksheet onto a screen and work through it as a class by having students record their answers in their notebooks. 
Get more worksheets to have handy!
---
This resource was created by Jennifer Hall, a Teach Starter Collaborator. 
Don't stop there! We've got more activities to shorten your lesson planning time: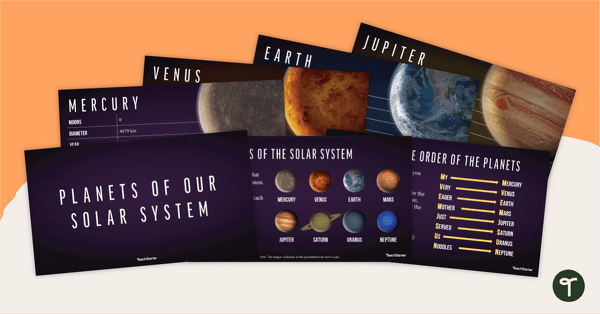 teaching resource
Explore information about the planets in our solar system and their position in relation to the Sun.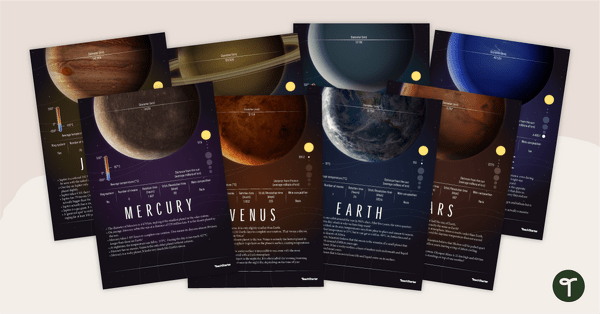 teaching resource
Use this set of visually striking and informative posters about the planets of our solar system in your classroom.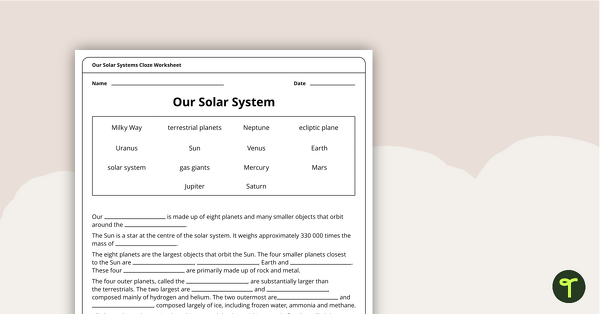 teaching resource
Our Solar System cloze worksheet for your students to complete.