Use this printable colouring template for a poppy- and soldier-themed agamograph to be used on Anzac Day and Remembrance Day.
Poppy and Soldier Craft for Anzac Day or Remembrance Day
Commemorate Anzac Day or Remembrance Day with your students using this simple poppy and soldier agamograph. The template was created in simple PDF form for easy printing and introduces kids to a number of themes, including the symbolism of the poppy as a means to honour soldiers who have sacrificed on the battlefield, as well as providing a means to teach students about optical illusions in your visual art lessons.
Students will fold their completed agamograph similar to a fan, and they will be able to look at it from two directions to see two different images — either a poppy or a soldier!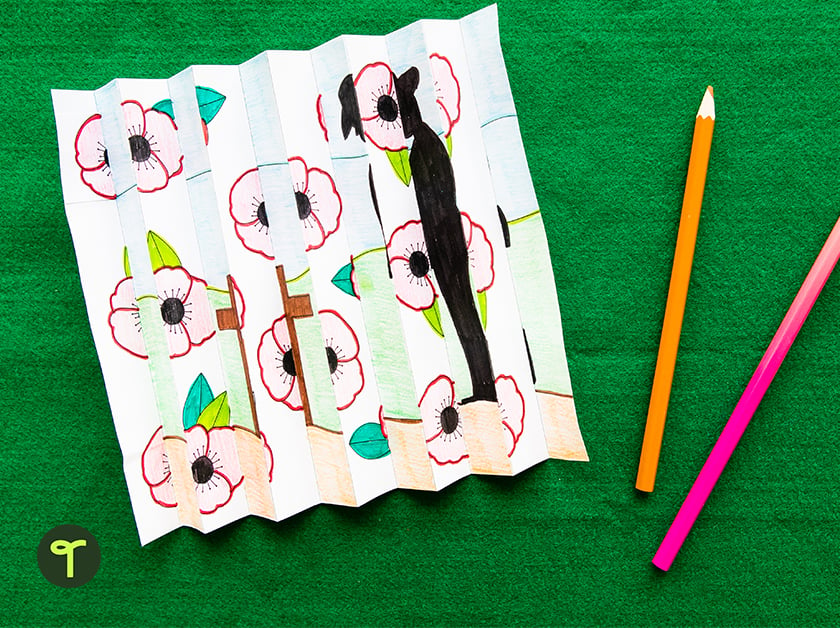 What Is an Agamograph?
Sometimes called a lenticular, an agamograph is a form of optical illusion artwork that appears to change when viewed from different angles.
Agamographs consist of two or more images that are superimposed on each other and arranged in such a way that each image is only visible when viewed from a specific angle. The images appear to switch back and forth as the viewer changes their perspective, creating a visually dynamic effect
They were created by the Israeli artist Yaacov Agam who is widely known for his optical illusion art, and they can be used to teach our students about perspective and the way that the images that we see are perceived in a different way by our brains.
How to Create a Poppy and Soldier Agamograph
Combine the printable template designed by our team with coloured pencils or crayons and scissors, and you have everything your students need for this poppy craft!
To create this resource:
Select the download button to download the PDF.
Direct students to colour in the template. You can challenge them to be creative, but remind them that poppies are red!
Direct students to cut out their agamograph, following the outside lines.
Have students fold the template along the inner lines like a fan (one fold forward, one fold backward).
Display the completed agamographs in your classroom to acknowledge the sacrifices made by our servicemen and women on Anzac Day or Remembrance Day.
You may also like to print this poppy and Australian flag agamograph to give students a choice for their craft.