Practise finding different ways to blend 'l' with other consonants with this set of 8 game boards and letter cards.
Your students are gonna love 💥 smashing away💥 at these cards! 
Our Smash It! game lets your students get very 'hands-on' with segmenting words that involve blending  'l' with another consonant at the beginning of a word. 
This activity includes 2 versions of the game: one with written words and the other with pictures. Students can play at the level of proficiency they feel comfortable with, or you can challenge those students who need it. 
SMASH and Blend 'l'!
Use this resource in small groups as an English group activity or as a whole class exercise (see below) to practise segmenting and blending words containing the consonant 'l'.
To play, students will need modelling clay and a word mat. The first player picks a letter card containing 'l' paired with another consonant. They then find a word that uses the same consonant pair combination on their game board and use their modelling clay to SMASH IT! Students take turns identifying and smashing the pictures/words until one student has SMASHED all the items on their card. 
Extension Tips 
This game can be played individually or with multiple players (either sharing the one mat or on their own individual mats.) If players are sharing a mat, they use different coloured modelling clay and take turns to 'SMASH IT!' 
Challenge confident students to produce additional words (that blend the same pair of consonants) after they SMASH IT! 
Get More Activities from ONE Game!
Use this resource as independent practice for fast finishers or for full-class learning opportunities such as scoot activities, lesson reviews, formative assessments and more.
2️⃣ Group Play (Beginner)
Divide your class into pairs and give each pair a word mat. Using your smartboard or another projection device, present the letter cards. Students work together to identify the words with that consonant pair combination on their board. The first pair to cover every picture on their board wins! 
🌞 Warm-Up/Exit Activity (Intermediate)
Use this activity as a formative assessment. Pick a word mat (that contains pictures) and project it on the board for the whole class to see. Read each of the words as a class, and have students write the word on a separate sheet of paper.
🪧 Write the Room Scoot Activity (Advanced)
Hang sheets of chart paper around the room and post a letter card above each one. Individually, or with a partner, have students rotate around the room, adding one word to the chart that blends the same pair of consonants as indicated on the letter card. Students must not use any of the same words as those on the game boards. Words may be used only once.
Easily Prepare This Resource for Your Students
Print on card for added durability, and slip the boards into write and wipe sleeves for easy clean-up. Place all pieces in a folder or large envelope for easy access. 
---
This resource was created by Lindsey Phillips, a Teach Starter Collaborator. 
No need to look anywhere else for activities that involve blending consonants —we've got your lessons covered: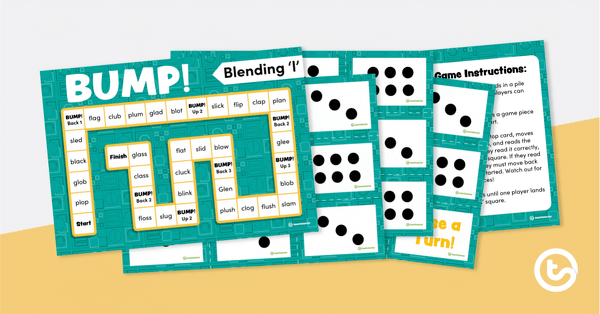 teaching resource
A board game to practise decoding words with an l-blend.
teaching resource
A small group or whole class sorting game to consolidate the learning of beginning consonant blends.