Practise writing and enhancing knowledge of vowel digraphs with this worksheet pack.
Vowel Digraphs and Handwriting Practise
This collection of 12 worksheets has been designed to help students practise their knowledge of vowel digraphs. Understanding vowel digraphs is a fundamental skill in phonics and reading, and it plays a crucial role in assisting students to become proficient readers and writers.
Vowel digraphs are combinations of two vowels that create a single sound. They can be found in many English words and are essential for students to master as they progress in their reading and writing skills. Vowel diagraphs are sometimes called vowel teams, as they work together to create one sound. The vowel digraphs covered in this set of worksheets include:
aw as in claw
ue as in clue
ew as in drew
ai as in rain
ee as in feet
ea as in beak
ey as in key
oi as in coin
oy as in boy
oa as in boat
ow as in cow
ou as in house
Each worksheet includes lines to practice writing the two vowels and some activities to enhance recognition of each vowel team!
What are Vowel Teams?
You might hear the term vowel teams used to talk to students about vowel digraphs. Vowel teams is a pedagogical concept that has been developed to describe and teach the phenomenon of vowel combinations in the English language. It's not a term that has a long historical or etymological origin like many English words. Instead, it has emerged as part of the teaching and study of phonics and phonetics.
It's a way to simplify the concept of two vowels coming together to create a unique sound when spoken.
Download and Use Today!
This resource is available to download in PDF form. You might like to print this resource back to back and create a vowel digraph or vowel team booklet for students to use throughout their learning.
More Vowel Digraph Resources
Are you looking for more vowel digraphs or vowel team resources to use in your phonics lessons? We have you covered…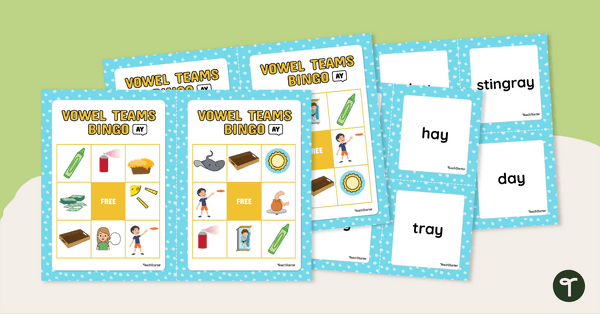 teaching resource
Practise decoding words that include the AY long /a/ vowel team sound with this BINGO game for up to 20 players.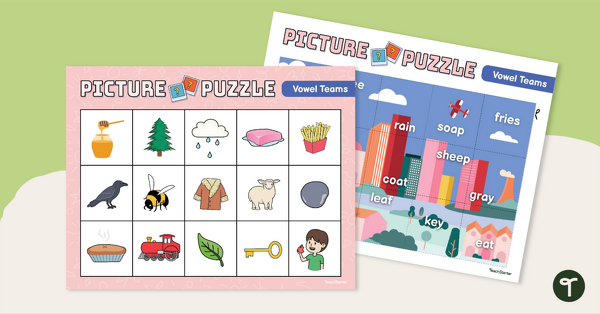 teaching resource
Practise decoding words with long vowel team conventions with this 15 piece picture puzzle.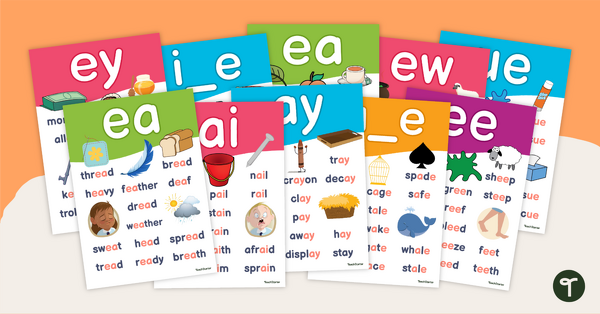 teaching resource
Expose your students to the most common vowel digraphs with this set of 24 posters.