Learn how weathering and erosion can cause slow changes to Earth's surface with this printable poster.
What's the Difference Between Weathering and Erosion?
Are your students starting to learn these new vocabulary terms during your Earth Sciences unit? Let's look at the key differences between these terms related to the slow changes that happen to the Earth. 
Weathering and erosion are processes that shape the surface of the Earth. While they are related, these processes are distinct in their own way.
Weathering refers to the physical or chemical breakdown of rocks, soils and other materials on the Earth's surface. This can happen in a variety of ways, such as exposure to wind, water and temperature changes. Over time, weathering can break down rocks and minerals into smaller particles, which can then be moved.
Erosion refers to the movement of sediment or soil from one location to another, typically through the action of wind, water or ice. When sediment is eroded, it is typically transported downhill or downstream, gradually wearing away the Earth's surface. 
How to Make the Most of Your Weathering and Erosion Poster
Print the poster and display it in your classroom for students to reference when doing independent work.

Print the poster, slip it into a clear sleeve, and use it in your guided groups as a reminder.

Print the poster, slide it into a clear sleeve, and hang it on a ring as a reference tool for a learning center. 
We've also come up with bonus ways to turn posters into interactive tools that really make your lessons stick! 
📂 Place copies in students' homework folders for reference. 
💻 Provide posters as digital resources for virtual students. 
🧠 Test students' memories by showing them the poster, then hiding it and having them tell you what they remember.
✅ Incorporate posters into your lesson wrap-up: students write on a sticky note what they learned from the lesson and place it on the poster. 
Before You Download
This resource prints as a PDF. Please use the Download button to access the full-colour version of this resource.
---
Spend more time lesson-doing and less time lesson-planning when you grab these activities and teaching resources too!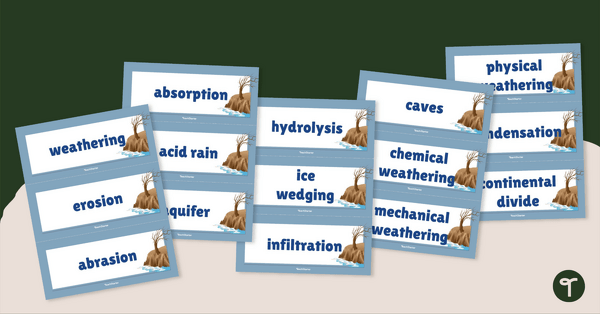 teaching resource
Expand your students' science vocabulary with a weathering and erosion word wall.