Walking through the hallway at Sullivan West Elementary School in Jeffersonville, New York, you might be tempted to start jumping on one foot or scooting sideways. Maybe you'll even stop and do a few wall push-ups or jumping jacks. Welcome to the world of sensory pathways or sensory hallways, a trend popping up in more and more schools throughout the United States.
What is a sensory pathway for schools?
Sensory pathway is a term you might hear a lot if you work in neurology, but what does it mean in terms of schools? Simply put: Sensory pathways in schools are guides that direct students (and teachers!) to move along a particular path.
Typically painted onto or adhered to the floor in the form of stickers, a sensory pathway may include steps to get kids jumping and balancing along the path, or it might direct kids to stop in one spot and do an activity such as a few jumping jacks or breathing exercises. Some sensory pathways are student-led, meaning the kids can make their own choices along the way, while others are instructor-led, meaning teachers can weigh in and direct their kids along the path.
Where did sensory pathways and sensory hallways come from?
School hallways used to be fairly utilitarian — a means to shuttle students from the classroom to the cafeteria or the bathroom and back again. So what's changed?
According to Pamela Gunther, whose company Fit and Fun Playscapes designs sensory play areas for schools across the country, sensory pathways popping up in school hallways are simply an extension of work teachers have long been doing to incorporate movement into their students' days.
"Sensory integration theory has been around since the 1970's and for decades more everyone understood the benefits of physical activity, especially children," Gunther tells Teach Starter. "Teachers have been putting tape on floors and graphic prompts on the walls for a long time."
In recent years, however, there's been an increase in focus on the sensory needs of students, thanks in part to increased research into the topic. It's estimated that as many as 1 in 6.25 American children have some sort of sensory processing issues, and integrating sensory-directed activities into the academic day is a means to help them develop everything from their motor skills to the way they think. The proliferation of fidget tools and wiggle seats in the classroom falls right in line with this thinking.
"There has been increasing awareness about students needing more physical activity during the school day and there is much more information and research about children's different learning abilities and challenges and schools genuinely want to address those needs," Gunther explains.
What's more, adding sensory pathways in the hallways allows teachers to use parts of the building that were previously ignored to teach the whole child, says Sullivan West Superintendent Steve Walker. "It's all a learning space if you make it that way," he tells Teach Starter.
Students now hop, skip, and jump their ways down the hall at Sullivan West on the way to their specials or just on a trip to the bathroom, and it all happens organically, says Assistant Principal Kevin Carbone. The kids take their cues directly from the pathways on the floor (and in the case of wall push-ups, the wall), allowing teachers to incorporate more movement into the day simply by walking students to a special and allowing them to "squish bugs" or hop on "stones" that spell out their names. With an occupational therapist joining the school's team in the fall, Carbone says the pathways will add an extra tool to their toolbox to help work with kids on important skills.
teaching resource
A template for students to use when learning how to write sensory poems.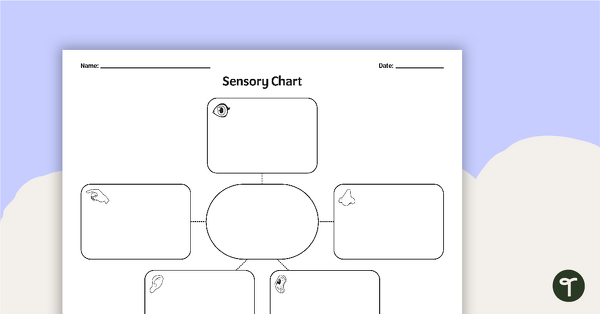 teaching resource
A graphic organizer for students to use when categorizing sensory details.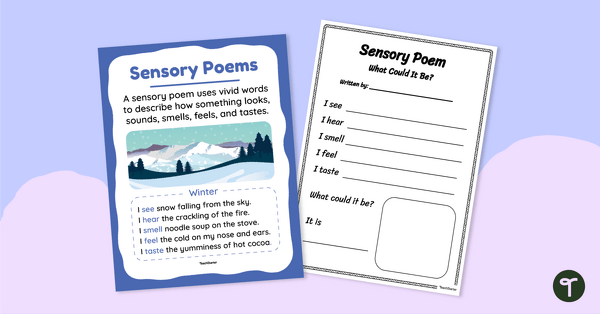 teaching resource
A poster providing a definition and example of a sensory poem.
How to add a sensory pathway to your school
So sensory pathways can make even a hallway a learning space. But how do you get that sensory integration integrated into your school?
At Sullivan West, Carbone says the process began two years ago as educators assessed ways to approach the whole child and extend their education beyond academics. A group consisting of the school's psychologist, a teacher, and a school counselor helped map out simple, usable designs that could be easily installed by the school's custodial staff.
Usable and simple are the name of the game, Gunther says. We asked her for a few tips on what makes a successful experience for students in a sensory pathway. Here's her advice:
Graphics and movements that are developmentally appropriate for age and ability level, and are visually balanced – not too busy, not too bland. Just enough color and design to engage the child, not bombard them with imagery (they get enough of that on digital devices!).
Sequences of the movements and patterns should begin with an activity that is easily achieved, enabling a high success rate. They should progress with difficulty, complexity, and/or activity level to a culmination point of activity, and then wind down through less vigorous movements, completing with a mindful movement or reflection for self-regulation.
Defining the expectations of the pathways use is important. Is it to be a self-guided experience or instructor-led? When should the pathway be used and by whom? Managing the behavior and use in the hallway is not difficult.  Everyone should be agreeable to a general framework of rules and expectations for its use.
And you don't have to stop at the hallways! Sensory pathways can be added into classrooms, cafeterias, gymnasiums, and of course playgrounds. In fact, it's the last on that list that got Gunther involved in designing activities that promote movement a decade ago. The mom of three has two sons with ADD, and they benefited from physical and sensory movements during the day. When volunteering on a playground project at their school, she found herself painting for days by hand and thinking "there has GOT to be a better way."
It turns out there is … and it's making kids' lives better too.
Banner Images via Teach Starter and Fit and Fun Playscapes