Whew. What a school year this has been. Hybrid classrooms. Synchronous instruction. Quarantines. Masks. Social distancing.
Lions. Tigers. Bears. Oh my!
Now that the end of the school year is just about here, it's time for a little celebrating, don't you think? But if you're feeling like you're just not up for planning anything else, don't worry. We've got your back.
We've put together some of our favorite summer-themed activities for the classroom so you can switch your brain to thinking all about how sweet this well-deserved break is going to be.
---
End of School Year Summer-Themed Activities
We've put together some fun and easy summer-themed activities to help your students get excited about the best season of the year (and bid bye-bye to those end-of-year tests). These quick activities are so easy to complete. Not only that, but they help to brighten up your classroom during those last few days in the classroom.
"My Summer" Self-Portrait Sunglasses
Unleash the artist within with this fun self-portrait activity! Your class will love to draw what they will get up to this summer!
For this activity, you can either print out an image of each of your students, or why not ask them to draw a self-portrait themselves?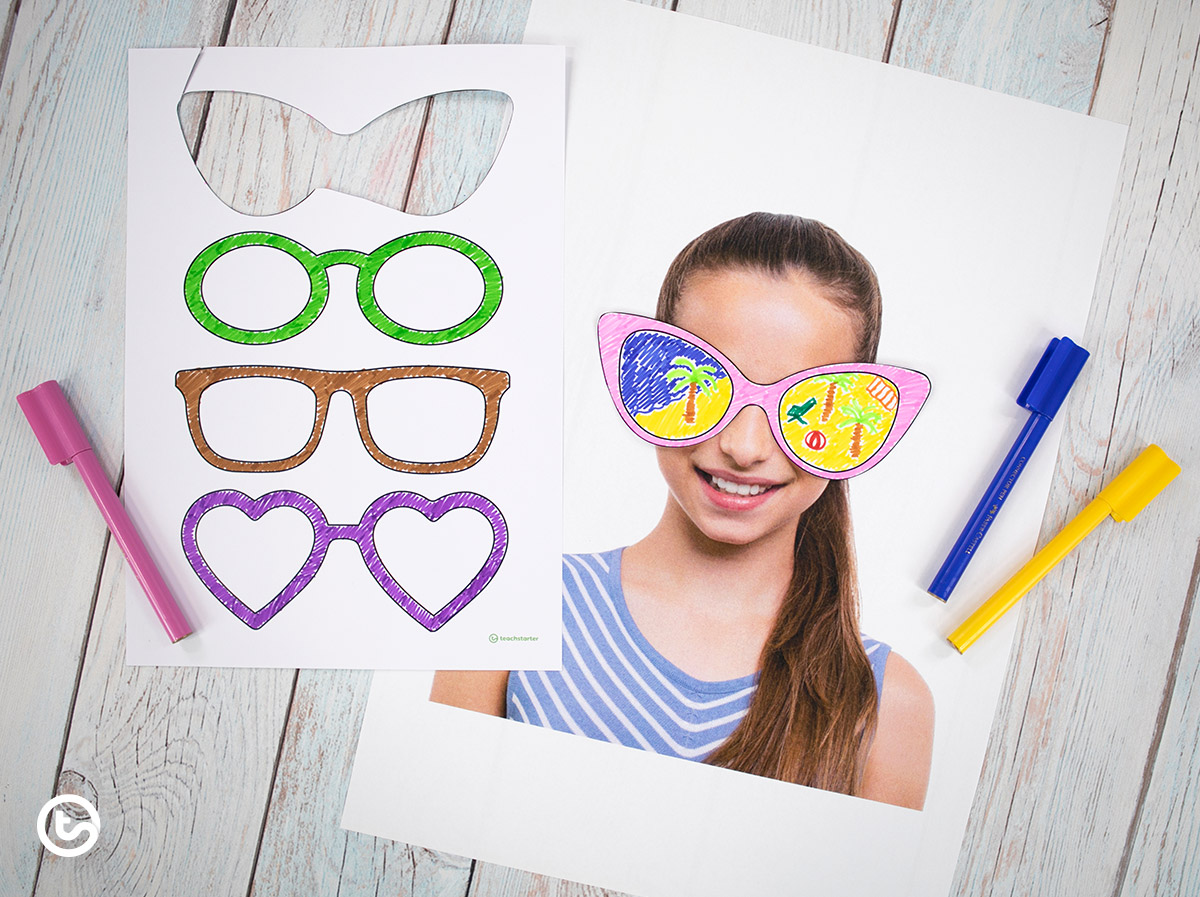 We used the glasses that are available as part of the Funky Easter Bunny Craft Template. Print off the desired page, and let your students get to work drawing their ideal summer activity!
Summer Would You Rather
Would you rather go swimming or hiking? Would you rather eat a sno-cone or an ice pop? Decisions, decisions!
Give your students a needed brain break for the end of the year with a fun summer-themed game of Would You Rather, encouraging them to walk to a specific wall in the classroom to answer the questions. You can also use these tasks cards to encourage students to practice writing — there's even a Google Slides version to share with remote students.
Summer Bucket Lists
For the younger kids
Who says bucket lists are just for grown-ups? This cute bucket and spade activity is one you can use to create a wall display of all the things your students are looking forward to in the upcoming summer break.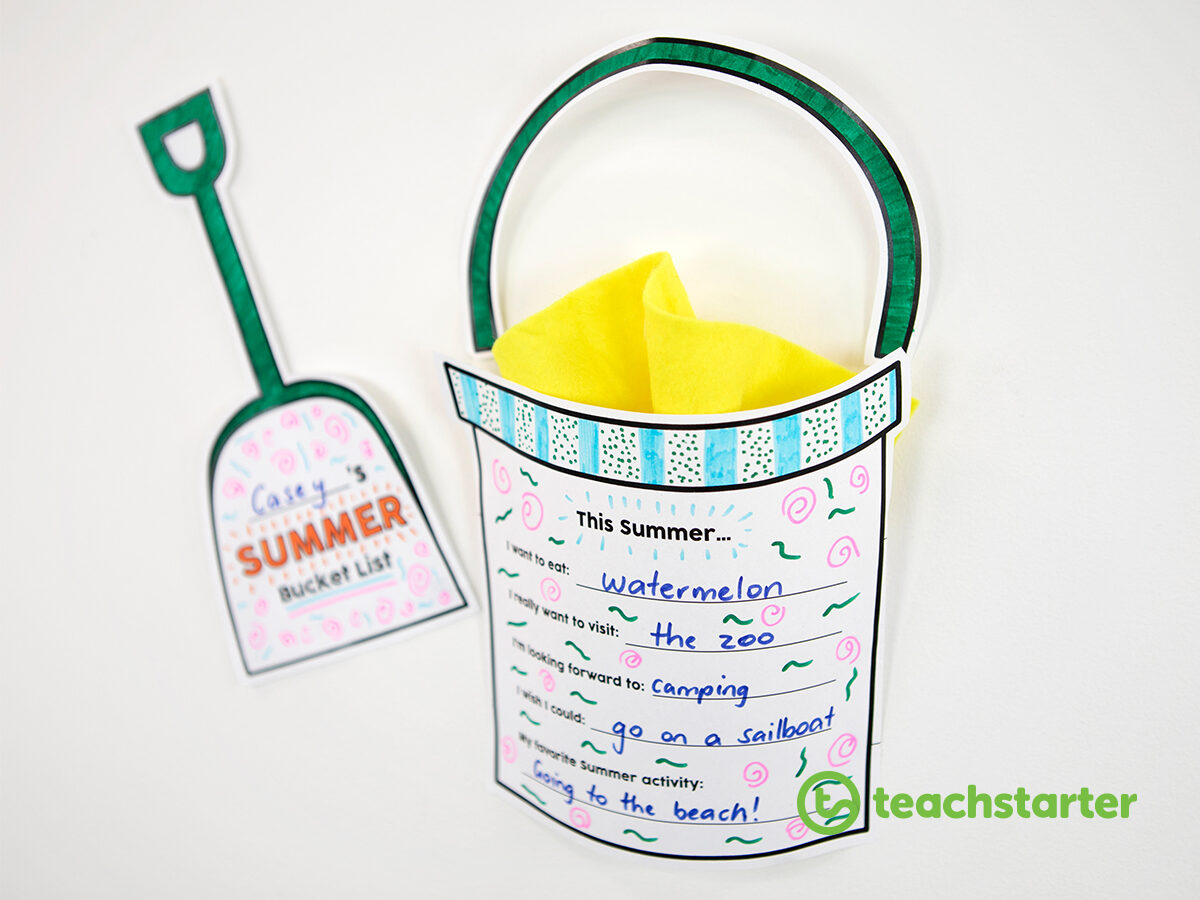 Instruct your students to color in the fun Summer Bucket List Template, then fill in the blanks with all their summer faves. Cut out each bucket and spade and fold the tabs back. Then, you're ready to attach the tabs to your classroom wall to make a 3-D display. It's bucketloads of fun! Why not use some felt or tissue paper to fill in each bucket with 'sand'?
For the older kids
You didn't think we'd forget your fourth, fifth, and sixth graders, did you? They can make their own bucket list too! Print the Summer Bucket List flip book in black and white or color, staple it together, and hand over to your upper-year students to write out a list of summer break plans.
Summer Memory Wall
Share the magic of summer with your students by brainstorming some summer-themed words! Your students will love the opportunity to use all of the vocabulary they learned throughout the year to fill the wall. We've created our summer wall with the Summer Display Banner, Beach – Cut Out Decorations, and editable Beach – Word Wall Template.
To make your summer word wall even hotter, ask each student to bring in an image of their favorite summer memory.
Summer Post Card Writing
Practice using some of your summer vocabulary with the Summer Foldable Postcard activity. Why not encourage your students to write a postcard to another student at the school asking about their plans for the summer break?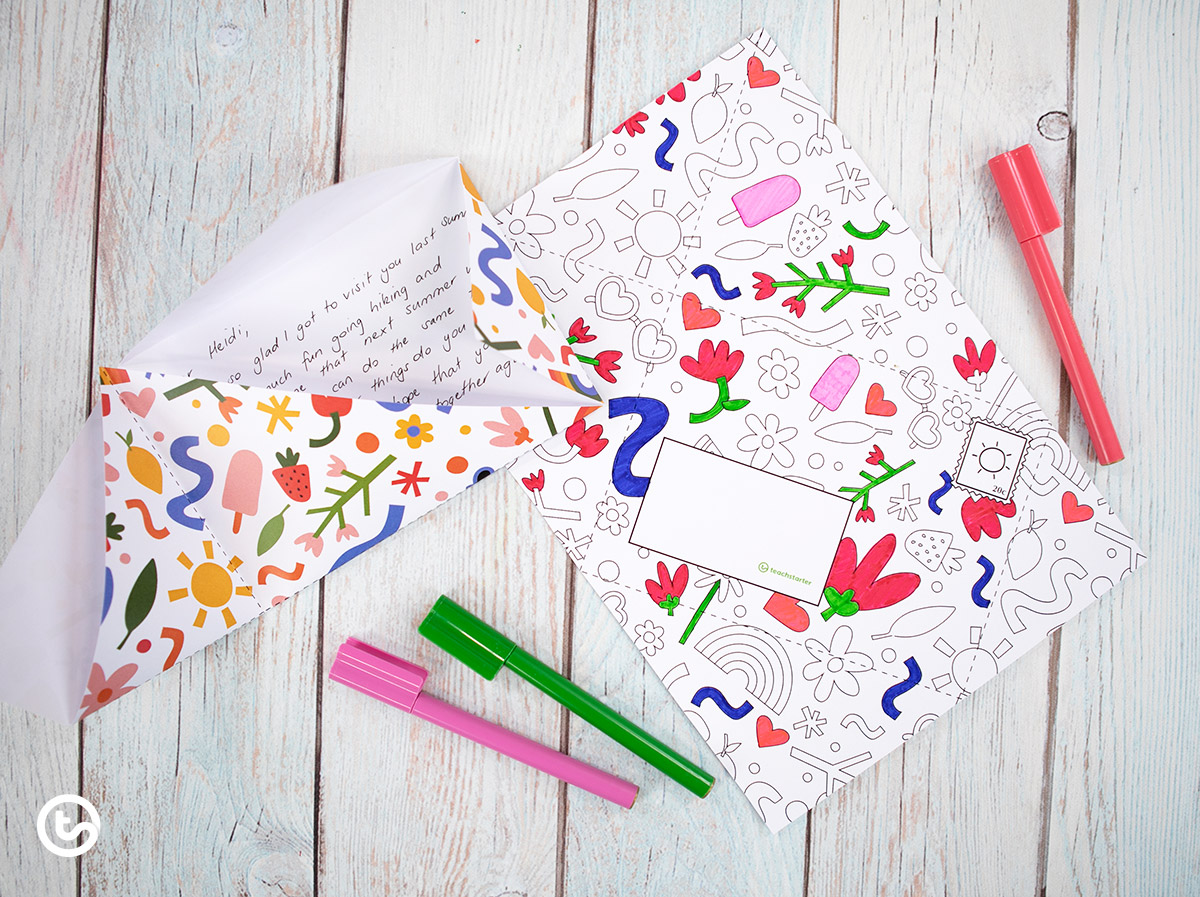 A fun alternative to this activity is to practice those summer memories with a postcard at the start of school next year!
Summer Ice Cream Science Experiment
This is an activity to beat all other summer activities!
Your students will be amazed when you tell them that you can make your very own ice cream right in the classroom. All it takes is a little muscle and some simple ingredients!
Make sure you check on your students' allergies first. I've outlined a simple vanilla dairy version below, but I'll give some hints and tips for alternatives at the bottom!
Word of caution: This ice cream is deliciously rich and creamy! Make sure your students eat it in moderation to avoid getting a stomachache.
Materials:
one small jar per student
paper towel
a freezer
measuring spoons
Approximate ingredients per jar (based on a 370ml glass jar) :
half a jar of thickened cream
1 tbs of sugar
1/2 tsp of vanilla essence
Method:
Add all the ingredients into the jar and tightly close the lid.
Shake the jar for approximately 5 minutes, or until you can no longer hear the cream shaking (your students may need to take a bit longer depending on their muscle endurance!).
Once the cream is nice and thick, wrap the jar in a wet piece of paper towel and freeze for at least one hour.
You will need to sit it out of the freezer for about 10 minutes to let it soften a little. But remember, it doesn't have any stabilizers in it so it will melt fast!
For a dairy-free alternative, try using coconut cream in the place of dairy cream. Alternatively, you can use mashed overripe banana for a delicious healthy option, just leave out the shaking!
Alternative Flavors:
We made a chocolate-mint version by adding half a teaspoon of peppermint essence to the cream and added some chocolate chips after shaking! You can also make a delicious chocolate ice cream by simply adding a tablespoon of cocoa into the mix.
Summer Word Search
Finally, you can't go past a classic summer vocabulary word search to entertain the little tired minds in your classroom. Make a simple word search with some summer vocabulary and our Create Your Own Word Search Widget. If your students get through this activity, why not ask them to create their own word search using some vibrant summer vocabulary of their own!
---
More End-of-Year-Fun
The end of the year is a good time to reflect on the year that was, and the end of this historic school year is certainly no different. Encourage your pre-k and kindergarten students to sit down and draw pictures to let their parents know what they learned this year.
Want something tasty? Dig into an ice cream sundae that won't leave you wiping down the desks — each "scoop" is just a helping of memories from the year that was.
---
We hope you have a wonderful summer break! It's definitely well-deserved.
What fun things will you be getting up to over the summer? Leave a comment below!