Practice putting 3 words at a time in alphabetical order with this set of 20 task cards.
Alphabetical ordering ("ABC order" to new readers) is the process in which we organize words by the order in which their letters appear in the alphabet. 
This action helps students reinforce their knowledge of the correct sequence of the alphabet, as well as their ability to use logic and reasoning in problem-solving.  
Through this activity, students will show they can distinguish between similarly spelled words by identifying the sounds of the letters that differ.
Arrange Words in Alphabetical Order
Use this resource in your reading center, guided reading, or with your whole class (see below) to practice putting a list of words in alphabetical order by their first letter.
To play, hang cards around the room in numerical order and provide students with a recording sheet. In teams or individually, students will rotate through each card on your cue, writing the 3 words on the card in alphabetical order in the matching space on their sheet. Students will rotate until every card has been completed. 
Scaffolding + Extension Tips 
Challenge students who already understand the concept to come up with lists of 4 alphabetized words, based on specific categories. For example:
Favorite animals

Fruits or berries

Breakfast foods

Friends in class

Things in their bedroom

Members of their family
Support students who need help understanding the concepts by pairing them with someone that has a solid grasp of alphabetical ordering. 
You could also use this activity in a small group or guided intervention environment by reading the words with students and helping them verbalize before ordering the words on their answer sheets.
Students may use an alphabetical order chart as a visual reference to help with ordering. 
Get our 10 Best Scaffolding Strategies here! 
Use These Cards For More Alphabetical Order Activities
Use this resource as independent practice for fast finishers and full-class learning opportunities like scoot activities, lesson reviews, formative assessments, and more.
Sentence Practice
Once they have finished all 20 task cards, students can write a sentence using the words in alphabetical order. 
Ex: I walked through the door of the house and saw the picture on the wall. 
Test Prep or Class Review
Turn this game into a review session at the end of your lesson or right before a test to give students extra practice. Project and read the cards in order 1-20 out loud to your class, and ask them (independently or in pairs) to write the words in alphabetical order on their recording sheets.
Knock Off
Have your students stand up and make a line across the room. Project a task card on the screen and use our Random Name Picker widget to draw a student's name to answer. If the student correctly identifies the first word in the alphabetical sequence, they tap the person on their left or right to send them back to their seat. If the student answers incorrectly, they must sit out. Play continues until only 1 student is standing.
Easily Prepare This Resource for Your Students
Print on cardstock for added durability and longevity. Place all pieces in a folder or large envelope for easy access. 
Keep the task cards out of pockets or under desks: cut out the cards and punch a hole in the corner of each to place them on a binder ring. 
To turn this teaching resource into a sustainable activity, print a few recording sheets on cardstock and slip them into dry-erase sleeves. Students can record their answers with a dry-erase marker, then erase and reuse.
Because this activity includes an answer sheet, we recommend first printing one copy of the entire file. Then, make photocopies of the blank worksheet for students to complete. 
Before You Download
Use the dropdown icon on the Download button to choose between the PDF or Google Slides version of this resource. A recording sheet and answer key are also included with this download.
---
This resource was created by Rachel Angell, a teacher in North Carolina and Teach Starter Collaborator. 
Make ABC order a regular part of your Language Arts lessons with these activities: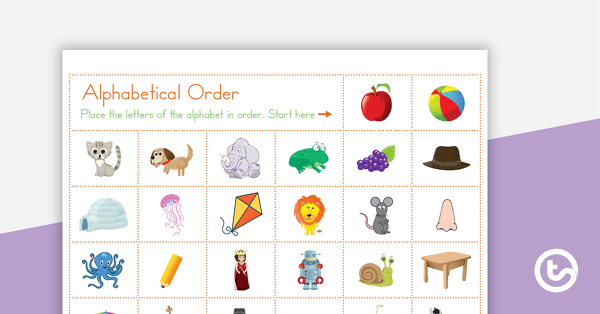 teaching resource
A fun matchup activity to help teach children the letters of the alphabet and their sounds.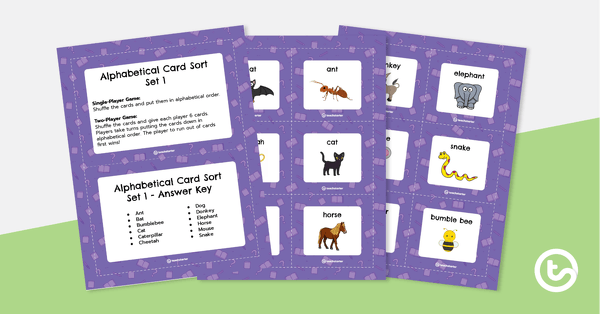 teaching resource
A set of word cards to practice putting words in alphabetical order.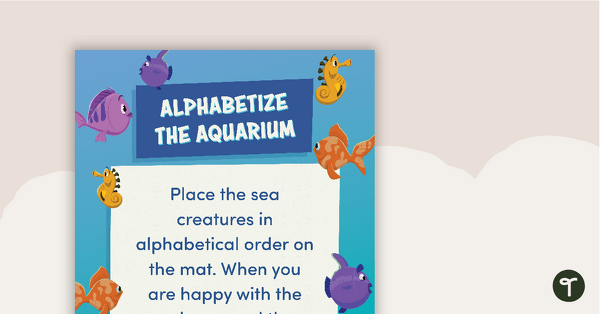 teaching resource
A set of 4 mats for students to practice alphabetizing.