Practice recognizing and using verbs with this 15 piece picture puzzle.
Lights. Camera. ACTION (words)! 🎬
Verbs are the movement makers of language—literally. 
They tell us what the subject is doing. They drive a story. They provide a sentence with its energy and purpose. 
In short, verbs are the elevators of language. 
In this activity, students will read the verbs and match them to the picture to complete the puzzle.  
Get to Know Verbs with Our Verbs Puzzle
Use this resource as a reading center activity, with your guided reading group, or as a whole class activity (see below) to practice recognizing and using verbs.
To play, students will read each verb and cover the matching picture to complete the puzzle. 
This puzzle includes the following verbs:
sing

sleep

cry

jump

run

drive

drink

write

skate

throw

crawl

read

climb

eat

dance
The great thing about this resource is that it is self-checking: when students have finished placing the pieces onto the board, a complete picture is revealed!
Scaffolding and Extension Tips + More Verb Activities
Use this resource as independent practice for fast finishers.
Challenge students who understand the concept to use the verb in a sentence, either orally or by writing their sentence on paper (depending on their proficiency level). 
Invite students to use a visual reminder, like an anchor chart or an alphabet display, to sound out words they may struggle with. 
Draw It! 
Use this activity as a formative assessment. Pick a random assortment of puzzle pieces and project them on the board for the whole class to see. Have each student pick 3 verbs and write them on a separate sheet of paper. Then, have the students draw a picture for each word, showing they've read the word and understand what it is.  
Charades
Use the cards as charades prompts. Divide your class or small group into 2 teams. Teams will take turns sending up 1 student to act out the verb on the card for their team while you keep score and hand the cards to the players. If after 30 seconds their team guesses the correct verb they get 1 point. Once every student has had their turn to act out a card, the game is over and the group with the highest points wins. 
Upcycle into Playing Cards
When students tire of the puzzle element, turn this game into a deck of cards! Break out your scissors and cut up the board so that you have an equal amount of words and pictures. Students can play card games like Match It, Go Fish, or Snap!, to name a few.  
Check out our 10 Best Scaffolding Strategies here! 
Easily Prepare This Resource for Your Students
Print on cardstock for added durability and longevity. Place all pieces in a folder or large envelope for easy access. 
Before You Download
Use the drop-down icon on the Download button to choose between the PDF or Google Slides version of this resource. 
---
This resource was created by Lindsey Phillips, a teacher in Michigan and a Teach Starter Collaborator. 
Get up and get going with even more activities to practice identifying and using verbs!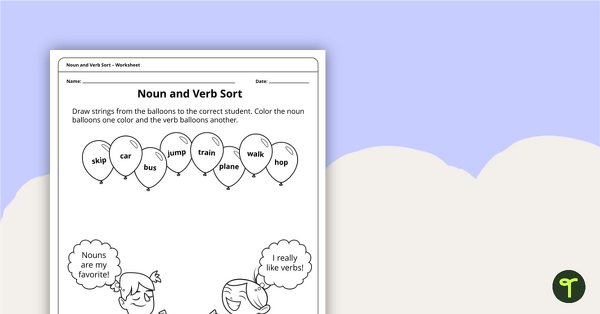 teaching resource
A simple noun and verb sorting worksheet.
teaching resource
Get your students thinking in the past, present, and future with this board game that pairs fun with verb tense practice.
teaching resource
A worksheet to practice past, present, and future verb tenses.