Practice identifying digraphs and blends in word through interactive Google slides and traditional PDF printable formats.
Build a Richer Vocabulary by Identifying Consonant Blends and Digraphs
Help students deepen their understanding of the individual sounds that make up words.
In this foundational language skills activity, students will find the letter blend or digraph that completes the word in each picture.  
Our digraphs and blends activity is available as a printable PDF or interactive Google Slides activity. 
Cut out cards and place them in your literacy center with clothespins to play the print version. Students will use a clothespin to cover the missing digraph or blend.
As an interactive activity, students click and drag the star icons to cover the sound needed to complete the word in the image prompt.
Through either format, students will show they can ​decode and spell single and multisyllabic words with digraphs and blends. 
Scaffolding + Extension Tips 
A team of dedicated, experienced educators created this resource to support your phonological awareness lessons. 
In addition to individual student work time, use this activity to enhance learning through guided reading groups, whole class lessons, or remote learning assignments. 
If you have a mixture of above and below-level learners and ELL/ESL students, we have a few suggestions for keeping students on track with these concepts: 
🪜Scaffolding This Activity
Support struggling students by embedding audio into the slides so that students can hear the sounds that make up each word. Alternatively, refer students to a sound wall or other visual guides to identify the sounds needed to complete each word.
Additionally, assign partners or small groups to work together. 
🧠 Independent Practice
Download the PDF version for a hands-on exercise. Print on cardstock and cut out the cards. Students can play at their desks or in your reading center. 
💻 Remote Teaching
With an interactive Google Slides version of this resource, no student has to miss out on the fun! Simply use Google Classroom to share this activity with students so they can match digraphs and blends to words from the comfort of their home learning area! (Users must be in Edit mode to play.) 
🧑‍🏫 Group Learning
Project the slides onto a screen and work through them as a class by having students record their answers in their notebooks or mini whiteboards. 
Plan ahead with our 10 Best Scaffolding Strategies here! 
Easily Prepare This Resource for Your Students
Use the dropdown icon on the Download button to choose between the PDF or Google Slides version of this resource:  
Google Slides—download and you are ready to go (be sure to open in Edit mode, not Presentation mode).
PDF—print on cardstock, cut out, and place cards and clothespins into an accessible container. 
Assign interactive slides in Google Classroom for in-class and remote learning. Students click/drag/drop the star icons onto the digraph or blend that completes the word in the picture.
Alternatively, use this activity for your: 
Lesson warm-ups

End of the day wrap-ups

Homework assignments
---
Produce engaged reading masters with these activities and teaching resources: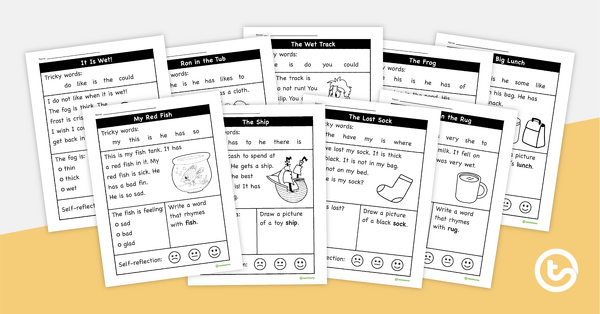 teaching resource
A set of 10 decodable text worksheets for early readers.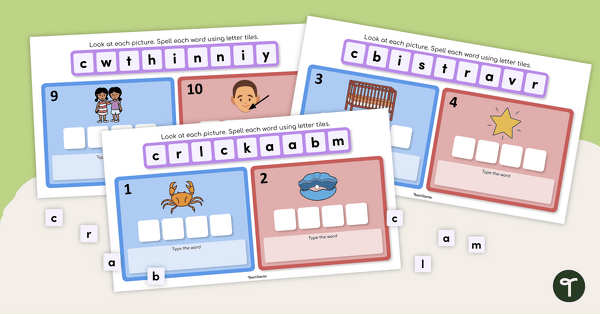 teaching resource
Practice identifying consonants, vowels, blends, and digraphs sounds while spelling 22 CCVC (consonant-consonant-vowel-consonant) words.
teaching resource
Practice decoding words by their initial digraphs with a set of 20 picture sorting cards.