Practice recognizing parts of speech by matching 36 word cards to noun, verb, adjective, pronoun, and preposition pins.
As your students start putting pen to paper, using the words they know for their writing assignments and more, they'll be identifying parts of speech. 
But it doesn't have to be a tedious exercise. Have fun with it! 
Bowl your students over with a game that puts their writing skills to the test. 
🎳 Our Parts Of Speech Game Is Right Up Your Alley
In this activity, students will choose a card, read the word, and identify the part of speech it is. If they have a bowling pin with a matching part of speech, they get to knock it over and take another turn. 
The parts of speech reviewed in this game include: 
Nouns

Verbs

Adjectives

Pronouns

Prepositions
Scaffolding + Extension Tips 
Support students who need help understanding the concepts by referring them to a visual reminder, such as a parts of speech poster series or anchor chart. 
Challenge fast finishers who already understand the concept to use each word in a sentence, either orally or by writing sentences on paper (depending on their proficiency).
Get our 10 Best Scaffolding Strategies here! 
More Parts Of Speech Games In ONE Activity? YOU BET! 
We created this resource for your writing center as an independent practice activity. You can also use it for small group and full-class instruction in the following ways: 
✋ Swat! 
During small group instruction, lay down 5 word cards of different parts of speech on top of a table. Give each student a fly swatter. Describe one of the cards by its part of speech and have the students swat the word card it matches. The first student to swat it correctly sets the card aside in their own pile to keep score. The student with the most cards wins. 
👟 Parts of Speech Relay
Divide students into two lines and show a word card to the players at the front of each line. The student that produces the correct part of speech it belongs to wins the flashcard. The team with the most flashcards at the end of the game wins!
👯 Match Me If You Can
Print a second set of bowling pins you can cut into playing cards. In your guided reading group, divide the letter pins evenly among players. Show students a word card and have them read it as a group. The student who has the matching part of speech pin lays it down face up. The first person to have all their pins face up wins.
Easily Prepare This Resource for Your Students
Print on cardstock for added durability and longevity. Place all pieces in a folder or large envelope for easy access. 
Before You Download
Use the dropdown icon on the Download button to choose between the PDF or Google Slides version of this resource. 
---
This resource was created by Lindsey Phillips, a teacher in Michigan and Teach Starter Collaborator. 
We have plenty more parts of speech activities and teaching resources for you to download right here: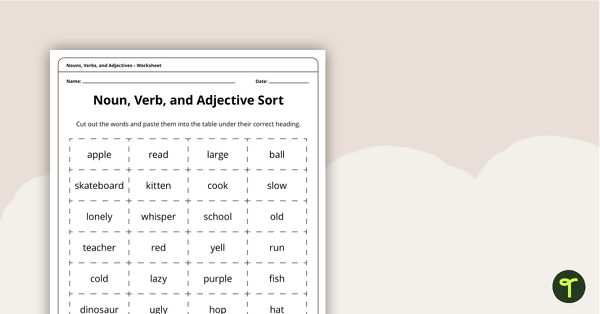 teaching resource
Help students learn the difference between nouns, verbs, and adjectives with this cut-and-paste sorting worksheet.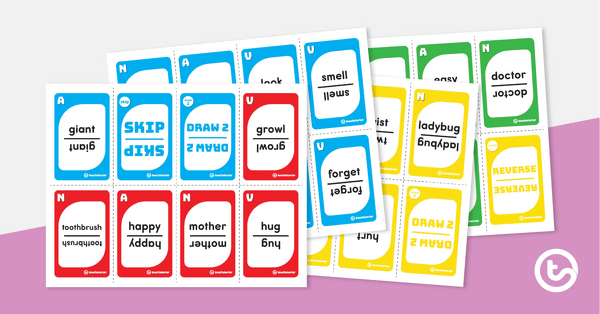 teaching resource
An editable parts of speech card game.
teaching resource
Help your students to improve in all areas of grammar with these handy bookmarks.