Practice capitalizing less frequently occurring words (historical periods, events, languages, races, nationalities, and more) with 28 text task cards.
Writing isn't just putting words on a page; it's also about reviewing the text to ensure it is conventionally correct and readable. 
Capitalization, for example, is a writing convention that requires an eye for accuracy because capitalization indicates that something or someone is notable.    
Build Editing Skills With Our Capitalization Task Cards
Through this activity, students will hone an important yet often overlooked writing skill—editing.
Students will read the text on the card and mark words that need to be capitalized, including:
Historical periods

Events

Documents and other media titles 

Languages

Races

Nationalities
Additionally, these task cards reinforce capitalization for proper nouns, the pronoun 'I,' and the beginning of sentences. 
Answer cards are included with your download so that students can self-check their work before moving on to a new task card. 
Scaffolding + Extension Tips 
Challenge fast finishers who already understand the concept to use the included Extension Activity—students will categorize the cards into groups based on their content, such as events, countries, nationalities, etc. 
Support students who need help understanding the concepts by reviewing the cards in a small group or content interventions. Break up the task cards by assigning students specific capitalization errors to correct. 
Students might also benefit by working with more proficient partners to complete the task cards together. 
Get our 10 Best Scaffolding Strategies here! 
One Set of Capitalization Task Cards, Endless Learning Opportunities
We created this resource for your writing center as an independent practice activity. We also suggest using it to reinforce your small group and full-class lessons in the following ways: 
🛴 Scoot Activity
Place the task cards around the room in numerical order and instruct students to number a sheet of paper 1-28. Assign each student or pair a number to start. Give students an appropriate amount of time to read the card and write the words that need capitalization in the corresponding space on their paper. On your cue, students will rotate to the next card. Continue in this manner until students have made it through all of the cards. 
🔔 Bell Ringer Activity
Project a task card for your students to see as soon as they enter the classroom. On a piece of paper, have students rewrite the sentence with the corrected capitalization and turn it in at the start of class. 
​​🧑‍🏫 Group Lesson 
Using your smartboard or another projection device, present each task card and work through them together as a class. Call on students to tell you which words need a capital letter and write the suggested edits on the card for students to see. 
Easily Prepare This Resource for Your Students
Print on cardstock for added durability, and slip cards into dry-erase sleeves to create a sustainable activity. Place all pieces in a folder or large envelope for easy access. 
Before You Download
Use the dropdown icon on the Download button to choose between the PDF or Google Slides version of this resource. Answer cards are also included with this download.
---
This resource was created by Megan Cargile, a teacher in Nevada and Teach Starter Collaborator. 
Make capitalization proficiency a priority by including these activities in your lesson: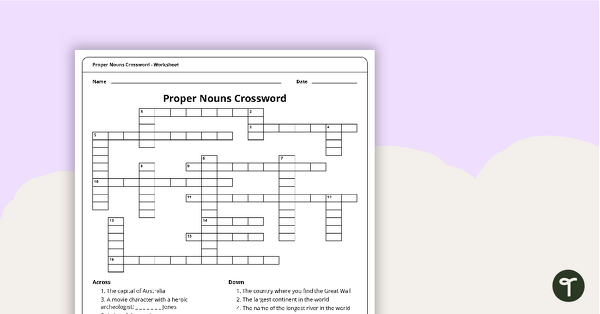 teaching resource
A crossword researching different proper nouns.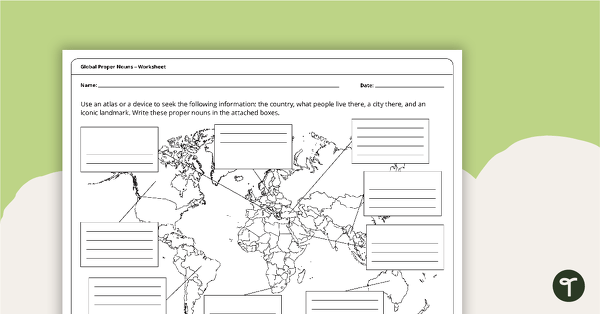 teaching resource
A mapping activity that prompts students to use their grammar knowledge of proper nouns.
teaching resource
A worksheet to practice proper capitalization.