Practice character development by choosing your own adventure in this role-playing board game.
Role-Playing Games Let Us Access New Parts Of Ourselves
For example…
How would we act in certain situations? 
What if we weren't ourselves but someone else? 
Do our decisions change depending on the genre of our story?
Playing out these characters allows us to tap into different emotions, scenarios, and lifestyles we might never have the opportunity to explore. 
In this activity, we challenge students to create a persona and respond to prompts as their characters, moving through the gameboard as they choose. 
Build Your Own Story With Our Character Development Activity
Through this literary elements activity, students will consider the characters, settings, or events in a story, drawing on specific details in the text (e.g., how characters interact) to make decisions.
To play, students will create a character for themselves and roll a die to move around the board as their persona. When players land on an "Event" space, they draw a card, read the question, and choose the outcome that fits their character's personality and values. 
Scaffolding + Extension Tips 
Students who need help understanding the concepts can play the game as themselves instead of creating a new character. They can also refer to an elements of drama visual aid to help define their persona. 
Challenge fast finishers who already understand the concept to use the plot of the game and the choices they made as their characters to write a story. 
Get our 10 Best Scaffolding Strategies »
More Ways To Play With Your Characters
We created this resource for your reading center as an independent practice activity. We also suggest using it to reinforce your small group and full-class lessons in the following ways: 
Gallery Walk
Print cards on heavy cardstock and number each card 1-14. On your cue, students will review each card and write down their choices on a numbered sheet of paper. When everyone has recorded their answers, instruct students to use their preferences to write a story as the persona they create. 
Name That Genre
Project the cards for your class to see. Use the context clues in the questions to discuss the possible genres described on the card. Which words provide hints? Would the characters act differently depending on the kind of story it is? What's a third option you would provide if you were the writer?  
Knock Off
Have your students stand up and make a line across the room. Project question cards on the screen and use our Random Name Picker widget to draw a student's name to choose. If they select option (a), they tap the person to their left to send them back to their seat. If they select option (b), they tap the person on their right to send them back. Play continues until only one student is standing.
Easily Prepare This Resource for Your Students
Print on cardstock for added durability and longevity. Place all pieces in a folder or large envelope for easy access. 
Before You Download
Use the dropdown icon on the Download button to choose between the PDF or Google Slides version of this resource. 
---
This resource was created by Emily Pate, a teacher in California and Teach Starter Collaborator. 
Check out more activities and resources that bring stories to life in your classroom!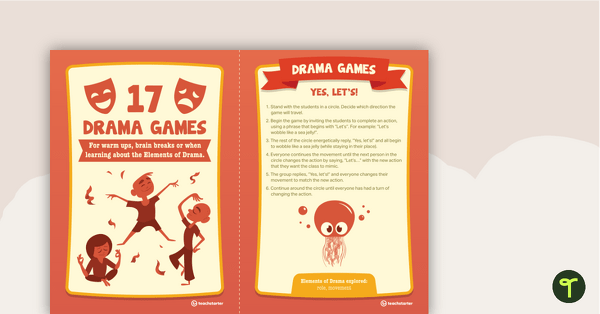 teaching resource
A set of 17 activity cards with instructions for drama games.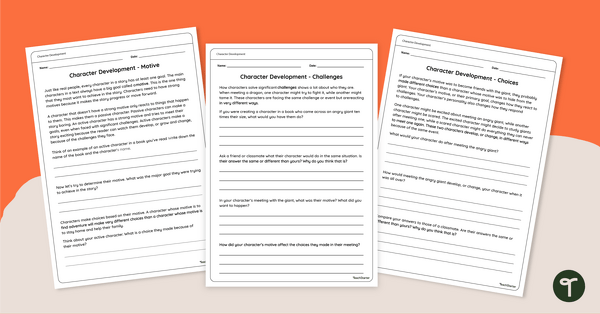 teaching resource
Describe how characters in a story develop in response to major events and challenges with our 3-page Character Development lesson review worksheet.
teaching resource
A 14 slide editable PowerPoint template to use when teaching younger students about how to build a character for a narrative text.