Help your students "bump up" their work with this hot air balloon-themed bulletin board display.
Use this teaching resource in the classroom as part of your Bump It Up data wall when setting student goals and providing feedback.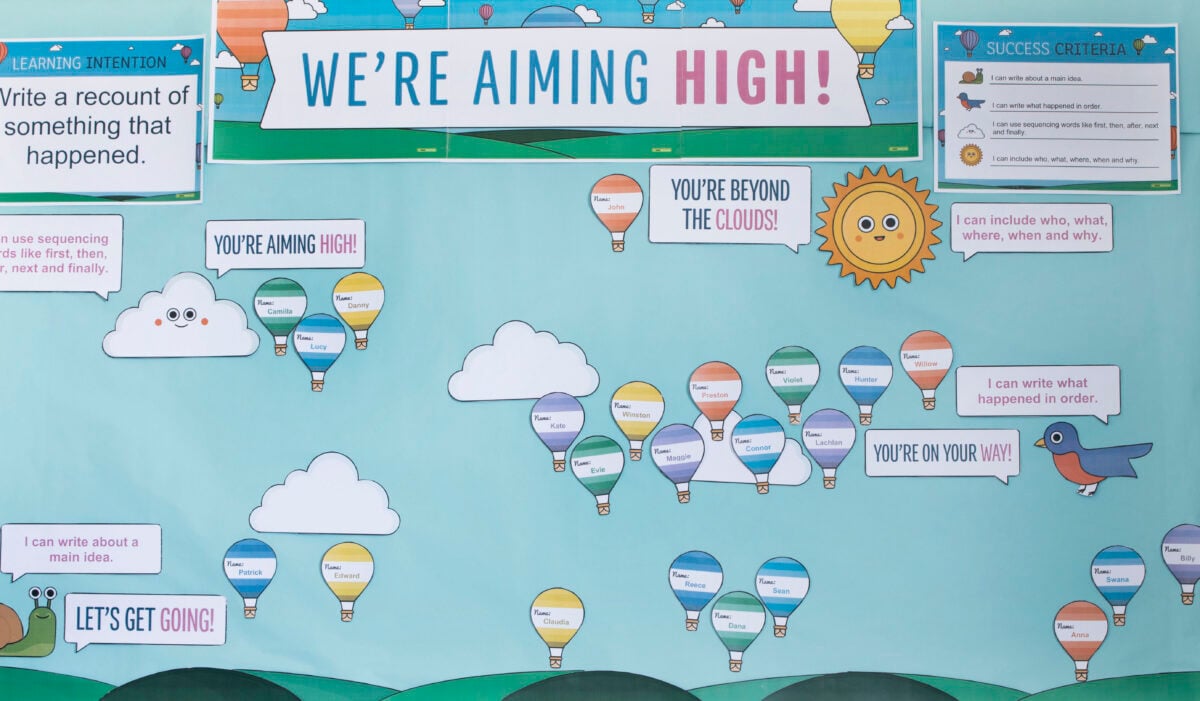 🖨️ Easily Prepare This Resource for Your Classroom
Use the dropdown icon on the Download button to choose between the color or black and white PDF version or the editable Microsoft Word version of this resource.
Print on cardstock for added durability and longevity. Whenever you are ready to change out your board, place all of the pieces in a folder or large envelope for easy access and re-use next school year.
Use the following instruction to print the title banner:
Open the banner PDF file in Adobe Reader.
In Adobe Reader, click on the printer icon to bring up the print settings box.
With the print settings box open, click on the "Poster" tab.
Next, adjust the 'Tile Scale' until you have the desired layout displayed in the preview section.
Once you're happy with the preview layout, click "Print".
How to Create the Display
Place the grass border trimmer along the bottom of the display board
Place the student hot air balloons on the grass (to be moved up the wall as each goal has been achieved)
Place the three-page title banner in the center along the top of the display board
Place the little snail or turtle and the level one speech bubble "Let's get going!" on the grass in the bottom left-hand corner
Place the bluebird and the level two speech bubble "You're on your way!" above the grass on the right-hand side of the board
Place the happy cloud and the level three speech bubble "You're aiming high!" above the bird on the left-hand side of the board
Place the four empty clouds along the board in line with the happy cloud
Place the yellow sun and the level four speech bubble "You're beyond the clouds!" above the clouds on the right-hand side of the board
Place the learning intention and success criteria on either side of the title banner.