Decode final e words with the long a vowel sound using this set of 20 bingo game boards.
Are your students getting a confused look on their faces when confronted with silent e words? 🤔
Give them a chance to put their long vowel skills to work with every educator's favorite group game—BINGO!
Practice Decoding Long a Silent e Words 
Use this phonological awareness resource in your reading center, guided reading group, or a whole class exercise (see below) to practice decoding final e conventions for representing long vowel sounds.
The students will listen to the calling card and cover the correct final e word if it appears on their BINGO board.
The long a silent e words appearing in this game of BINGO are:
snake

plate

grape

vase

whale

cake

plane

scale

wave

cane
Scaffolding and Extension Tips + More Ways to Practice Long a Silent e Words
Challenge students who already understand the concept to produce rhyming words for each word on their game boards. 
Support students who need help understanding the concepts by using a visual reminder of final e conventions such as a classroom poster or anchor chart. 
Use this resource as independent practice for fast finishers, and full-class learning opportunities like scoot activities, lesson reviews, formative assessments, and more.
❌ Alternate Forms of BINGO
In addition to 3-in-a-row, opt to play by covering the game boards in the following patterns:
4 Corners

Plus sign

Blackout

X out
✏️ Scoot Activity
For this game, you will need to print an extra bingo card. Cut out all the images on the card and number them so that you are able to match the students' answer sheets with the cards. Place the cards around the room in numerical order and instruct students to number a sheet of paper 1-12. Assign each student a number to start. Give students an appropriate amount of time to identify the word on their card and write it on their sheet, then say, "SCOOT." At this time, the students will rotate to the next card. Continue in this manner until students have made it through all of the cards. List words on the board if students need a reference. 
🎭 Charades
Ditch the game boards and use the cards as charades prompts. Divide your class or small group into 2 teams. Teams will take turns sending up 1 student to act out the word on the card for their team while you keep score and hand the cards to the players. If after 30 seconds their team guesses the correct long a silent e word, they get 1 point. Once every student has had their turn to act out a card, the game is over, and the group with the highest points wins. 
Get our 10 Best Scaffolding Strategies here! 
Easily Prepare This Resource for Your Students
Print on cardstock for added durability and longevity. Place all pieces in a folder or large envelope for easy access. 
Before You Download
Use the dropdown icon on the Download button to choose between the PDF or Google Slides version of this resource. 
---
This resource was created by Lindsey Phillips, a teacher in Michigan and a Teach Starter Collaborator. 
We've got more vowel activities where that came from! Check out a few teacher-favorites below: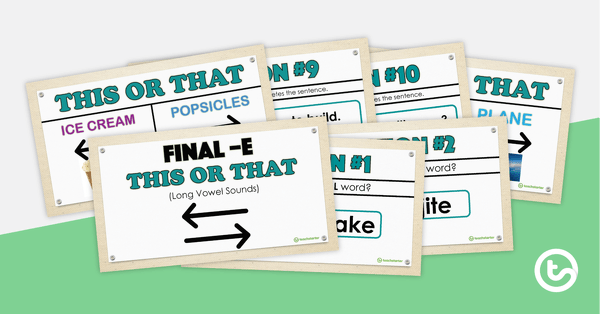 teaching resource
An active PowerPoint game to practice decoding words with final -e.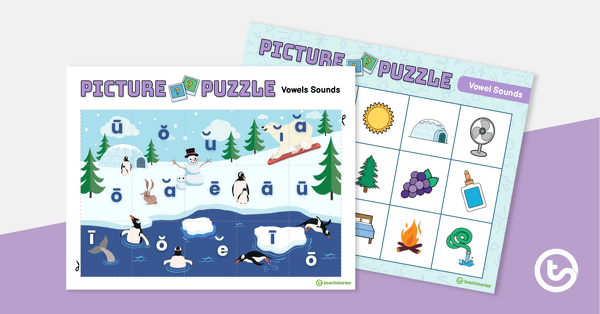 teaching resource
Distinguish between long and short vowel sounds with this 15 piece vowel picture puzzle.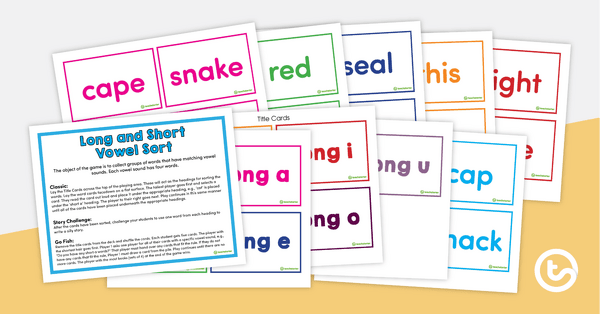 teaching resource
A set of 40 sorting cards to practice long and short vowel sounds.