Practice decoding final -e conventions for representing the long 'a' vowel sound with our board game and set of word cards.
Review the "Rules" for Reading a_e Words
For new readers, reading isn't as simple as knowing letter-sound correspondence. Sometimes, combinations of letters can be tricky as well…
Take CVCe words, for example. 
CVCe words are spelled with a consonant, vowel, consonant, and a silent final -e. This specifically ordered combination of letters tells you that the vowel "says its name." In other words…
In CVCe words, the vowel sound is long, not short. 
Students can practice harnessing this phonological awareness skill by reviewing their long /a/ final -e words through board games and activities like this one! 
Decode a_e Words While You Play 
Through this activity, students will demonstrate their ability to read words with final -e conventions for representing long vowel sounds.
Players take turns choosing a card from the deck, reading the word, and moving their game piece to the first picture that matches the word on their card. 
The a_e words your students will be reviewing in this game:
grape

scale

cake

wave

tape
Scaffolding + Extension Tips 
Support struggling students by encouraging them to use a visual reminder of letter sounds such as an alphabet chart or desk plate. 
Challenge fast finishers who already understand the concept to produce additional words for each vowel sound. 
Get our 10 Best Scaffolding Strategies here! 
One Game = Many Ways To Play with a_e Words
We created this resource for your reading center as an independent practice activity. You can also use it for small group and full-class instruction through scoot activities, lesson reviews, formative assessments, and more! 
We suggest these: 
💥 Swat! 
During small group instruction, create a grid of word cards on the table and give each student a fly swatter. Read the word on one of the cards. The first student to swat the word correctly sets the card aside in a pile to keep score. The student with the most cards wins.
👯 Match Me If You Can
In your guided reading group, shuffle cards and divide them evenly amongst players. Use the game board to call off words, saying them together as a group. The student (or students) who has the matching word card lays it down face up. The first person to have all their cards face up wins. 
🃏 Upcycle Into Playing Cards
Students can use these cards to play games like Match It, Go Fish, or Snap, to name a few. 
Easily Prepare This Resource for Your Students
Print on cardstock for added durability and longevity. Place all pieces in a folder or large envelope for easy access. 
Before You Download
Use the dropdown icon on the Download button to choose between the PDF or Google Slides version of this resource. 
---
This resource was created by Lindsey Phillips, a teacher in Michigan and Teach Starter Collaborator. 
Make vowel sound exploration a regular part of your student's free play with these activities: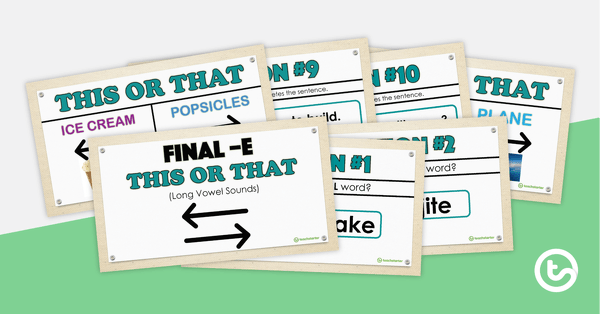 teaching resource
An active PowerPoint game to practice decoding words with final -e.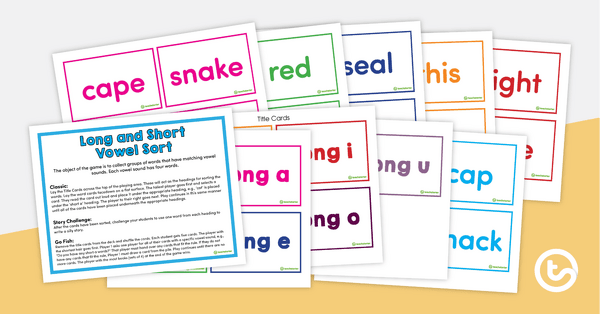 teaching resource
A set of 40 sorting cards to practice long and short vowel sounds.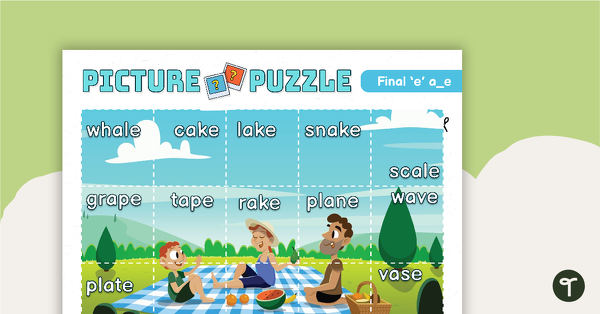 teaching resource
Practice decoding words with long "a" vowel sounds and final "e" conventions with this 15-piece picture puzzle.