Practice recognizing and using nouns with this set of 5 game boards.
Reinforce your parts of speech lesson with this activity that focuses specifically on what makes a noun. 
How to Play This Noun Game
Use this resource as a reading center activity, with your guided reading group, or as a whole class activity (see below) to practice recognizing and using nouns.
To play, the students will identify each type of noun and cover using yellow, green, blue, and purple connecting cubes.
Scaffolding and Extension Tips + More Nouns Practice
Use this resource as independent practice for fast finishers, and full-class learning opportunities like scoot activities, lesson reviews, comprehension assessments, and more.
Encourage students who need extra support to use a visual reminder, like an anchor chart or types of nouns poster. 
Yes, And…
As an additional challenge, have students name another person, place, thing, or animal. 
Rhyme Time
Prompt students to start building word families! After identifying nouns, have students write a rhyming word for each on a separate piece of paper. Then, they can share their lists with a partner to read.
Show Me!
Give each student a mini dry-erase board and a dry-erase marker. Project a card on the screen and have your students write all the nouns on their board. When everyone has written down their answers, say, "Show Me." Students will flip their boards to see if any students need extra support with this skill.
Easily Prepare This Resource for Your Students
Print the task cards on cardstock for added durability and longevity. Place all game parts in a folder or large envelope for easy access. 
Before You Download
Use the dropdown icon on the Download button to choose between the PDF or Google Slides version of this resource. 
---
This resource was created by Lindsey Phillips, a teacher in Michigan and a Teach Starter Collaborator. 
We've got more noun identification activities where that came from! Check out a few teacher AND student favorites below: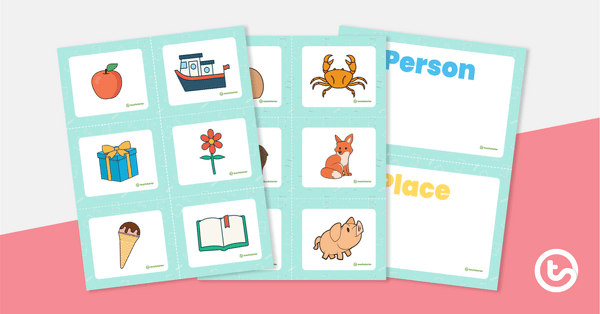 teaching resource
Practice recognizing and using nouns by sorting 24 picture cards into categories.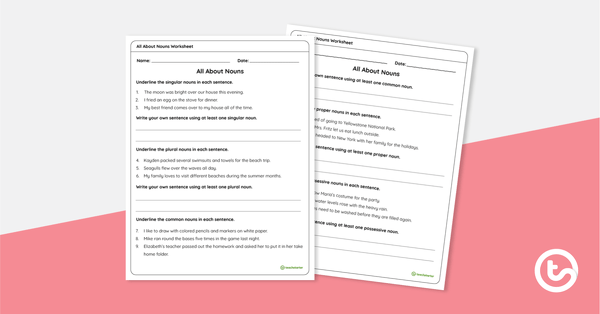 teaching resource
Identify different types of nouns in sentences, and write sentences containing each kind of noun.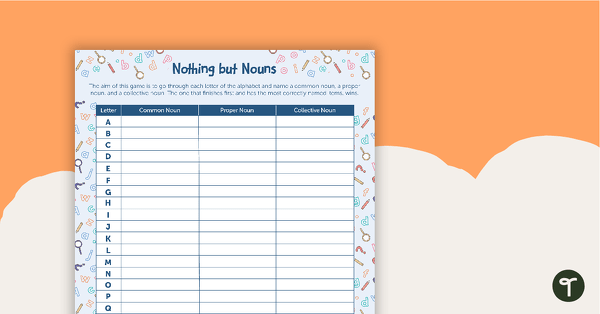 teaching resource
A game to practice working with common, proper, and collective nouns.