Practice recognizing rhyming with pictures and words using this set of 20 cards.
Class is a blast when it's time to rhyme! 
With our rhyming words game, students will be on the hunt for rhyming word families by either decoding the words from images, or blending phonemes to read and identify rhyming word sets. 
Practice Makes Perfect with Our Rhyming Words Activity
This download includes 2 versions of this game, depending on your students' reading proficiency:
To play, students will identify the word in the Find It! box on each card. Then, the students will use a manipulative piece to cover the words that rhyme with it. 
This resource can be used as a reading center activity to practice identifying and reading words that rhyme. It can also be used for individual instruction and with your guided reading group.  
Even More Ways to Have Fun with Our Rhyming Words Activity
Take this rhyming words identification game even further with additional games that get your students' brains and bodies actively engaged in rhyming! 
Rhyming Word Families 
This version is especially helpful for those students who are struggling to identify rhyming families. Gather clothespins and write the corresponding word family from each card on each one: 
Using the picture cards, students will add the matching rhyme family clothespin to the card before identifying rhyming words. This will allow you to easily check their work if needed and help with any cards giving the student trouble. 
Write the Room (Scoot Activity)
Hang sheets of chart paper around the room and write a Find It! box word at the top of each one. Individually, or with a partner, have students rotate around the room adding one word that rhymes with the word at the top. Words may be used only once.
Knock Off
Have your students stand up and make a line across the room. Project a picture card on the screen and use our Random Name Picker widget to draw a student's name to answer. If the student correctly identifies a rhyming word from the card, they tap the person either to their left or right with their elbow. The person who is tapped must return to their seat. If the student answers the card incorrectly, they must sit out. Play continues until there is only 1 student standing.
Change the Difficulty Level if Needed
Fast Finishers can record the rhyming words on a whiteboard or piece of paper and add additional rhyming words to their lists. 
For students who are struggling with the content, encourage them to use a visual reminder of rhyming words such as a poster or anchor chart displayed in the classroom.
Easily Prepare This Resource for Your Students
Print on cardstock for added durability and longevity. Place all game parts in a folder or large envelope for easy access. 
Before You Download
Use the drop-down icon on the Download button to choose between the PDF or Google Slides version of this resource. A recording sheet and answer key are also included with this download.
---
This resource was created by Lindsey Phillips, a teacher in Michigan and a Teach Starter Collaborator. 
We've got more rhyming activities where that came from! Check out a few teacher AND student favorites below: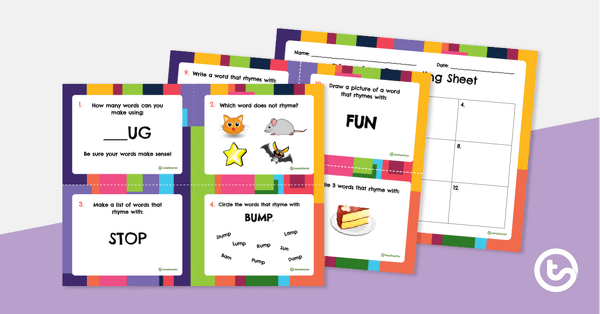 teaching resource
A set of 12 task cards to practice rhyming.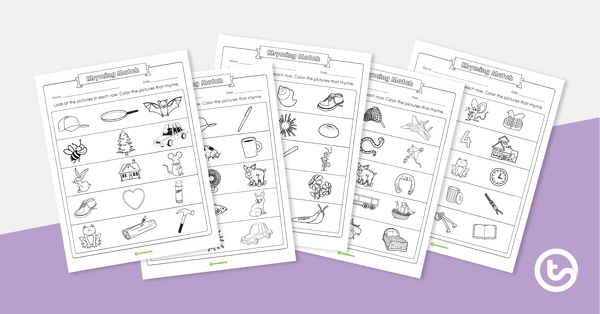 teaching resource
Identify rhyming words through images with this set of 5 worksheets.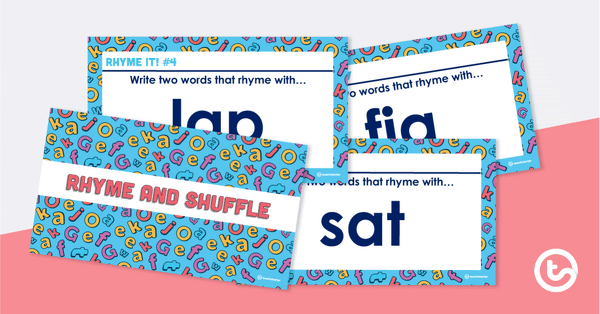 teaching resource
An active PowerPoint game to practice producing rhyming words.