Decode words with EE, EA, and EY vowel teams representing the long 'e' vowel sound.
Tweet
Beat
Key
Do you notice anything about those words?
Even though they are spelled differently, they all have the same vowel sound: 
Long 'e'.
Through our Four in a Row vowel teams activity, students will show they understand how to identify common vowel team conventions for representing the long 'e' vowel sound.
Prepare Students to Read Words With Long 'e' Vowel Teams
Use this resource in your reading center, guided reading, or with your whole class (see below) to practice decoding words with vowel teams that represent the long 'e' vowel sound.
To play, students will choose a picture card, segment the sounds to determine the vowel team, and cover the matching vowel team on the game board to connect four in a row.
Scaffolding + Extension Tips 
Challenge students who already understand the concept to produce rhyming words for each picture card. Which words use EE, EA, or EY to rhyme?
Support students who need help understanding the concepts by encouraging them to refer to your classroom vowel sounds posters or an anchor chart with examples of words with long 'e' vowel teams. 
Get our 10 Best Scaffolding Strategies here! 
More Ways Than One To Practice Long 'e' Vowel Teams
Use this resource as independent practice for fast finishers and full-class learning opportunities like scoot activities, lesson reviews, formative assessments, and more.
🔤 Alphabetical Ordering
After students finish the game, challenge them to put the picture cards in alphabetical order.
🖼️ Gallery Walk (Scoot Activity)
Number and hang the picture cards around the room in order. Direct students to take out a sheet of paper and number it 1-24 to record their answers. Working either alone or in pairs, assign students to a starting point and have them write whether the word on the card has an EE, EA, or EY vowel team in the matching number space on their paper. On your cue, students will rotate to the next card until they have completed each one. 
🃏 Upcycle into Playing Cards
Print off 2 sets of word cards! Students can play card games like Match It, Go Fish, or Snap to get even more practice reading EE, EA, and EY words. 
Easily Prepare This Resource for Your Students
Print on cardstock for added durability and longevity. Place all pieces in a folder or large envelope for easy access. 
Before You Download
Use the dropdown icon on the Download button to choose between the PDF or Google Slides version of this resource. 
---
This resource was created by Lindsey Phillips, a teacher in Michigan and Teach Starter Collaborator. 
Playing with vowels? Your students (and your lesson plans) will love these activities too! 
teaching resource
Decode words with ee, ea, and ey vowel team conventions for representing long vowel sounds using this set of 26 dominoes.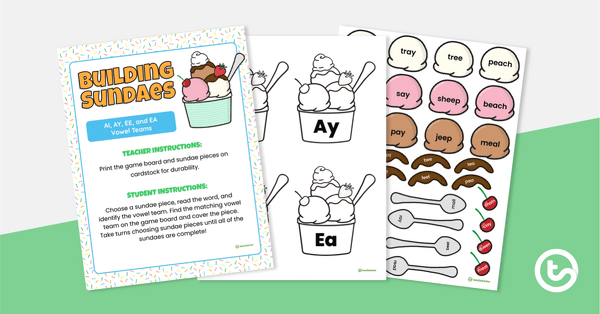 teaching resource
Decode words with ay, ai, ea, and ee long vowel teams by crafting cute desserts!
teaching resource
Break down words into either 2, 3, or 4 phonemes with this set of 18 picture cards.