Develop noun recognition with this set of 28 noun picture cards that students will identify to get 4 in a row.
Nouns are the part of speech that anchor a sentence. 
They inform you where the focus is, telling the reader who or what deserves our attention in the text. 
You could say that the world revolves around nouns! 🌎 
In this activity, students will identify the types of nouns on each card, and match them on the game board to connect four in a row. 
Identify Each of the 4 Types of Nouns
Use this resource in your writing center, as a guided writing activity, or a whole class exercise (see below) to practice recognizing and using nouns.
Players will choose a card and identify the type of noun shown in the image (person, place, thing, or animal). They'll then find the noun type on the game board and cover it. The player who connects four squares in a row first is the winner!
Scaffolding and Extension Tips + More Fun with Nouns
Challenge students who already understand the concept to sort the noun cards into their categories (person, place, thing, animal). 
Invite students to use a visual reminder, like an anchor chart or parts of speech poster, to help with unfamiliar words. 
You can also use this resource as independent practice for fast finishers, and for full-class learning opportunities like scoot activities, lesson reviews, comprehension assessments, and more.
Go Fish
It's easy to turn these cards into a game of Go Fish! Shuffle the cards and pass out 5 to each player. The remaining cards go in the center of the play area. Taking turns, players identify a kind of noun on their card and ask the other player for a matching person, place, thing, or animal card. If the other player has it, they take the card and set the pair down in a pile to keep score and go again. If not, they take a card from the remaining card pile and it's the next player's turn.  
Find Your Match
Provide each student in your class with a card and challenge them to find the other students with the same type of noun. For an extra challenge, make the activity a race, or ask the students to complete the task in silence.
Odd Man Out
Place 3 cards at each station, making sure 2 of the cards represent the same type of noun and the 3rd card is different. Student pairs will rotate through each station and identify the card that is different, writing their answers on a separate sheet of paper.  
Check out 10 helpful scaffolding strategies here! 
Easily Prepare This Resource for Your Students
Print on cardstock for added durability and longevity. Place all pieces in a folder or large envelope for easy access. 
Before You Download
Use the drop-down icon on the Download button to choose between the PDF or Google Slides version of this resource. 
---
This resource was created by Lindsey Phillips, a teacher in Michigan and a Teach Starter Collaborator. 
Make nouns the focus of your next writing lesson with these activities (and more!):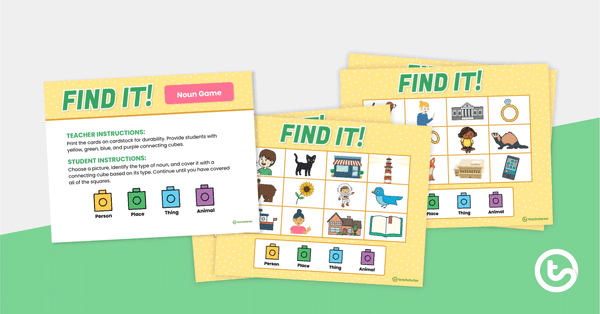 teaching resource
Practice recognizing and using nouns with this set of 5 game boards.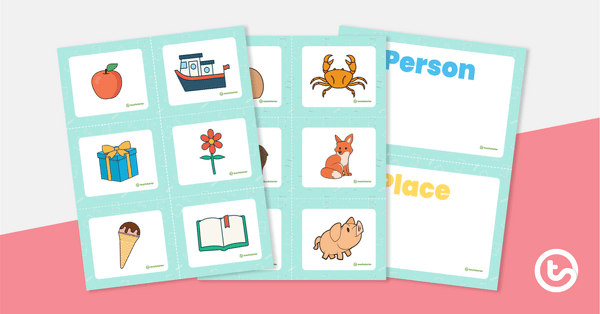 teaching resource
Practice recognizing and using nouns by sorting 24 picture cards into categories.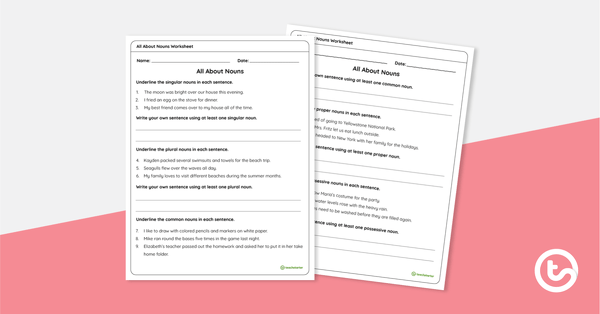 teaching resource
Identify different types of nouns in sentences, and write sentences containing each kind of noun.