Spread positivity in your school with these free teacher appreciation printables.
Make Those Teacher Gifts Shine With Printable Teacher Appreciation Gift Tags!
To all those teacher moms and teacher dads out there, we see you! As educators, you know how even the simplest acts can make a big difference in the day-to-day life of a teacher. This is probably why teachers are notoriously good at coming up with teacher gift ideas and gifting their children's teachers with heartfelt and thoughtful gifts that they'll use and love! This year, let Teach Starter help you spruce up your teacher gifts with our printable and personalizable Teacher Gift Tags.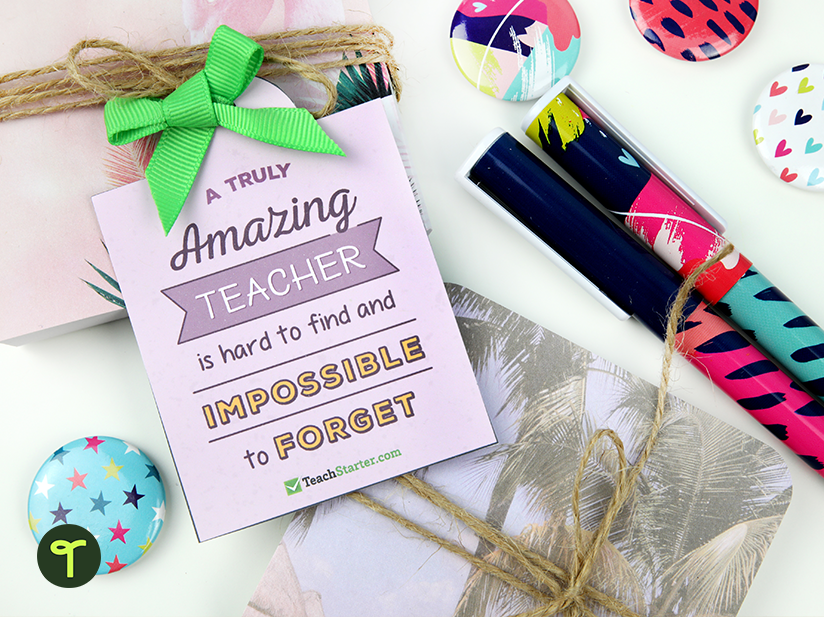 The Teacher Appreciation Printables You Can Find!
It doesn't take much to make a teacher smile. And it doesn't take much to let them know how much they are appreciated. These gift tags for teacher appreciation gifts can turn the most simple teacher gift idea into a beautiful gesture. Each sheet contains tags with the following thoughtful quotes:
"Thanks a latte for all you've done!"
"Thanks for helping me grow!"
"I couldn't have picked a better teacher."
"A truly amazing teacher is hard to find and impossible to forget."
Attach these teacher appreciation printables to a teacher gift, such as a reusable coffee cup, some flowers or packets of seeds, or some funky stationery.
---
Download Your Teacher Appreciation Printables
Add a personal touch to your gift with these free printable tags! They will help you create a thoughtful and personalized gift for your child's teacher without breaking the bank. These printable tags come in various designs, from playful doodles to colorful artwork, allowing you to choose the style that best suits your teacher's personality. Click the download button to download your free teacher appreciation printables PDF.