Display this collection of 82 warm-up activities for first grade with tasks related to literacy, math, and more.
Wake Up Your First Graders with Warm-Up Activities
When students enter the classroom, it can be quite a chore to get them out of sleep mode and into school mode. Jumping straight into instruction can be difficult for their little bodies and minds to manage.
Instead of a sudden start, ease students into concentration by starting each day with a warm-up exercise.
Wake up your first graders with  our collection of 50 interactive activities that center on English language arts and mathematics skills. This spiral review of first grade standards focuses on learning objectives like:
Decoding Text
Shape, number, letter, and color identification
Sorting and ordering
Counting
Writing Complete Sentences
And a lot more!
Display an activity on your interactive whiteboard for students to complete when they enter your class each day and watch them wake right up!
Scaffolding + Extension Tips 
In addition to morning warm-ups, these activities are great for bringing students back into learning mode after lunch, recess, or other school day transitions.
Students can write their answers in a warm-up journal or on a mini dry-erase board.
Above-Level 
Provide the student(s) with our First Grade Daily Warm-Up 4, or the Grade 2 Daily Warm-Up to challenge their skills.
Below-Level
Put students in pairs or teams to complete the activities collaboratively.
The activities in this teaching resource vary in complexity and in the time needed to complete them. To ensure you don't repeat an exercise, change the heading color to red or simply move completed slides to the end of the presentation.
Get our 10 Best Scaffolding Strategies here! 
Easily Prepare This Resource for Your Students
Use the dropdown icon on the Download button to choose between the PowerPoint, Google Slides, or PDF versions of this resource. Answer keys are included with slides where applicable.
Project the slides onto a screen and work through them as a class by having students record their answers in their notebooks or on mini whiteboards.
Alternatively, you can print individual slides and use them for:
Lesson warm-ups
End of the day wrap-ups
Homework assignments
Don't stop there! We've got more activities to shorten your lesson planning time: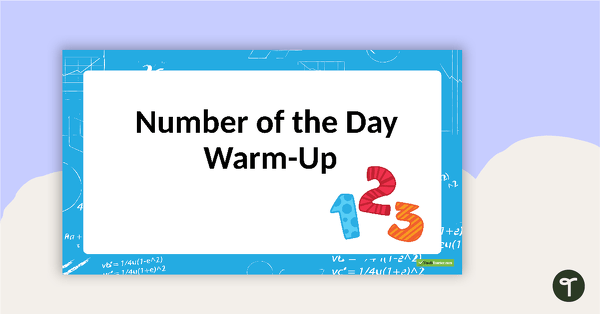 teaching resource
A 30-slide editable PowerPoint Template for a 'number of the day' warm up.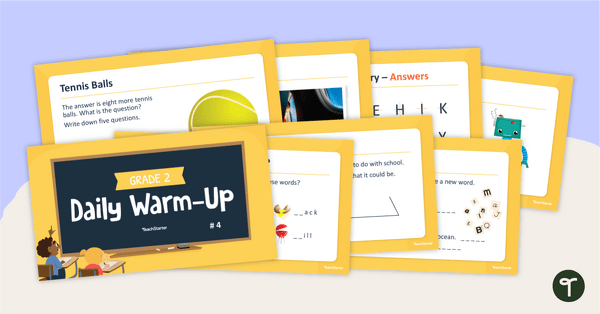 teaching resource
Warm-up your students' brains each day with this 68-slide PowerPoint containing a variety of quick activities.
teaching resource
An 82-slide PowerPoint presentation containing a variety of quick warm-up activities.