Embed subject-verb agreement practice into digital learning with this Google Slides Interactive activity.
Is or Are? Was or Were? Figure it Out With an Elementary Subject-Verb Agreement Interactive Activity
This is the perfect resource to enhance your reading and writing instruction in the classroom or digital learning environment. This activity has students reading and practicing using is, are, was, and were correctly in context. With a drag and drop interface, students can drag and drop, sort, and click their way to mastery of subject-verb agreement. This interactive activity focuses on the following verbs:
To play; students will open the Google Slides activity in "edit" mode, not presentation mode. Each slide has students interacting with moveable and clickable pieces to determine the appropriate verb needed to maintain the subject-verb agreement.
Students will show their ability produce sentences with the correct subject-verb agreement through this activity.
Tips for Differentiation + Scaffolding 
A team of dedicated, experienced educators created this resource to support your English Language Arts and writing lessons. 
In addition to individual student work time, use this activity to enhance learning through guided writing groups, whole class lessons, or remote learning assignments. 
Suppose you have a mixture of above and below-level learners and ELL/ESL students. In that case, we have a few suggestions for keeping students on track with these concepts: 
🆘 Support Struggling Students
Complete the activities as a whole group, encouraging students to interact with the lesson and talk about their learning.
Have students work in pairs or small groups to complete the activity.
➕ Challenge Fast Finishers
Have students extend their learning by writing sentences or stories of their own using is, are, was, and were.
🧑‍🏫 Group Learning
Project the slides onto a screen and work through them as a class by having students record their answers in their notebooks or mini whiteboards. 
Plan lessons for all ability levels with our 10 Best Scaffolding Strategies! 
Easily Prepare This Resource for Your Students
Use the dropdown icon on the Download button to download the Google Slides interactive resource.
Assign this interactive activity to Google Classroom. Please be sure to open in Edit mode, not presentation mode. Students click/drag/drop to identify the correct verb tenses.
Alternatively, use the interactive resource as a: 
Formative assessment

Spiral review

activity

End of the day wrap-up

Digital homework assignments
---
While you're here, check out more activities and teaching resources that fill your lesson plans and students' brains:
teaching resource
Get your students thinking in the past, present, and future with this board game that pairs fun with verb tense practice.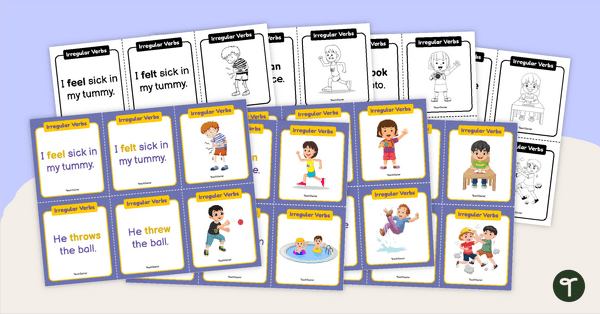 teaching resource
A set of 30 matchup cards to help students learn about simple present tense and simple past tense of irregular verbs.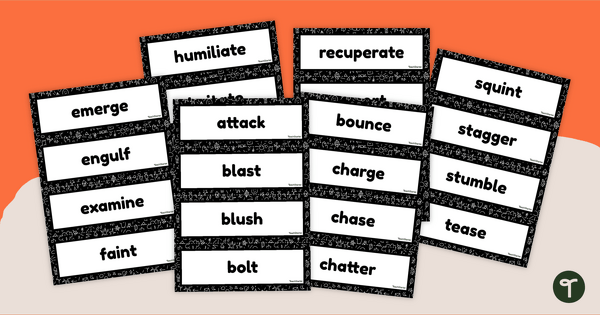 teaching resource
Print a set of strong verbs word wall cards to help your students boost their writing skills!