Practice producing rhyming words using our rhyme-by-picture board game.
When reading gets practice
Reading's more fun
Plus you'll have time to play when your lessons are done! 
And there's no reason why your students can't have fun while they practice their rhyming. 
Reading Isn't Lame With Our Rhyming Board Game
Use this resource in your reading center, as a guided reading activity, or a whole class exercise (see below) to practice producing rhyming words.
To play, students will spin to move to a space on their board. There they'll identify the picture and verbally produce a word that rhymes.
Because this spoken activity uses pictures, beginning readers can simply focus on recognizing words, listening to their sounds, and producing a rhyming word.
Scaffolding + Extension Tips 
Challenge students who already understand the concept to put the word on the board and the rhyming word in a sentence. 
Support students who need help understanding the concepts by providing examples of rhymes on a poster, or a rhyming words anchor chart that shows them how to hear the part of the word they should rhyme. 
Get our 10 Best Scaffolding Strategies here! 
More Activities From ONE Rhyming Board Game
Use this resource as independent practice for fast finishers, and for full-class learning opportunities like scoot activities, lesson reviews, formative assessments, and more.
🧠 Rhyming Words Brain Buster (Beginner)
As a small group or full class, challenge your students to think of as many rhyming words as they can. Working through each word on the board at a time, say the word out loud and break it apart by its sounds. Then, give the students 30 seconds (you keep time) to give you some examples of words that rhyme with it, writing the words on the board as you go.
👉 
Knock Off (Intermediate)
Have your students stand up and make a line across the room. Project the game board on your screen. Use our Random Name Picker widget to draw a student's name and roll for them to land on a space. If the student can produce a word that rhymes with the picture, they tap the person either to their left or right with their elbow. The person who is tapped must return to their seat. If the student can't answer, they must sit out. Play continues until only 1 student is standing.
📃 Group Lesson (Advanced)
This activity can be used as a post-lesson assessment or exit activity. Using your smartboard or another projection device, present the entire game board. Roll a number cube and move along the board. Give students 1 minute to write a word that rhymes with the picture. Collect the papers to see if any students need help understanding the concept.
Easily Prepare This Resource for Your Students
Print on cardstock for added durability and longevity. Place all pieces in a folder or large envelope for easy access. 
Before You Download
Use the dropdown icon on the Download button to choose between the PDF or Google Slides version of this resource. 
---
This resource was created by Lindsey Phillips, a teacher in Michigan and Teach Starter Collaborator. 
Don't go until you've checked out these rhyming resources too: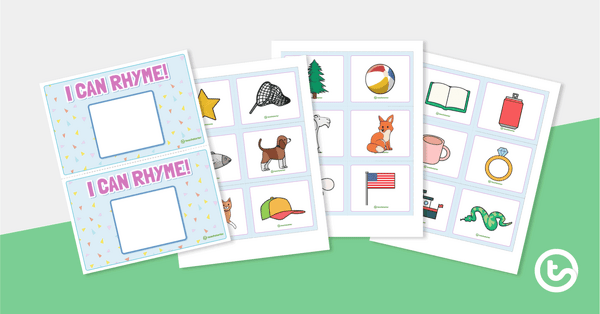 teaching resource
Practice producing rhyming words with a set of 36 rhyming word cards and game boards for up to 5 players.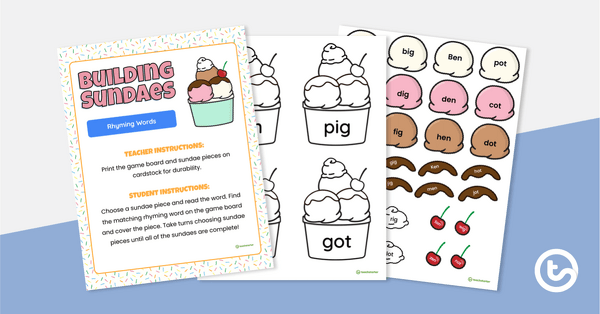 teaching resource
Practice rhyming with this dessert-themed game.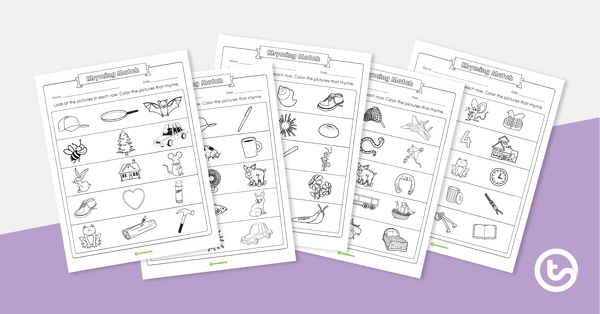 teaching resource
Identify rhyming words through images with this set of 5 worksheets.