Teach students how to make an origami bunny with printable step-by-step instructions for kids perfect for a classroom spring or Easter activity.
Printable Origami Bunny Instructions
Are you looking for Easter activities or a simple origami activity to introduce in your elementary school classroom? You don't have to be a whiz at folding paper yourself with printable step-by-step origami bunny instructions that have been written with kids in mind so they're easy to understand and easy to create with just a small piece of paper and a crayon or marker (for adding bunny eyes!).
Origami may be an ancient art form that goes back thousands of years, but there are still very real benefits for our students. Think of it this way — origami requires patience, concentration, and the ability to follow step-by-step instructions — all skills that our students need to build throughout elementary school.
While students learn how to make an origami bunny rabbit, they'll also be learning about shapes and enjoying a calming mindfulness activity.
Did we mention these little rabbits can also be a great way to celebrate Easter or spring in the classroom?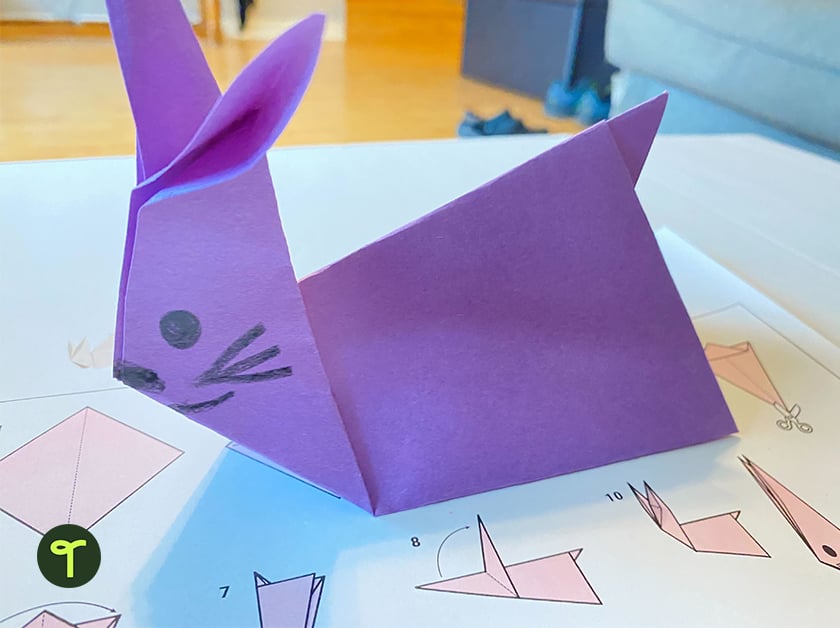 How to Make an Origami Bunny With Kids
In addition to the PDF of the instructions that will guide your students through 9 simple steps to make a bunny rabbit, you will need origami paper and a black marker or crayon to complete this paper-folding activity.
To access the PDF, select the drop-down menu beside the "download" button to choose from a black-and-white or color version of the printable origami rabbit instructions.
Print a copy for each student in the classroom to create their origami bunnies individually, or project the PDF onto your whiteboard for a whole class activity.
More Origami Animal Activities for Kids
Explore more origami animals to add to your students' repertoire!