Get your students thinking in the past, present, and future with this board game that pairs fun with verb tense practice.
There are many nuances to the English language. But understanding the proper use of past, present, and future tenses is one students will tap into daily to build their reading, writing, and speaking skills. 
In fact, applying the proper verb tense is one of the essential conventions of speech students will cover as part of their first, second, and third-grade language literacy. 
In this game, we're getting active with action words to help students connect verbs with time, and learn how different tenses of the same verbs change the meanings of sentences! 
How to Play Our Verb Tenses Game
This game makes for a fun yet practical introduction with the concept of past, present, and future verbs. 
To play, first, divide four players into two teams. Each team will place a game piece on Start.
Team 1 will roll a die and move a matching number of spaces on the board. After landing on a Past, Present, or Future space, a team member will draw a card and act out the correct tense action presented. No talking is allowed from the team member who is acting out the word. The other team member has 30 seconds to say the action in the verb tense their game piece is on. Points are awarded and deducted based on each team's ability to guess the correct word. 
Play continues in this same manner until one team lands on "Finish." The team with the highest score wins. 
Expand This Verb Tense Activity with New Ways to Play!
Take this board game even further with additional activities to get your students' minds focused on past, present, and future tenses.
Create a Story
Keep this activity going longer by asking students to write complex sentences for each verb card drawn. When the game is finished the players will share their sentences with each other and create a collaborative story using the verbs drawn. Make sure they use multiple tenses!
Charades
Ditch the game board and use the cards as charades prompts. Divide your class or small group into 2 teams. Teams will take turns sending up 1 student to act out only the present verb tense on the card for their team while you keep score and hand the cards to the players. If after 30 seconds their team guesses the correct verb they get 1 point, and the person who guessed correctly gets 10 seconds to say the past and future tense of the verb for 1 extra point each. Once every student has had their turn to act out a card, the game is over and the group with the highest points wins.  
Change the Difficulty Level if Needed
To support students who need more practice to fully understand the concept, provide students with a "cheat sheet" of tips on common verb tense forms. You might also allow students to speak when they are acting out the verb. For example, they could say something like "I ___ at the park yesterday" or "I played at the park yesterday." 
How to Prepare This Resource for Your Students
Print the task cards on cardstock for added durability and longevity. 
Cut out the cards and place them with the board, game pieces, a die, and the directions in a folder or envelope for your writing center or classroom games area. 
Before You Download
Use the drop-down icon on the Download button to choose between the PDF or Google Slides version of this resource. 
---
This resource was created by Madison Schmalz, a teacher in California and a Teach Starter Collaborator. 
Before you go, be sure to check out more verb tense activities we're sure your students will love: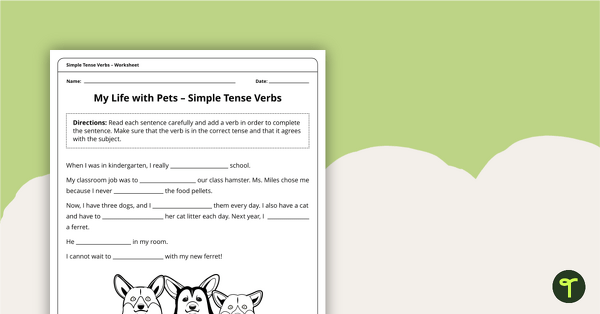 teaching resource
An ad-lib style worksheet where students can add their own simple past, present, and future tense verbs.
teaching resource
A worksheet to practice past, present, and future verb tenses.